A Drag Queen Gave Me A Makeover & I Looked Incred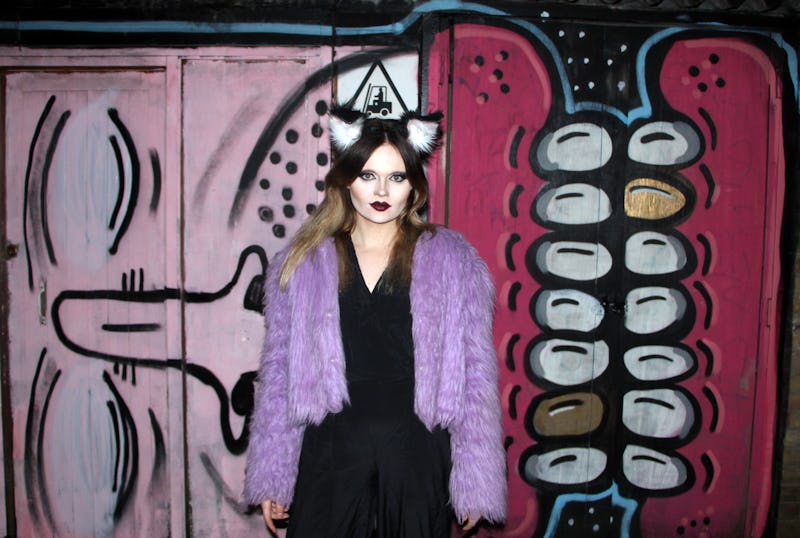 There's no doubt that the drag scene is bigger than ever before. With new queens and fans sashaying out from the woodwork with each season of Ru Paul's Drag Race. I've often dreamed about what would happen if drag queens gave me a makeover and as my mood reaches new lows (with the current political climate and the awful wintery weather) now would be a better time than any and perhaps I'd learn a thing or two in the process.
After perusing the many Instagram accounts of female drag queens, I knew it could be nothing short of fabulous. Maybe this would be the glam-infused spark to jolt me out of my mundane routine of wearing the same old jeans and T-shirt.
As someone who pretty much wears the same old face of makeup each day (except for those rare occasions where I splash out on a new product and incorporate that into my daily look), I knew learning the ways of drag glam would be an eye-opening experience. Perhaps experimenting with some new techniques would be just what I needed to get out of my beauty routine slump. Here's exactly what happened when I let a drag queen do my makeup.
Here's a before photo:
A friend recommended to contacted Samuel Coviello, otherwise known as the gorgeous Shannon Le Blanche and I couldn't have been happier with the results. Using his bountiful creative knowledge from his prior arts background, he transformed me into a new romantic inspired haute couture queen that would be good enough to strut the stage. All it took was four hours, a whole load of makeup and some background music from Lady Gaga.
1. The Brows
We began preparing my face into a suitable base, I washed and moisturized before Samuel's arrival so the first step was to smooth out my eyebrows to create an even, flat surface. For this we used spirit gum, building up multiple layers to smoothen out my thick and dark eyebrows. He mentioned that some queens use a glue stick, preferring the colorful ones that dry clear so you can see what you're doing.
To hide the colour of my brows, Samuel used an orange pigmented cream over the top before pressing in some powder and leaving it to "cook." Cooking or baking your makeup helps it to set and prevent it from creasing, a trick that many stage performers use in their beauty routine and something that I had never thought about doing before.
2. The Eyes
Next it was time to map out the look, starting from the eyes. Some queens prefer to perfect their foundation and contour before getting to this area but Sam mentioned that he found it easier to deal with eyeshadow fallout on a bare face. He began to shape out an over the top purple cat eye using eyeshadow, way bigger than any flick I'd ever rocked myself. The shape would act as an exaggerated version of my eyelid and we decided it would be very cool to completely leave out drawing in any new brows in a high fashion drag look suitable for the catwalk.
He assured me that in the beginning, you have to get messy. There's no point trying to be a perfectionist until the last minute when you've beautifully blended everything, procured the final touches and watch as it all comes together. Something that bratty little Hatti, your gal who gets overly annoyed when my eyeliner goes on slightly too thick, really needed to hear.
After blending the purple eyeshadow with a lovely peach colour, it was time to tackle the eyeliner. Samuel wanted it to be razor sharp so that one glance would cut a bitch and we took our time to make sure that both eyes were completely even and quite literally on point.
Extravagant lashes are a must in the drag kingdom and I wasn't about to skimp out now. Samuel bought along his own pair and they definitely gave my makeup a dramatic little kick that it needed. Top lash mascara was applied beforehand, then used to blend my natural and fake lashes together. After the top lid was taken care of, Sam gently applied more mascara to my bottom lashes.
3. The Face
Then it was time to make my skin flawless. On went the foundation, as per usual. Then Samuel took some darker pigmented cream to contour around my jawline, temple and cheekbones to create a more accentuated bone structure. As I'm quite pale, we used a white cream for highlighter, in all the same places as before. We cooked the makeup, had a coffee and cigarette break, and gently removed the excess powder using a brush ("I feel like I'm digging up dinosaurs").
Samuel made note that the cheekbones were brushed in a sweeping, circular motion. The area around the lip was also highlighted so that we could give a bigger, fuller shape than my natural pout.
A classic red was the way to go, a color synonymous with high fashion and drama. First Samuel used a lovely pillar box color to map out the shape of the lip using a brush, before using a couple of darker lipsticks to add some gothic inspired glamour, contour the lip and make my mouth stand out. Sam told me that a good way to keep a memento of the night was to kiss a piece of paper or makeup wipe at the end of the night before fully removing your makeup.
And then it was time for the final touches. Blusher was applied in the same sweeping motion as the cheekbone contour and it really pulled the whole look together, if you couldn't sense the new romantic vibes before then you definitely could now. Then came the nose contour and highlight, making my little schnoz appear petite and pointier than ever. The absolute final detail before cracking out the setting spray (very essential for keeping your makeup on as a drag performer under hot, heavy lighting) was the last all-over face highlight, which I got to choose between silver or gold — I went for gold.
The Results
And here is the final look. I threw on an old '80s jumpsuit, complete with shoulder pads, that I'd bought a few years back and has saved me as a last minute party outfit option. We were going to go for a high ponytail hair style to give me a temporary face lift but Samuel sad that my bangs suitably framed my face, giving my bone structure that extra focus.
Whilst the clichés of the world claim that "less is more", this experiment taught me otherwise. After Samuel transformed me into the drag belle of the ball, I had honestly never gotten so many compliments from strangers in my walk to Shake Shack and back. Exaggerating my natural bone structure looked great in real life and even greater in pictures and I'm definitely going to try it again.
Images: Hatti Rex