What Hermione Has In Common With 'Beasts' Tina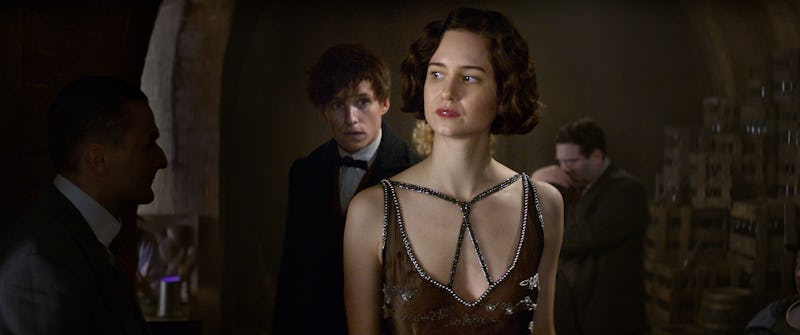 When Katherine Waterston was first asked to compare her character in Fantastic Beasts and Where to Find Them , Tina, to the Harry Potter franchise's most well-known woman, Hermione, she balked. "It never occurred to me to compare myself to her just because we're both female, in any way," she told Collider in September. "They're totally different characters and I don't feel like I'm stepping into her shoes simply because I'm a woman." Yet two months after that interview, she's changed her tune. The comparison of Tina to Hermione isn't totally without merit, Waterston tells me while at Beasts' New York press day, but the reason she was disinclined to make it was due to a different reason than one might think.
"I think I responded more to a question I thought was an assumption just based on gender. But I think the truth is, the real reason [the comparison] never entered my mind is because I'm in my mid-30s and I will forever associate Hermione with the girl I first met in the first film," Waterston says. "She's just so young that it never would've occurred to me to compare myself to a child... I really just think it was the age difference was the reason why it never really entered my mind."
Still, she adds, "There are most definitely similarities. I think that there's a lot of Jo [Rowling] in both of those characters. She's obviously a true genius and a really powerful presence, but she's also really self-effacing... she's really grounded and down to earth, and I think she's been really open in the press about her own doubts and insecurities and her own journey as an adult in becoming herself."
Rowling, of course, created both Hermione and Tina (she wrote the screenplay for Fantastic Beasts), as well as the Potter wizarding world at large. For Waterston, much of the joy of playing Tina, a determined former auror who gets caught up in the magical adventures of Newt Scamander (Eddie Redmayne), came from the knowledge that Rowling is committed to making all of her many Potter characters as interesting and complicated as possible.
"I just love that, that JK Rowling can find all that in one character," Waterston says. "[Tina] is simultaneously confident and insecure, kind of like every human being.... what I loved about Tina, I loved about all the central characters in the story. They're all adults but they're all still trying to become their best selves."
An intelligent, talented witch who was forced to grow up fast thanks to the death of her parents, Tina is one of Beasts' most fascinating characters, a born rule-follower who's drawn to Newt's crazy, chaotic fun despite her best intentions. Her desire to be bold and influence magical society is dampened by her disappointment over having her dream job, being an auror, taken away from her. Magic aside, it's a very human tale, and as an actor who's dealt with her share of rejection, Waterston can certainly relate.
"Sometimes things just don't go your way, and certainly in the early years of my career, I experienced that a great deal," she says. "You think, but I've worked so hard and I care so much and I've prepared so much, and yet still don't get the results." So while Tina is "this very capable detective," Waterston adds, when audiences first meet her in Beasts, "she's lost her groove, her mojo, a bit, and so she's dealing with that insecurity."
Waterston loved getting to play Tina — "I'm always looking for complex, dynamic characters [like her]," she says — especially because, unlike so many on-screen women, her romantic life isn't crucial to her storyline. Yes, Tina has a flirtation with Newt, and yes, hardcore Potter fans know that the duo eventually end up together, but Tina's function in Beasts is of a complex person fully in on the action, not a romantic interest. Still, Waterston is looking forward to seeing where Tina and Newt's storyline ends up. "One thing I love is the fact that there is that little blurb in the original Fantastic Beasts book that says that [Tina and Newt] live together and that they're married, so that the audience coming into this film, they have the upper hand, the inside scoop," she says. But "it's really the only thing that the audience knows coming into it. And I love that, because we get to be the fools who don't know that we're fated for one another."
Waterston is excited to see how fans react to the romance, but she wasn't always so confident about the audience's support. "We all felt a great responsibility to do right by these fans, because we know as fans ourselves how much this world means to people," she says. "So of course we went into it feeling a kind of pressure." Upon reading the movie's screenplay, though, that worry went away, Waterston says. Explains the star, "The script had such a great balance of the familiar little hints and clues for the real fans who spot everything and understand all the connections and details, and then a brand new chapter and section of this world they never knew existed before and they didn't know they were gonna get... I just thought when I read the script, we have a good chance of pleasing and entertaining them."
A ton of confidence, mixed in with a handful of nerves and a worry for pleasing others? It seems like Waterston might share a bit in common with a few Harry Potter leading ladies fans have come to know and love.
Images: Warner Bros.