Where To Buy Plus Size Knee High Socks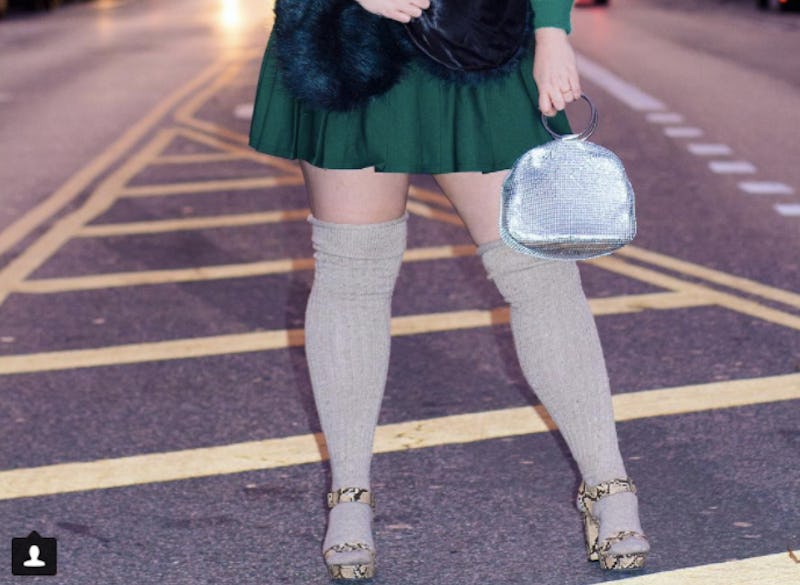 When Gossip Girl was first released in 2007, it felt as though young women the world over became obsessed with preppy style overnight. Blair Waldorf was queen, and her throne was made of headbands, pearls, Chanel everything, and knee-high socks. But if you sought to emulate B's look through plus size knee high socks and stockings, well, chances are you were sh*t out of luck. Like most plus size fashion circa 2007, the realm of hosiery made for thick calves was pretty bleak.
Fast forward almost 10 years and plus size fashion (albeit particularly plus size fashion in the size 14 to 24 range) has evolved greatly. Once thought implausible, the notion that self-identified fat women might be interested in having the same level of sartorial options as the straight size market has started to sink into the minds of some designers and brands like never before. Unfortunately, getting one's fat-schoolgirl-style-aesthetic on with the help of knee-high socks is still a challenge.
Knee high socks and stockings in wide fits remain the unicorns of the plus fashion industry. Few retailers actively carry them. And when they do, the availability of the garments can seem depressingly fleeting. They are out there, though. You just have to do a little digging. These seven retailers are your best starting points for all your fat calf fancies.
Cable Knit Knee High Socks, $17, Torrid
Torrid is the crème de la crème of the plus size knee-high sock game. As the temperatures drop and your heart begins craving earmuffs and peppermint lattes, let the brand provide you with the perfect finishing touch to your look.
These babies come in a range of styles, with A/W selections typically focusing on cozy, knit knee-highs. You can typically find your forest green and burgundy options, perfect for any autumnal look. But there'll also be some of-the-moment trends available, like pom-pom accented thigh-highs for the ever-current fatshionista.
2. Hips & Curves
Over-The-Knee Opaque Stockings, $15, Hips And Curves
When you don't really need your thigh-highs to offer much in the way of extra warmth, Hips & Curves' selection of over-the-knee stockings will help you achieve that Waldorf look. Every true Gossip Girl fan knows that Blair never wore her socks or stockings sans garter belts (she was a lover of subtle vintage detailing, after all), and these guys provide the foundation to recreate that look to a tee.
3. Xpandasox
Geometric Black Socks, $18, Xpandasox
When it comes to Xpandasox, the clue is truly in the name. This is one of the few brands claiming to cater to "every body," and actually succeeding quite well. Styles (which range from classics to more adventurous menswear-inspired looks) are made with the indie brand's own Xpandapanel fabric, and are built to cater to calf widths up to 24+ inches.
The company also keeps in mind individuals with conditions like lymphedema and lipedema, both of which can cause swelling of the thighs and calves. With bandage-like design elements, these socks can offer extra support as well as effortless style.
Super Juicy In Wide Calf, $12, Sock It To Me
Don't let the promo image fool you: Sock It To Me's wide calf offerings will cater to 21+ inches of luscious legs. If your style aesthetic is more quirky than Upper East Side, you are bound to find something right up your alley here. After all, there is no other brand on the internet selling you wide-calf knee-high socks that rep rainbows or tacosaurus illustrations. As in, taco dinosaurs. Genius.
Black Fish Net Lace Tops Hold-Ups, $10, Yours Clothing
U.K.-based retailer Yours Clothing can always be counted on for knee-high stockings that just don't quit. Specializing in "hold-ups" (as in, knee-highs that promise not to fall down — aka the holy grail), the options here are a little sparse but a whole lot of necessary.
The fish net look is a particularly worthwhile investment, when you consider that fish nets go with just about anything and are a timeless wardrobe piece that can take you from daytime office-wear to night-on-the-town boldness in just a few basic steps. Whether you want to channel an '80s Madonna or a Constance Billard School For Girls student, these will have you covered.
Two-Pack Cotton Trouser Socks By Comfort Choice, $15, Full Beauty
Plus size marketplace Full Beauty specializes in putting the best options on the plus market all in one place. That means it can always be counted on for some of the trickier styles under the umbrella of extended sizing, knee-high socks included.
This season's options err on the side of classics, with one-color designs that'll spice up an outfit without being the center of attention. Get yourself a pair in navy, black, brown, and white, and there won't be an outfit in your closet left untouched by the magic of accessorized calves.
All Woman 50 Denier Luxury Knee-Highs, $10, The Big Bloomers Company
Another U.K.-based gem with international shipping, The Big Bloomers Company has made it its mission to cater to plus size babes on all ends of the size spectrum. Its plus size tights, knickers, hold-ups, and knee-highs are built to stretch and then stretch some more — with plenty of options featuring imagery that proves just how wide these babies go.
You'll mostly find classic colors here (think blacks, nudes, and browns). But you'll be investing in a company that's all about the plus size consumer. And that is always a good dollar spent.
There's definitely a long way to go before the plus size market is comparable to the straight size one regarding availability of items and versatility, and knee-high socks and stockings are proof of that fact. But 10 years ago, these guys were impossible to find. Nowadays, they are still unicorns, but their existence cannot be denied. So go forth and decorate your glorious calves: Blair would be so proud.
Images: margieplus/Instagram; Courtesy Brands