Luke & Lorelai Are 'Gilmore' Endgame, Duh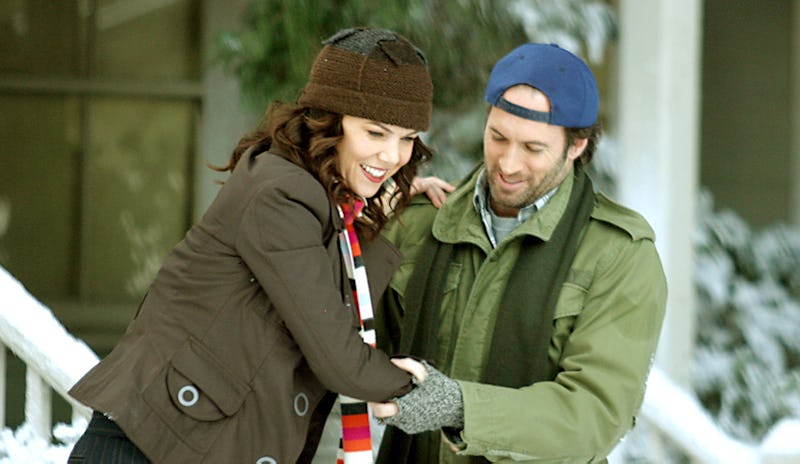 They say that you just know when you've met "the one," but that certainly wasn't the case when it came to Luke Danes and Lorelai Gilmore on Gilmore Girls. He was the cranky diner owner who supplied her an endless drip of coffee, and she was the cute inn manager with a daughter and a very fast way of speaking. Who would have thought that they'd be the most alluring couple on Gilmore Girls? Sure, they had their ups and downs, but at the eve of Gilmore Girls: A Year In The Life, let's talk about how Luke and Lorelai got back together Gilmore Girls .
The trailer for the new Netflix series shows Luke and Lorelai as a couple, and boy, do I hope they stay that way over the four episodes. Luke is one of the only people in Lorelai's life that not only gets her, but also wants her to be the way she is. It's not always easy to find that in a partner. Both fans and the people of Stars Hollow have a lot invested in the relationship between Luke and Lorelai, and I am so hoping that Gilmore Girls: A Year In The Life gives them (mostly) the sunshine and happiness that they deserve. It's been a long road for these two.
The Beginning
Lorelai and Luke start things off as strictly platonic. They are friends, but mostly he pours her coffee and she terrorizes him while eating cheeseburgers with Rory. Normal stuff. They met when Lorelai was new to town and begging for coffee, and I guess they hit it off back then. Their relationship deepens at the end of Season 1 after Richard ends up in the hospital, but there is no true romance between these two for a few more years.
The Middle
Things get serious between Luke and Lorelai in Season 4. He realizes that she is the woman that he can't live without, and the two date happily for a year or so. After Rory and Lorelai have that big, nasty fight about Rory leaving Yale and the mother and daughter stop speaking, Lorelai proposes to Luke. She is so touched about how much he cared for her and for Rory throughout their lives that she wants to make it official. Luke says "yes," and all of this is well and good until Luke finds out that he has a daughter, April. And it get worse when he doesn't tell Lorelai about it. They have to postpone the wedding to figure out all of the April stuff, and eventually Lorelai issues Luke an ultimatum that amounts to, "Get this figured out and marry me or I'm out of here." Luke hates ultimatums and can't answer, and Lorelai is so hurt that she ends up in Christopher's bed looking for support. She has to tell Luke that she slept with Christopher, and that's the end of Luke and Lorelai... at least for the time .
The End
Toward the end of the series, Luke and Lorelai aren't a couple — not even close. Lorelai has married Christopher, and Luke is getting used to life as a father to April. Luke and Lorelai are barely getting along at this point, until Luke asks Lorelai for help with his custody battle for April — he needs a character reference and Lorelai writes a glowing one. Luke also shows up at the hospital after Richard has another heart attack, while Christopher is nowhere to be found. Christopher and Lorelai eventually divorce, and after Rory's graduation, Luke is the one that organizes a town-wide graduation party to see her off into her new life. During the party, Luke and Lorelai talk and share a kiss, and while it's not written in stone that the two are officially back together, it certainly seems to be headed in that direction.
Luke and Lorelai are the only couple on the show that left on an upswing, so I just hope they continue this trajectory in Gilmore Girls: A Year In The Life. After all, who else will stop Lorelai and Rory from eating all of the Pop Tarts in the Northern Hemisphere?
Images: Warner Bros. Television; Giphy (3)