Too Faced's Hangover Rx Primer Might Be Replaced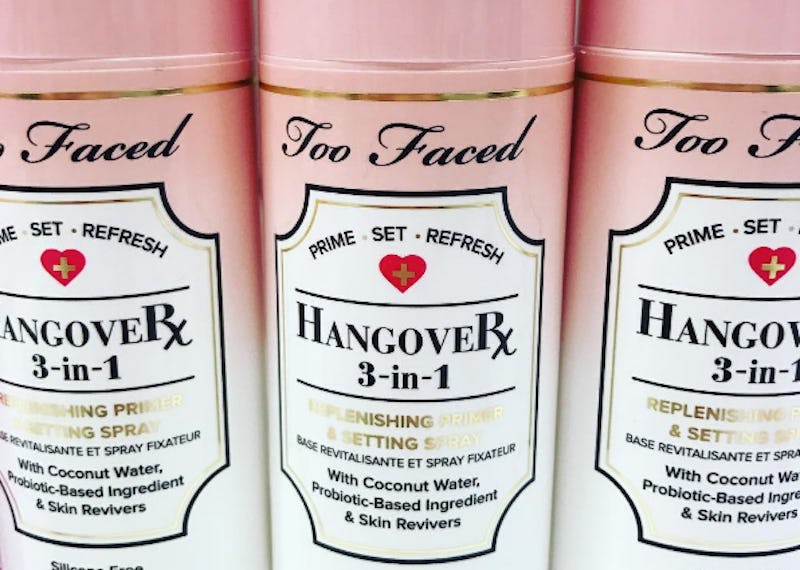 Move over Hangover Rx, because there's a new primer in town. According to CEO of Too Faced and master of all #sneakypeeks Jerrod Blandino, Too Faced is creating a setting spray. That's right! It's the company's first ever setting spray, but the packaging might look familiar. Will Too Faced's Hangover Rx 3-in-1 Spray replace the cream primer? Here's what we know so far.
Not a day seems to go by without Blandino posting a new sneak peek. After news spread that Estée Lauder Companies, Inc. bought Too Faced for $1.4 billion, people wondered if the company would keep up with their fun and quirky surprise items. Well, there's no doubting that now. Blandino took to Instagram to introduce a new Too Faced product, and it's even better than all the palette reveals. According to the post, Too Faced is creating a Hangover Rx Setting Mist that acts as a setting spray and a primer.
What does this mean for the Hangover Rx Primer? We don't know much right now. Bustle reached out to the brand for comment, but they weren't able to provide information just yet. If I had to guess though, I would say that the Hangover Rx family is simply growing, so I wouldn't start hoarding bottles for your beloved primer just yet.
How awesome is that! According to the packaging, the new spray will do three things at one — prime, set, and refresh the face. It sounds like it can be used at any step in the beauty process. The new product is also silicone, alcohol, and oil free.
The packaging looks pretty similar, don't you think. They both have the adorable pink packaging, same name, and are both made with coconut water, probiotic-based ingredients, and skin revivers. I would imagine that the spray is just an addition to the Hangover Rx line, because this is one of their cult items.
Too Faced also posted a photo of a "Hangover Squad" printed napkin to their Instagram. This makes me believe more than ever that the original Hangover Rx Primer isn't going anywhere.
Images: jerrodblandino/Instagram (1)