You Can Fill These Christmas Ornaments With Gin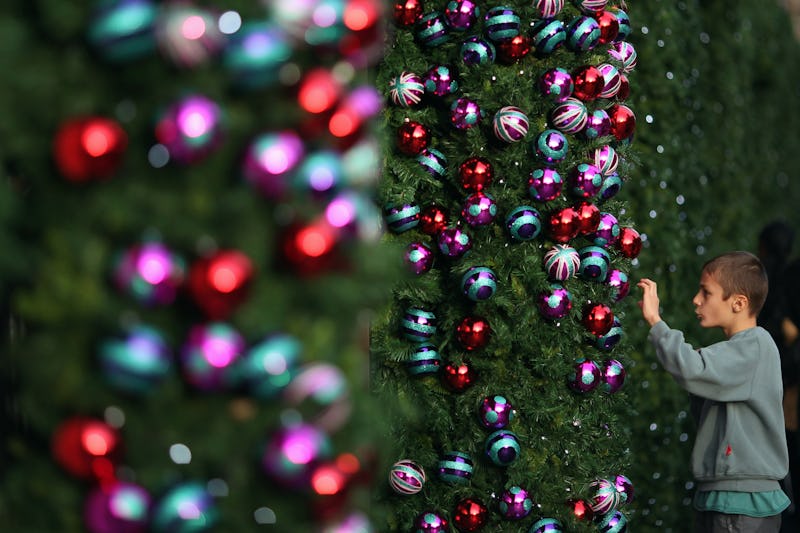 Dan Kitwood/Getty Images News/Getty Images
What do you get for the person on your list who has everything and/or needs a special pick-me-up after the insane, depressing mess of 2016? Gin-filled Christmas ornaments, of course! These boozy ornaments are colorful, pretty, and, you know, boozy, so you and your nearest and dearest can use them to decorate the most fun Christmas tree of all time. Grab a few, decorate your tree, make some cocktails, and get happy. (SAFELY AND RESPONSIBLY, obvs.)
These "Christmas Baubles" hail from Pickering's Gin, based in Edinburgh. Each box contains six differently colored baubles, each filled with 50 ml of gin. (That's a double shot by UK standards, but equivalent to just over one in the United States.) A set goes for £30.00 (about $37 USD), but (tragically) they are currently sold out. Apparently, the baubles are so popular that Pickering's is having a hard time matching demand. Dave Quinnell, the company's general manager, told The Scotsman, "They're so popular we're having to release them in stages so that production can keep up."
There's another batch of the gin filled ornaments set to be available in early December. First dibs will go to members of Pickering's "Ginfriends" mailing list, so if you want to be notified about when new baubles are available, you can sign up here.
Don't these things just scream "Christmas cheer"? And also "Gin!," which is sort of the same thing?
So pretty.
As Pickering's Gin points out on its website, these ornaments are adults-only, so it's important to keep them out of reach of kids and pets. Oh, well, I guess you'll just have to drink the contents before they go on the tree. Such hardship!
Images: Dan Kitwood/Getty Images; Pickering's Gin/Instagram (3)