The Kylie Cosmetics' Stocking Was Lit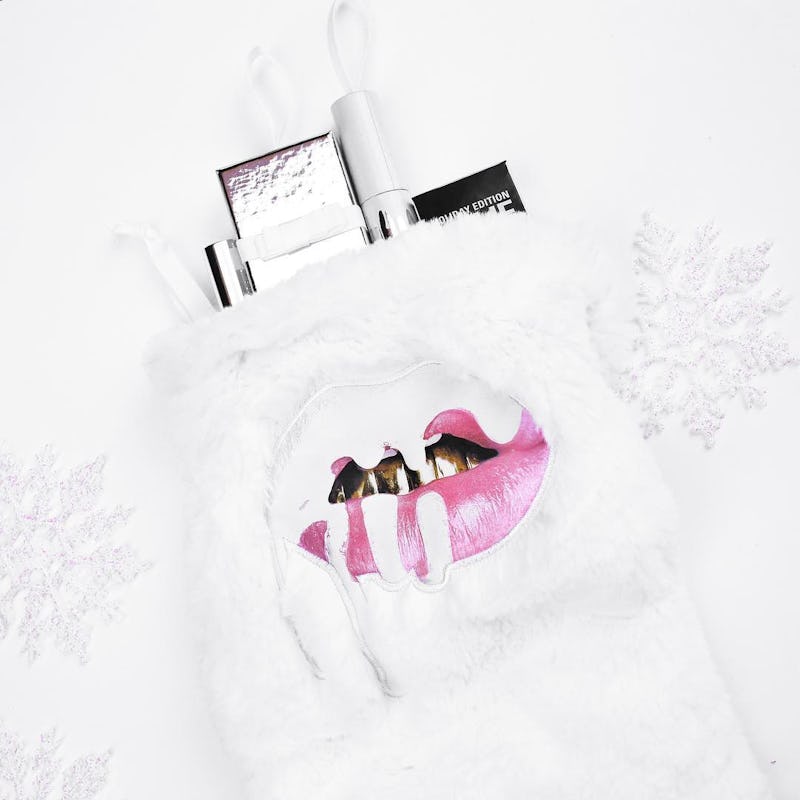 Kylie Jenner has been teasing fans with new products since the beginning of her Kylie Cosmetics brand last year. While her KyShadow palettes had been the most hyped, there's a new batch of products taking the cake. The Kylie Cosmetics' Holiday Edition Collection is full of Jenner's newest, killer products, and this batch is totally lit. From lip kit minis to new glosses, the wait to see what was inside the stocking was definitely worth it. Fans, however, knew that would be the case because Jenner never disappoints when it comes to Kylie Cosmetics.
Not to mention, Jenner has been teasing holiday surprises for some time now, but she had yet to reveal some of the biggest ones for the holiday season. First up was Jenner's free shipping throughout the holiday season which had fans super stoked to purchase from the site. The latest — and I'd argue most popular — holiday surprise is Jenner's collaboration with older sister Khloe Kardashian. The KoKo Kollection featuring four new lip kit shades sold out in only five minutes, and a restock is coming Thursday Nov. 17.
As for the latest holiday surprise, though, it was an even bigger doozy. How could it not be after Jenner's birthday edition was so wonderfully jam-packed? Without further ado, here's what's in the Kylie Cosmetics Holiday Edition Collection.
1. Lip Kit Minis
The lip kit minis were super popular during the Birthday Collection, so it makes sense Jenner would bring them back.
This time, however, they include two exclusive new shades: Angel and Vixen.
2. New Metal & Gloss Product Ornaments
Jenner kept things cute by placing new metallic lips and glosses in hangable packaging. Plus, they're new shades!
First up, the gorgeous red of Naughty.
Look at the pigmentation.
Next up is Jolly. This gorgeous deep hue is perfection.
Seriously, that rich color is bananas.
Jenner didn't forget her metals, though. Dancer is a stunning metallic.
3. Matte Lip Kits
Jenner also introduced two new full sized lip kits!
Merry is a gorgeous deeper red than previous crimson hue Mary Jo K.
Then came Vixen, which is also included in a mini form in the collection of mini lip kits.
4. Creme Shadows
Jenner definitely kicked it up a notch introducing new creme shadows.
Yellow Gold is bright and stunning.
Golden plum, however, is so on trend.
Camo takes advantage of the developing trend of olive tones.
5. Holiday Lip Set
The next gorgeous set by Jenner is actually a mix of products. It features two glitter glosses — Cupid and Noel — and two matte lipsticks — Angel (which also comes in the mini kit) and Blitzen.
6. Makeup Bag
What would a collection be without a gorgeous bag to keep it in?
7. KyShadow Palette
So exciting!
These jewel tones are perfection.
8. Brushes
Finally! Kylie Cosmetics brushes!
9. Limited Edition Holiday Box
If you want to snag nearly all the new products, the limited edition box is your answer. With all the lippies, the KyShadow palette, creme shadows, and the white Kyliner, it's your Kylie Cosmetic dream.
Basically, the Kylie Cosmetics Holiday Edition Collection slayed fans' souls.
Images: Kylie Jenner/Snapchat