The Kylie Cosmetics Holiday Collection Is Lit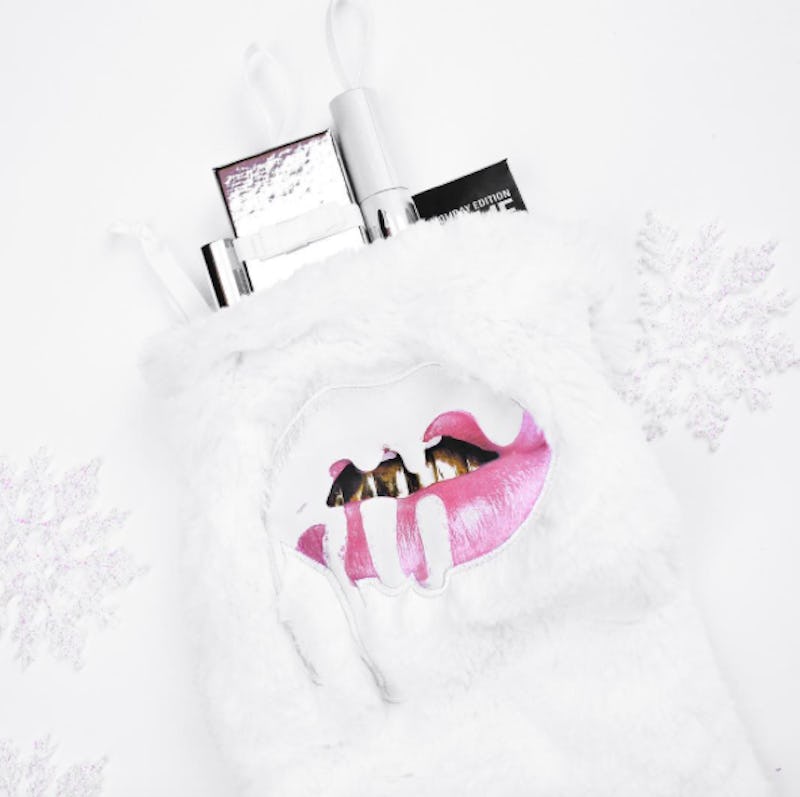 Get ready to deck the halls with Kylie Jenner's Kylie Cosmetics Holiday Edition collection. Jenner released a preview of the holiday collection today on Snapchat, and it looks just as pretty as her Limited Edition Birthday Collection. In the product preview, Jenner shows fans all of her new Holiday Edition products including a silver metallic cosmetics bag, a new Kyshadow palette, metal and matte lip kits, single glosses, three new creme eyeshadows, a mini matte lipstick set, and a full-sized matte and gloss set.
The mini matte set includes both new and old shades including Moon, Ginger, Kristen, Angel (a holiday exclusive), Lovebite, and Vixen (another holiday exclusive). Vixen (a dark plum) and Angel (a pretty pink) are two exclusive shades in one of the Holiday Edition Mini Matte Sets, but hopefully they will be available as singles too!
There's also a second full-sized set that includes two new matte shades, Angel and Blitzen, and two new glitter gloss shades, Noel and Cupid. Jenner also released two new gloss shades, Naughty and Jolly, and a new matte shade Mary — from all of the swatches, they look so pretty!
Instead of the gold packaging that Jenner used for her Birthday Collection, the Holiday Edition is in silver metallic boxes, which goes perfect for the winter holidays. Along with the new sets of mini matte lipsticks, Jenner is going to be offering lip kits and single glosses that can be hung like ornaments on your tree. Of course, Jenner has yet to say when the Holiday Edition will go on sale, but continue to follow her on Snapchat for the quickest updates!
I'm loving the Kylie Cosmetics logo with an all-white lipstick.
These are the lip kits that can be hung like ornaments!
These single glosses can also be hung like ornaments.
The holiday packaging is so insanely cute.
The mini matte shades are back! This Holiday Edition set will include Moon, Ginger, Kristen, Angel, Lovebite, and Vixen.
The two new exclusive Holiday Edition shades are Vixen (left) and Angel (right).
Jenner said the Holiday Edition includes all exclusives like this exclusive metallic shade, Dancer.
One of two Holiday Edition gloss shades includes Naughty.
The second new gloss shade includes Jolly. Jenner says that this gloss formula is brand new and very highly pigmented.
Three new creme shadows include from left to right Camo, Golden Plum, and Yellow Gold.
Snag a makeup bag to hold all of your new Kylie Cosmetics products!
Jenner plans on revealing the KyShadow shades soon. From the looks of everything else, I know that they're going to be good.
Images: kyliecosmetics/Instagram (1); kylizzlemynizzle/Snapchat (9)