You Have To See The Holiday KyShadow Palette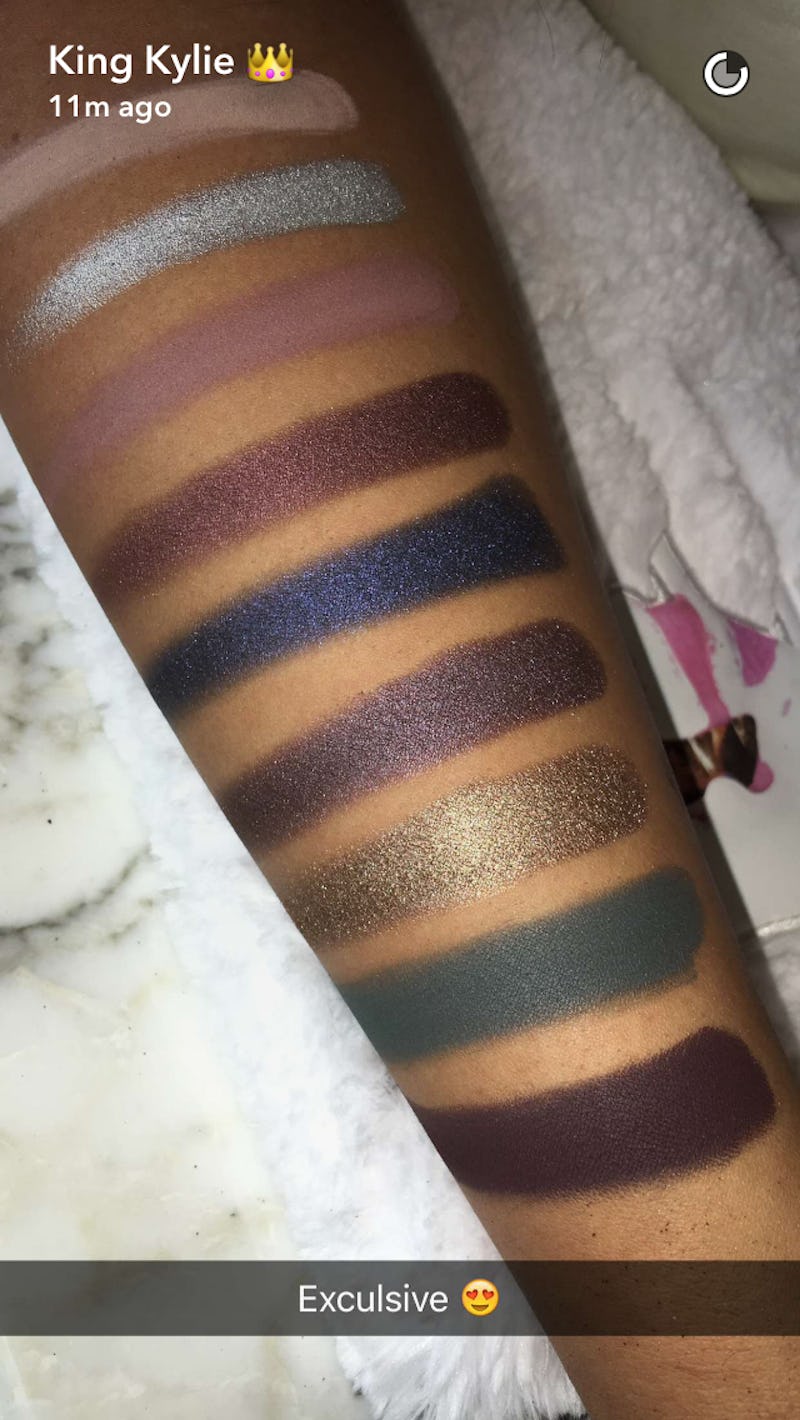 Kylie Jenner has been on a serious roll with her Kylie Cosmetics brand lately. From product announcements to major launches that lead to sold out palettes and lip kits, the girl really doesn't stop. Today is no exception. On Wednesday evening Jenner revealed her Kylie Cosmetics Holiday Collection to her fans everywhere on Snapchat, and it included a killer new KyShadow palette.
Over several hours, Jenner revealed what's included in the collection, as well as swatches of her new lippies and shadows. They're so pretty, any beauty junkie could fall in love with the products! The holiday collection includes two new glosses, two glitter glosses, one metal matte lip kit, four matte lip kits, three creme eyeshadows, a mini matte lip kit, a holiday edition box (with an exclusive white kyliner), and the KyShadow palette.
Of course, Jenner doesn't just drop everything at once when every one of her fans is waiting in high anticipation to see what she's got up her sleeves. While revealing swatches of her creme shadows and lippies to everyone, she decided to take an intermission before revealing the packaging and names of what's inside her latest palette. With names including "Frosty," "Silent Night," and "Nutcracker," this brand new palette includes some light, pinky nudes, a deep navy, light silver, and more. Essentially, this palette has everything you might look for when looking for those shimmery, icy, and dazzling shades. Just like her other palettes, these shades are highly pigmented, which makes them all the more exciting to experiment with!
Jenner first teased us of the palette before revealing the shiny packaging.
She then showed us the names, as if that's really what we're looking for in this announcement, am I right?
This palette also features a mirror, which is something completely new for the KyShadow palette. But let's get to the actual shades, shall we?
Now we're talking. These are some beauts, that's for sure.
You can shop all of the Kylie Cosmetics Holiday Edition products on Monday, Nov. 21. Godspeed — you're going to need all the luck you can get to snag these beauties!
Images: kylizzlemynizzl/SnapChat (4)