Dre's Fave Aunt Visits On 'black-ish' Thanksgiving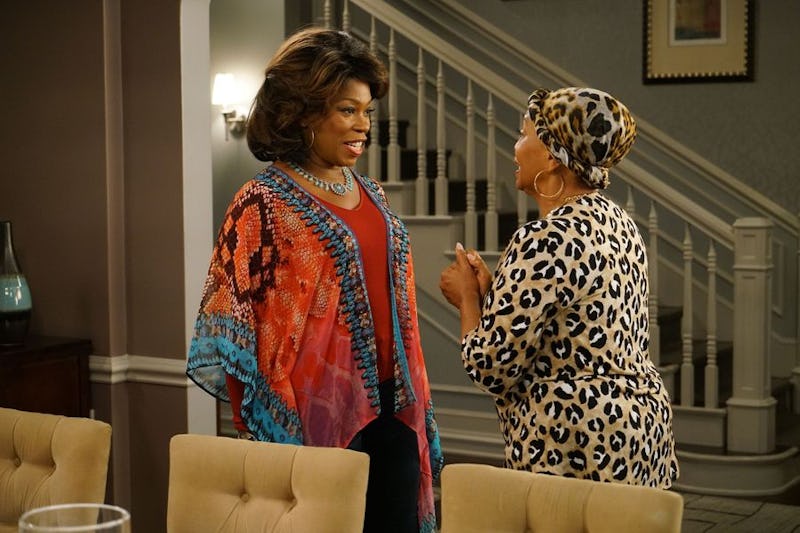 The Johnson family continues to grow this season, with the addition of guest star Lorraine Toussaint as Dre's great Aunt Alma, who, like all of the other good additions to the fam, comes with her own backstory. Aunt AV (it's short for Almaviligerais) was once Ruby's best friend, but she enabled Pops, her little brother, to lie to and cheat on his wife. What I love about black-ish is that the elder generation not only worked hard throughout there whole lives to make it and help Dre get ahead, but they're also embroiled in their own, Love & Hip Hop style shenanigans. They date, hook up, scam one another out of money, have secret apartments, and, in the most hilarious image of the episode, slice all of Pops' linen shirts so they have a fringe around the waist.
Even those these characters are older, they still have real lives and are fully formed comedy characters that are hilarious, often the best and most lively members of the ensemble. Over the past season and a half, Jenifer Lewis has proven that you are literally never too experienced or too old to jump into a new comic bit with both feet. And contrasting her energy with Toussaint's cool, criminal confidence
The kids don't get much to do in this senior-focused Thanksgiving special, and Dre & Bow are isolated in their own side story this week, but I want to give Tracee Ellis Ross a little bit of a shout out. She's great, as always, but she also gets to show off that she looks just as beautiful as her mother in Mahogany with the right loose curls and pearl-lined robe (and they haven't been pushing the "gross" aspects of pregnancy, which I appreciate since Bow is supposed to be an experienced mom). And, of course, the chemistry between Ross and Anthony Anderson still sparks.
But really, I'm giving thanks this year about how funny black-ish continues to be, and how well the older members of its cast show up the youngster from the main cast to the growing amount of supporting and recurring Johnsons.
Image: Adam Taylor/ABC