You Can Shop Kylie Cosmetics' Holiday Edition Soon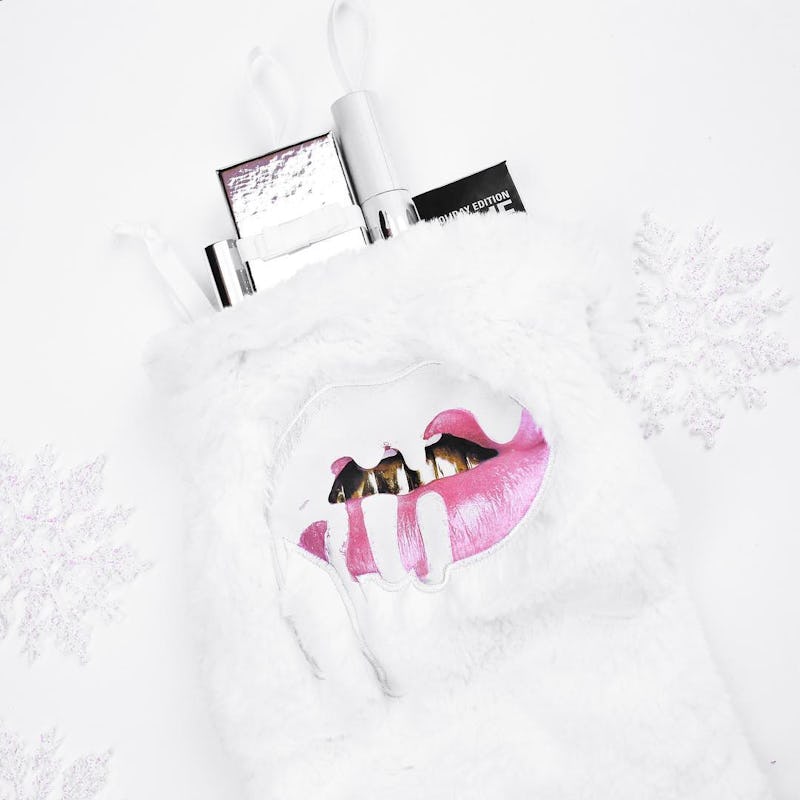 It's official, Kylie Jenner has taken the internet by storm. On Wednesday night, Jenner debuted the Kylie Cosmetics Holiday Edition Collection, and it was everything fans had been waiting for. With new lip kits, glosses, metals, creme shadows, a KyShadow palette, and a makeup bag, it had far more than anyone anticipated, and fans are dying to get their hands on it, but when does the Kylie Cosmetics Holiday Edition Collection launch?
Wednesday night's reveal of the Holiday Edition Collection took practically the entire evening. With double the number of products typically shown in a Kylie Cosmetics reveal, it was a definite event, especially for for fans. While the reveal itself was clearly exciting, the launch announcement doubled anticipation. According to Jenner's Instagram page, the Kylie Cosmetics Holiday Edition launches Monday, Nov. 21 at 1 p.m. PT. Jenner certainly isn't making fans wait long. Plus, they've got a KoKo Kollection restock on Thursday, Nov. 17 to tide them over until Monday.
The haul on Nov. 21 is going to be undeniably sweet. The holiday collection is no joke especially considering that a new KyShadow palette was included in the launch. The purple-toned collection was unlike any of the three other shadow palettes, and it was coupled with three new creme shadows as well.
If I had to guess, this seriously insane collection of products is going to sell out insanely fast. There's been no official word on whether each piece will be sold individually, but based on the packaging, my guess is that at least some of product will be available to purchase in singles.
With mini lip kits, new full sized lip kits, glosses, and creme shadows, I doubt Jenner is going to make funs purchase all the products together. While there is clearly that option based on the limited edition Kylie Cosmetics Holiday Edition box, other items seem to be sold separately, including potential brushes that made their way onto Jenner's Snapchat.
Jenner basically slayed everyone's existence on Wednesday night with the Kylie Cosmetics Holiday Edition Collection, and now, fans know when to get hyped for the launch. Come Nov. 21, fans can snag the full collection from Kylie Cosmetic' website. Good luck, everyone, cause these beauties will go quick.
Images: Kylie Cosmetics/Instagram