The KyShadow Holiday Edition Palette Is Aces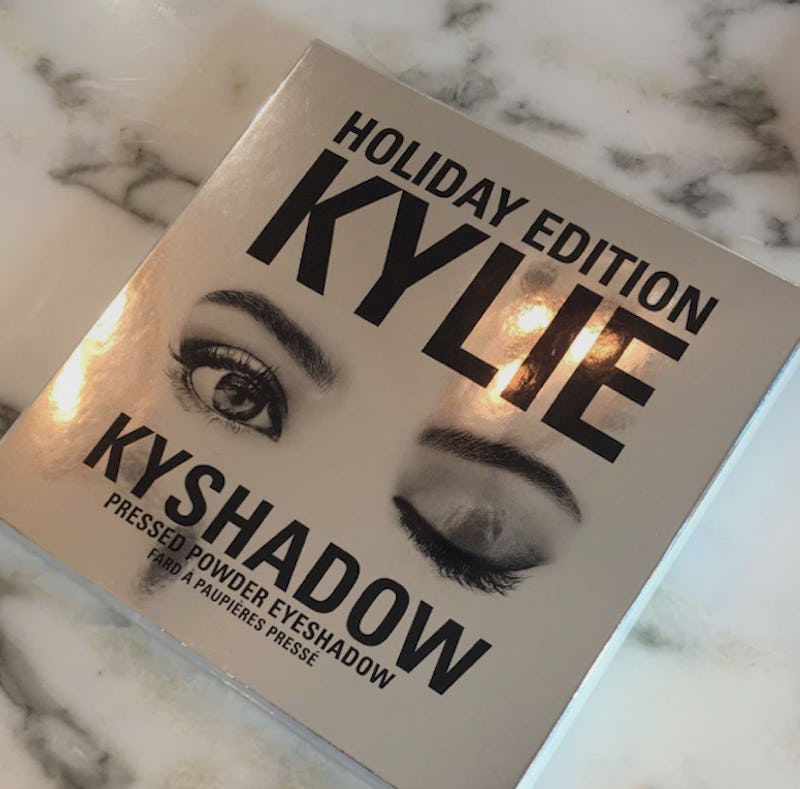 It's a silver-packaged winter wonderland of killer new products! Kylie Cosmetics 2016 Holiday Edition is something else... really! There are loads of new colors and new products, like brushes and a silver makeup bag. Therefore, you can "sleigh" the holidays and beyond. There is also a Holiday Edition KyShadow Palette, which is Kylie Jenner's third shadow collection overall, and the swatches prove it's aces. It's exclusive, features a mirror, which previous palettes did not include in their self-contained packaging, and is comprised of smoky jewel tones, according to the brand's Instagram caption describing and revealing the palette. Let's pause for a moment to allow all of those gorgeous deets to sink in. I know, it's a lot.
The Kylie Cosmetics 2016 Holiday Edition collection officially launches on Monday, Nov. 21 at 4 p.m. ET/1 p.m. PT and I expect a shopping frenzy to accompany the debut.
As always, you can purchase the Kylie Cosmetics 2016 Holiday Edition via the brand's website, which is its sole sales platform.
Now that you are apprised of the pertinent details about the Kylie Cosmetics 2016 Holiday Edition collection, feast your eyes on the new KyShadow palette. The pigments are so rich and winter-ready. But you can wear these smoky shades all year long.
OMG! Check out those jewel tones in both matte and shimmer textures. I love that matte emerald shade and that glittery sapphire hue. Who else, besides me, is shaking and crying with excitement?
The palette is exclusive to the 2016 Holiday Edition set. Will it have its status upgraded from limited edition to permanent addition? Time will tell. Plus, we don't even know if this KyShadow palette is limited edish. Jenner and the brand have not specifically stated if the actual Holiday Edition items are limited edition or if it's the packaging that is LE. I haven't seen them use the term "limited edition" connected to this collection yet.
The shadows have the cutest. holiday-themed names, too! As is the case with prior palettes, the KyShadow contains nine pans of shadow and that means endless customizable eye looks. You can do a new look every single day for months.
I screen grabbed the swatches from the Insta video so you can appreciate all the colors in a static way. You're welcome! That gold, though.
The Bronze and Burgundy KyShadow palettes were more basic with their shades. These are blockbuster and perfect for the party season.
You can mix and matte... for realz!
Images: Kylie Cosmetics/Instagram (1); Kylie Jenner/Snapchat (2)