10 Products You Need For A Quick Smoky Eye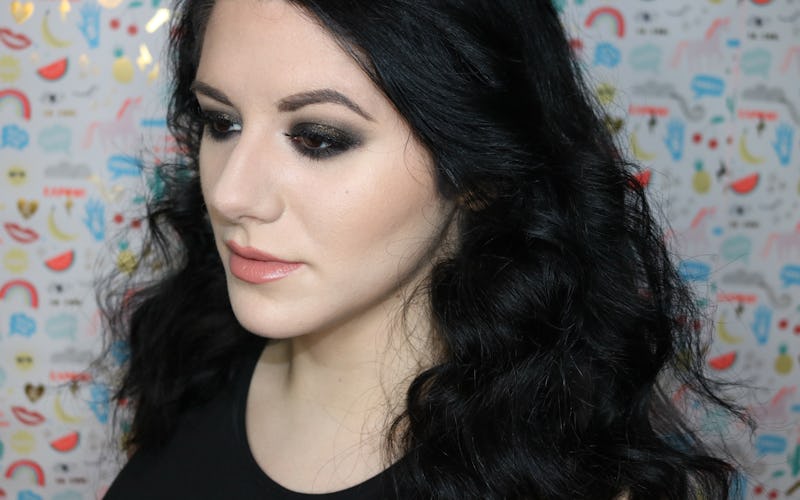 Ah, the illusive smoky eye: Too little product, and your eyes can look super small — but too much, and suddenly you're a panda. Luckily, these holy-grail products make two-minute smoky eyes 10 times easier. To clarify for aspiring makeup artist peeps at home, a smoky eye is a look that is super rich in saturation at one point on the eye (traditionally at the lashline) and gets lighter and lighter as it gets further and further away. Just like a puff of smoke, your smoky eye should have a seamless transition from dark to light tones.
Click on any YouTube video and you'll see beauty gurus employing 15-20 products (not to mention brushes) to achieve the perfect gradient. Sometimes, I'm about that life, because it's absolutely fabulous — but most of the time, I'm not. Simply put, I'm a busy girl trying to change the world and I generally just have two minutes to switch my look from a sensible work-friendly face to a sexy, smoldering stare for drinks with friends.
I've chosen the following products based on these parameters: Ease of use, blendability, and finger-friendliness. A good two-minute smoky eye product is something you can throw in your bag, blend in a flash, and wear flawlessly until approximately 4 a.m. the following morning. Like a good wine, smoky eyes should only get better with time.
Now let's get smoky, shall we?
1. Nars Eye Paint
Nars Eye Paint in "Baalbek", $25, Sephora.com
These little pots are my personal favorite. They come in a wide variety of shimmer and matte shades including Baalbek, the dazzling bronze with gold flecks that I used, Iskandar, a fabulous gold, and Mesopotamia, the perfect matte brown. The formula is super light-weight and sheers out easily with a brush or finger to create the perfect gradient. vIt's best to do a super thin layer from the lashline up to the crease first, and build the saturation at the lashline later on.
Pro Tip: if you have massively long fingernails (like me), it may be best to use a short, dense-yet-fluffy brush, like the Real Techniques Shading Brush, which will help you get into all those hard-to-reach places.
2. Sephora Collection Colorful Shadow and Liner
Sephora Collection Colorful Shadow and Liner in "15 Purple", $14, Sephora.com
For the price, these are an absolute steal. The pencil format makes it easy to reach the inner corner of the eye and control the placement of the product for those with folds, hoods, or downturned eyes. The standout colors include 15 Purple, 25 Green Shimmer, and 17 Black. The formula provides a bit more resistance when blending, which makes it perfect for the novice smoky eye lover.
Pro Tip: these pencils are extremely waterproof, so make sure you apply one eye at a time and have a fantastic waterproof makeup remover, like It Cosmetics Bye Bye Makeup™ 3-in-1 Makeup Melting Cleansing Balm for the end of the night.
3. Lancôme Drama Liqui-Pencil™ Longwear Eyeliner
Lancôme Drama Liqui-Pencil™ Longwear Eyeliner in "Brique", $23, Sephora.com
Now these pencils aren't new, but some of the dazzling colors are. Brique, a glistening pinky brick tone, Cuivre, a snazzy copper, and Bleu Magique, a shimmering sapphire with hints of glitter, are perfect for creating that deconstructed, metallic smokey eye that is so on-trend right now. They're super soft and creamy, yet, once they dry into place, they don't budge a bit.
Pro Tip: Color the pencil from lashline to crease, and smudge along the line of demarcation with your fingertip until you get the perfect blend.
4. Laura Mercier Kajal D'Orient Eye Liner
Laura Mercier Kajal D'Orient Eye Liner "Noir Supreme", $28, LauraMercier.com
This formula is perfect for those who want a soft, smoldering effect. It's a lightweight, sheer-yet-buildable product that gives a beautiful luminous finish. It comes in three colors: Noir Supreme, a rich jet black, Vino, a shimmering dark violet, and Graphite a slate gray. This product does the work for you. Simply apply into the top and bottom waterline and lashline, then smudge out with your finger.
Pro tip: For those with sensitive eyes, go over the bottom waterline a couple of times, then squeeze your eyes shut, allowing the liner to easily transfer onto the upper waterline.
5. Marc Jacobs Beauty Highliner Gel Eye Crayon Eyeliner
Marc Jacobs Beauty Highliner Gel Eye Crayon Eyeliner in "Midnight in Paris", $25, Sephora.com
If you want a bold, rock-n-roll smokey, these will be your tools of the trade. Each of these liners is super saturated with pigment and easily glides along the waterline. And the staying power is no joke. If you have a tendency to smudge your eyeliner throughout the day, then look no further. With colors like (Luna)tic, a metallic lavender that won the Allure Best of Beauty Award, Midnight in Paris, the perfect green-but-blue-but-navy-all-at-the-same-time, and Blaquer, the blackest black you'll ever see, you'll feel like an it-girl walking down Marc Jacobs' runway.
Pro Tip: Even though it's a twist-up pencil, the tiny black piece at the bottom of the packaging is actually a sharpener that you can use to get a fine point on the gel pencil.
6. ColourPop Shadow
ColourPop Shadow in "Dance Party", $5, ColourPop.com
This mousse-y formula is not only easy to use, but it's a fun texture to play with as well. Easily blendable with fingers, these shadows are the most forgiving if you make a mistake with placement. The dazzling shades like Dance Party, a violet infused with hot pink and cobalt blue glitter, and Shameless, a black layered with green, blue, and gold shimmer, are perfect for any upcoming holiday parties.
Pro Tip: Apply liberally onto the ball of the eye using fingers, and slowly smudge the color up into crease, avoiding any heavy placement of glitter.
7. MAC Pro Longwear Paint Pot
MAC Pro Longwear Paint Pot in "Dangerous Cuvée", $22, MACCosmetics.com
These cult-favorite products are staples in most professional artists' kits. They're extremely easy to manipulate and wear beautifully on the eye. Dangerous Cuvée, a shimmering grey, Imaginary, a royal blue with plum shimmer, and Blackground, a blackish-grey, are all exceptionally beautiful.
Pro Tip: Use it as an base under glitter or shimmer to create a multi-dimensional eye.
8. NYX Jumbo Eye Pencil
NYX Jumbo Eye Pencils, $4.50, NYX.com
The only way these super-creamy, blendable pencils could be more affordable is if they were free. Similarly to the Sephora Collection Colorful Shadow and Liners, the format of these products makes it super easy to achieve saturation. Because the formula is a bit more full-bodied and tacky, it does require skill and directional blending to achieve a smooth gradient. Still worth it at such a low price. Black Bean, Slate, and Purple are particularly beautiful.
Pro tip: Pick up two liners, one in a medium tone and one in black, to create extra depth. Smudge the medium tone all over the lid and line just the upper and lower waterlines with the black.
9. Make Up For Ever Aqua XL Eye Pencil Waterproof Eyeliner
Make Up For Ever Aqua XL Eye Pencil Waterproof Eyeliner in S-20, $21, Sephora.com
Repped by Charlie XCX, Make Up For Ever's new-and-improved formula is just as rad as the singer herself. When MUFE makes the waterproof claim, they truly mean it. These liners stay in-place and vibrant all day long. S-20, a shimmery navy blue, and I-24, iridescent blue with green sparkles, make amazingly beautiful jewel-toned smokey eyes. Because this pencil is extremely waterproof, make sure you blend quickly, finishing one eye at a time.
Pro tip: For a more advanced eye, you can break off the tip of the pencil and mix it with a tiny bit of Make Up For Ever's Sens'Eyes to create a cream base that's even easier to manipulate.
10. Milk Makeup Eye Vinyl in Tunnel
Milk Makeup Eye Vinyl in Tunnel, $20, Sephora.com
I know, I know, eye glosses can be terrifying — not to mention messy. But this one is pretty much the exception to the rule. It truly stays in place on the lid more than most glosses out there and creates a gorgeous slippery wet look similar to those in the pages of Vogue. I promise it'll last long enough to take a couple cool Instagram pictures, get a tattoo, and take a motorcycle ride because you'll feel so badass, that's exactly what you'll feel like doing.
Pro tip: Apply with your finger to the lid for more precision. For extra drama, layer liner, like MUFE's Aqua XL, underneath.
This is everything I use to create a fast and easy smoky eye, and even if it seems daunting, following these steps will have you serving a look in no time.
Images: Kim Carpluk (3); Courtesy Brands