The Star Of 'Moana' Is A Real Life Heroine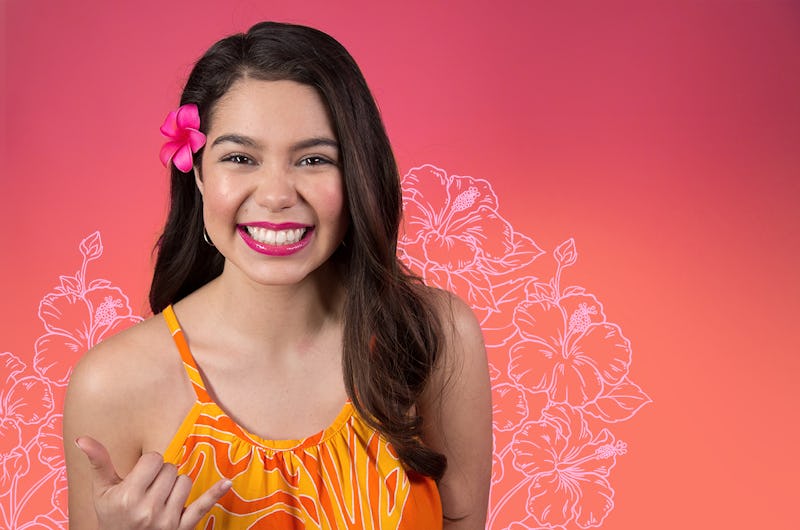 By now, those of you with an internet connection have likely heard praise for Disney's latest animated feature, Moana . From the insanely beautiful animation, to Dwayne Johnson's pitch perfect comedic timing and Lin-Manuel Miranda's brilliant songs, all the way to the inspiring character at the center of the story, Moana has already made quite the impression. But among all its gifts, the film is packing one more: the voice of Moana, 16-year-old Auli'i Cravalho.
On a rainy day about a month before the film's release, Cravalho and her mother came into the Bustle offices and — as cheesy as I know this sounds — she brought with her a little ray of sunshine. The young actor exudes genuine positivity, much like her Disney character, and in an instant, it became obvious why Moana's casting director chose her for the role.
"[My mom and I] whisper back to each other, 'Hey, I'm Moana,' just to remind ourselves. It's amazing," she says of the months leading up to the film's release, a huge smile across her face. And in fact, Cravalho isn't exaggerating one bit when she says that her casting was amazing, because from the way she tells it, it may have just been an actual miracle.
Despite a performance in Moana that rivals even the most seasoned actors' turns in Disney's many musical films, Cravalho's movie experience is rather slim: This is her first role. Ever. What's more, is that she didn't even audition for the role, outright. In fact, the role sort of came to Cravalho. The unsucessful tape that she and her friends made to audition for a non-profit event ("We had great harmonies; we put together an acapella mashup and like beat boxing and swag moves, and we actually didn't get in," admits Cravalho) made its way into the hands of Disney's casting director, who happened to be casting for both the event and the film. A formal audition and a trip to LA later, Cravalho officially became Moana.
"It really worked out," she says, as casually as can be.
And while the story of the audition that almost never was is remarkable, what's even moreso is the way it parallels Moana's journey in the film. The 16-year-old animated hero (Cravalho also turns 16 right before the film comes out — "So, I'll be having a very sweet 16") is just figuring out who she is and where she's going with the help of an actual miracle: The Ocean, personified, acts as a character and guide in the film, serendipitously choosing Moana to take on an epic task and to inspire her people.
Swap the Ocean for a well-placed casting director, and Cravalho for Moana, and you've got a similar recipe for inspiration — a comparison not lost on the (almost) 16-year-old.
"I'm a high school student who grew up on an island, who was given this wonderful, beautiful blessing, but I don't know where I go from there," says the young actor. "I think the main moral story of Moana is that you can take that time, and that it's so important to figure out who you are, whether or not you go on a physical journey. Or, maybe you just need to stop listening to everyone else and figure it out for yourself."
And it's that theme of finding yourself — and not a handsome suitor — that first got people so excited about the film in the first place. Headlines on women's sites across the board, including Bustle, praised the decision to not have a love interest in Moana. But Cravalho had a slightly different reaction to the writers' choice.
"That suddenly became a headline and it kind of surprised me because I thought to myself, 'If everyone knows that this film is about a journey, why did they assume that she needed someone else to help her find herself?'" Cravalho muses. "It blew my mind because I have always known and my mom has always taught me that you don't need anyone else, and you certainly don't need a love interest to find who you are. So, I'm glad that's now cleared up."
Cravalho, for her part, is also still figuring out where she goes next, after debuting her talents with Disney's sure-to-be-beloved new film, but whereever she goes, she says she hopes that singing will be a part of that next direction.
"I've always felt really deeply connected to music ... I think music can take you on such an emotional journey, and I come from two very musical sides of my family," she says. "On my mom's side, Hawaiian music — we've got ukuleles and all of that awesome stuff. I also dance hula. On my dad's side I'm Portuguese and Puerto Rican, so we've got cachi cachi music and I like to say I'm a good blend of the two."
Luckily for Cravalho, she just worked with one of the most powerful and adored people in music right now — Hamilton creator and extraordinary lyricist Lin-Manuel Miranda. "Well, I'd love to be in something of Lin's," she tells me with a laugh.
For now though, Cravalho is focused on the success of her first feature film, and the impact that she hopes Moana's story has on young audiences.
"I hope everyone takes away that it's this film that's wonderfully written. It really is. It's inspired by the wonderful Polynesian culture, and it's taken five years to fully create because they've done so much research," she says, before adding one more hope to her wishlist: "I want everyone to understand first that it is perfectly fine to take time to figure out who you are, no matter what anyone says, no matter where you come from, no matter how hard it may seem. It is absolutely necessary."
And while Cravalho is not exactly the same as her Disney character, with words like that, it's clear that she's just as inspiring, if not more inspiring, than her big screen heroine.
Images: Abby Adkison (photo), Bry Crasch (photo design), Chelsea LaSalle (quote design)/Bustle; Walt Disney Pictures