13 Things You Ate On Thanksgiving In The '90s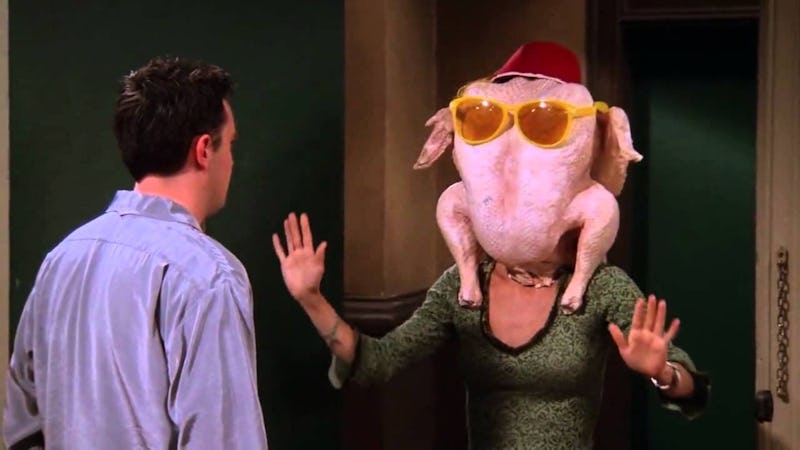 Is there anything better than Thanksgiving food? No matter your dietary needs or preferences, it's safe to say that pretty much everybody loves Thanksgiving dinner — even if you don't actually celebrate the holiday at all (that's what Friendsgiving is for, right?). And at this time of year, it can be fun to remember the things you ate at Thanksgiving in the '90s, in part because it was likely your parents, not you, doing all of the cooking and cleaning to make the meal come together. Ah, youth!
As is the case with any other decade, there were plenty of food trends in the '90s that reared their heads during Thanksgiving dinner. A lot of families have traditional recipes that are made year after year, but plenty of people also like to switch it up and try out new approaches to food each year. If you were a kid in the '90s, you likely had to put away your Oreo O's and Lunchables on Thanksgiving day, but that doesn't mean the meal times weren't still quintessentially '90s.
Here are some of the most popular foods that swept the nation on Thanksgiving in the '90s — and you can feel free to bring them back to your table this year, too.
1. Deep Fried Turkey
Yes, that's right: People can deep fry turkey. And if your parents were a big fan of Martha Stewart in the '90s, she just might have given your family the idea to try it along with her. If you attempt to deep fry your turkey this year, make sure you do so safely!
2. Sweet Potato and Marshmallow Casserole
Sweet potatoes are pretty sweet all on their own, but an especially kid-friendly version of them involves covering them with melted marshmallow — the result being a casserole that graced many a '90s table. I mean, yes, it was basically dessert, but the sweet potato makes it healthy, right?
3. Baked Macaroni and Cheese
While definitely still enjoyed by adults, a super kid-friendly Thanksgiving dish has got to be baked macaroni and cheese. Even the pickiest eaters will dig in!
4. Cranberry and Goat Cheese Salad
As Ariel Knutson at The Kitchn notes, goat cheese was super popular in salads all throughout the '90s. (Not that it isn't still super popular, but you get what I mean.) A super popular Thanksgiving salad was a combination of goat cheese, dried cranberries (remember when Craisins first hit the scene?), nuts, leafy greens, and a cranberry vinaigrette.
5. Truffled Mashed Potatoes
As the Food Network points out, the '90s were a peak time for anything "truffled." These dishes were made with truffle oil, giving them a deeper, more complex taste.
6. Tofurkey
If you or your parents were vegetarians or vegans in the '90s, a Tofurkey likely made an appearance on your Thanksgiving table. According to ABC News, Tofurkey first took shape in 1995 — literally. It is crafted soy protein, after all.
7. "Smashed" Mashed Potatoes
Another popular trend in the '90s was to refer to "mashed" potatoes as being "smashed." Practically speaking, there isn't much of a difference, but Food Network notes that it might have had something to do with the type of potato used — Yukon Golds, which were popular at the time, apparently "smashed" better than they "mashed." People are making smashed potatoes again now using mason jars and tons of garlic.
8. Brined Turkey
If your parents were not all about the deep fryer, you might have had brined turkey on Thanksgiving, bringing out the salty goodness as a perfect complement to your creamy potatoes.
9. Cranberry Sauce From A Can
If you make your own cranberry sauce, you are a master of Thanksgiving. But as a kid in the '90s, you know you loved cranberry sauce that slid out of a can just like the rest of us.
10. Biscuits and Gravy
Oh yes.
11. Pie Covered In Whipped Cream
OK, so most people love pie, period. As a kid, though, you know you covered each and every slice of that pie with as much whipped cream as it could hold. Pumpkin pie is especially friendly toward whipped cream, but if you're really dedicated, no pie goes without.
12. Literal Tons Of Stuffing
Whether your stuffing was cooked in the bird or on the stove, you savored every single bite.
A few hours after eating, we all had the gift from the sandwich universe: Slices of turkey layered with cranberry sauce, mashed potatoes, and gravy, between two slices of bread. And then Friends gave us the best name ever for it, and everyone went home happy. Mmmm.
Happy Thanksgiving, everybody!
Images: NBC; Giphy (13)