Check Out The Holiday Edition Lip Kit Shades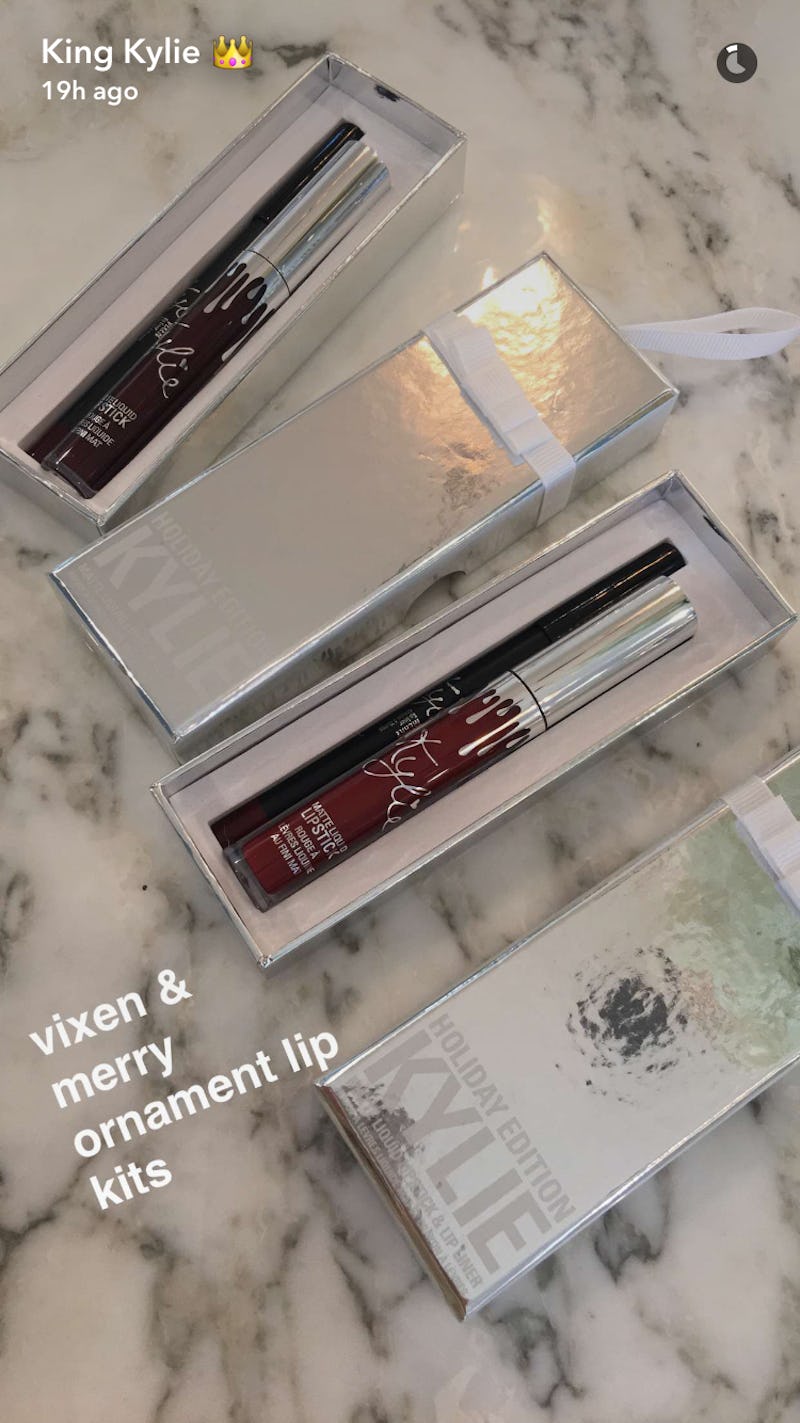 If you're able to get your hands on any of the Holiday Edition products from Kylie Cosmetics this season, consider yourself lucky! Kylie Jenner always delivers incredible products, but seriously, she's outdone herself this time, you guys. Are the Holiday Edition Kylie Lip Kits all new shades? There are some very special colors to look forward to.
Jenner took to Snapchat to show off her entire holiday line-up, and in the process she revealed the amazing new lippies that are on the way. Four matte lipsticks and one metal lipstick will drop at exactly 4 p.m. ET/1 p.m. PT on Nov. 21. All five lippies are new and exclusive shades, so I hope you're ready to rack up on Kylie Cosmetics products this season. Because you're not going to want to miss out on any of these new lip options.
OK, so the shades that you can find in a traditional "Lip Kit" (meaning it also comes with a liner) are called Vixen and Merry. Vixen is a plum shade and Merry is dark red color, much darker than Mary Jo K, if you're wondering. Then there's also Angel and Blitzen, which are matte formulas that can be purchased in a set of lippies. Angel is a dusty rose, and Blitzen is a bright berry. Last, but not least, is the lippie with a metallic finish called Dancer. It's a deep wine color that beams in the light thanks to its metal sheen.
The Lip Kits have all-new colors and all-new packaging.
The coolest part is that these can be hung from the tree.
As you can see, Merry is different from the original red lippie from the brand.
Angel and Blitzen can be purchased along with two glosses.
And these shades can also be found in the set of mini lipsticks from the brand. Aren't they so pretty?
Dancer is the most unique shade to come from Kylie Cosmetics yet, if you ask me.
When you shop the Holiday Box you'll get a mix of old and new hues, and you'll even find OKURR from the Koko Kollection in this line-up. Score!
There's no wrong way to shop these shades, as long as you get your hands on as many as possible!
Images: kylizzlemynizzyl/Snapchat (7)