The Best Gifts For The Beauty-Obsessed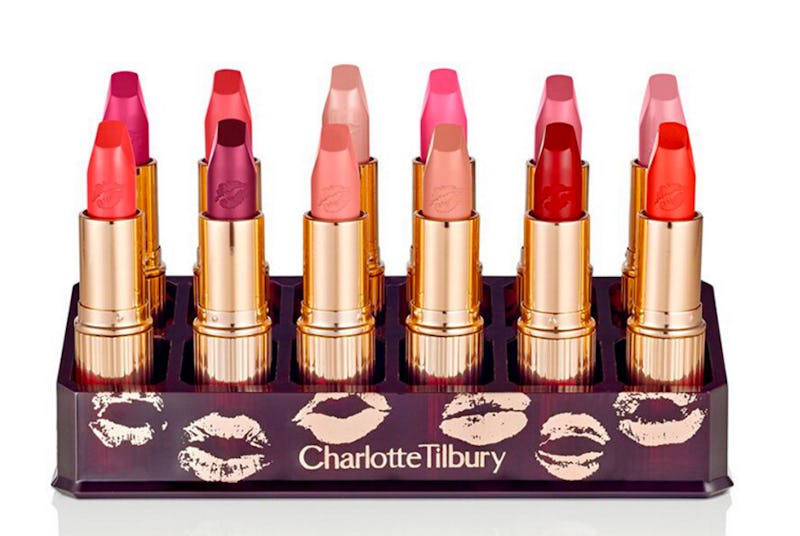 With the holidays around the corner, finding that ultimate, end-all present can be tricky. Especially if you're shopping for the utterly beauty-obsessed. But fear not, this list of totally luxurious holiday 2016 beauty gifts will have you covered. Because, let's face it, whether you're searching for the perfect gift for a loved one or even yourself, those who live and breathe beauty can be difficult to shop for— is there even anything they don't already have? Which is why sometimes the best option is to gift something they would never buy for themselves.
Enter the most lavish and covetable products and collections you can imagine. I'm talking entire product lines, limited-edition bundles, all-in-one palettes, and even jumbo-sized cult-favorites. So whether your giftee lives for completing her collection of lippies, lusts over perfect palettes, or even just wishes she had a little bit more of her favorite skincare product (Oh, who am I kidding? It's probably all of the above), there's something here that she will be dying to unwrap. So if you're planning on splurging on the beauty-obsessed person in your life (even if it's you), here are 22 gifts that will totally wow this holiday season:
Vaults & Collections
1. Metallic Pigments
Pat McGrath Labs Metalmorphosis 005 Everything Kit, $165, Sephora
Dripping in gold takes on a new meaning with this kit that will provide ultra-metallic looks for the eyes, lips, and even face.
2. Liquid Lips
Kat Von D Everlasting Obsession Liquid Lipstick Collector's Edition, $240, Sephora
Liquid-lipstick lovers can round out their collection with this set of 15 full-sized favorite and exclusive shades.
3. Pencils Galore
Make Up For Ever Artistic Pencil Collection, $250, Make Up For Ever
This tin is full of every shade of eyeliner your giftee could ever want to achieve basic or even bold, graphic looks.
4. Lip Trio
Christian Louboutin Holiday Rouge Louboutin Lip Colour Collection, $270, Nordstrom
If your giftee can't go a day without a red lip, she'll live for this set of iconic reds in three different, must-have finishes.
5. Lip Crayons
Bite Beauty Matte Creme Lip Crayon Collection, $275, Sephora
Fans of slim lip crayons that can easily be tucked into any purse or pocket will love this collection of hues that range from nudes to vamps. Plus, the white lippie will transform any of the others into a new, custom shade.
6. Beauty Trunk
Estee Lauder Pure Color Envy Color Collection, $285, Nordstrom
Filled to the brim with eyeshadow palettes, blushes, lipsticks, glosses, mascaras, and more, this case will update any collection.
7. Lipstick
Charlotte Tilbury Hot Lips Luxury Collection, $350, Charlotte Tilbury
Perfect for any beauty-lover's vanity, this collection of 12 lipsticks not only has an amazing formula but also display-worthy packaging.
8. Eye-Color
Urban Decay UD XX 20 Years Of Beauty With An Edge, $375, Urban Decay
Any eye-look under the sun is possible with this set of 20 eyeshadows and 20 eye pencils in every shade imaginable.
Palettes
1. Smoky Eyes
YSL Tuxedo Couture Variation Ten-Color Expert Eye Palette, $95, Nordstrom
Take your giftee's smoky-eye game to the next level with this sleek and sexy palette.
2. Travel Palette
Chanel Travel Makeup Palette, $95, Chanel
For the traveling beauty in your life, this palette will allow her to create a full, luxe face on the go.
3. Full Face
Giorgio Armani Beauty Light and Shadow Eyes and Face Palette, $140, Sephora
Sculpt the eyes and face with this compact filled with contouring eyeshadows and creams.
4. Eyes & Cheeks
Tom Ford Soleil Eye And Cheek Palette, $155, Nordstrom
Available in both warm and cool tones, this pretty palette has everything a girl could dream of.
5. Warm Eyes
Natasha Denona Eyeshadow Palette 28, $239, Beautylish
If you're used to hearing words like "pigmented," "gorgeous," and "blendable" being thrown around, chances are your giftee is already lusting after this palette. And having it in her hands will be a dream-come-true.
Skincare Sets
1. Favorites Set
Bobbi Brown Bobbi's Skincare Favorites, $106, Bobbi Brown
Replenish your giftee's skincare must-haves with this set of classics in both full and travel sizes.
2. Multi-Masking Set
Tata Harper The Multi-Masking Collection, $178, Sephora
For the mask-lover in your life, this set will target a variety of concerns from dullness to dryness in the most luxurious way.
3. Prestigious Routine
Dior Prestige Signature Set, $258, Dior
As if the packaging itself didn't scream "luxury," this set of skincare necessities will hydrate and perfect any complexion.
4. Travel Set
Tatcha Kaiseki Complete Travel-Size Kiri Collection, $375, Tatcha
For those who like to try a little bit of everything, this skincare collection of travel-sized products will allow your giftee to discover new faves at home or on the go.
5. Gold Facial
Omorovicza Gold Facial Set, $535, Omorovicza
Infused with real gold, this skincare set that repairs and strengthens the skin is super luxe both inside and out.
Deluxe Favorites
1. Cream Cleanser
Eve Lom Cleanser 200ml, $135, Beautylish
If the beauty-addict in your life can't get enough of Eve Lom's cream cleanser, make sure she's stocked with this jumbo jar.
2. Rose Balm
By Terry Impearlious Baume de Rose Deluxe, $245, Beautylish
Not only is By Terry's cult-favorite rose balm in a deluxe size, it's also nestled in a bed of preserved roses. Does it get more luxurious than that?
3. Magic Cream
Charlotte Tilbury Giant Charlotte's Magic Cream, $255, Bloomingdales
For when some magic is not enough, this jar contains three times the amount of Magic Cream for the ultimate, glowing complexion.
4. Treatment Essence
SK-II Facial Treatment Essence 11oz, $290, Nordstrom
If your giftee is in need of a skin game-changer, share this highly-coveted, jumbo essence that can help reduce signs of aging while improving texture, firmness, and radiance.
Just be warned that after delivering any of these gifts, jumping and squealing is likely to ensue. Happy holidays.
Images: Courtesy of Brands