Sarah Glidden Writes About How Journalism Is Done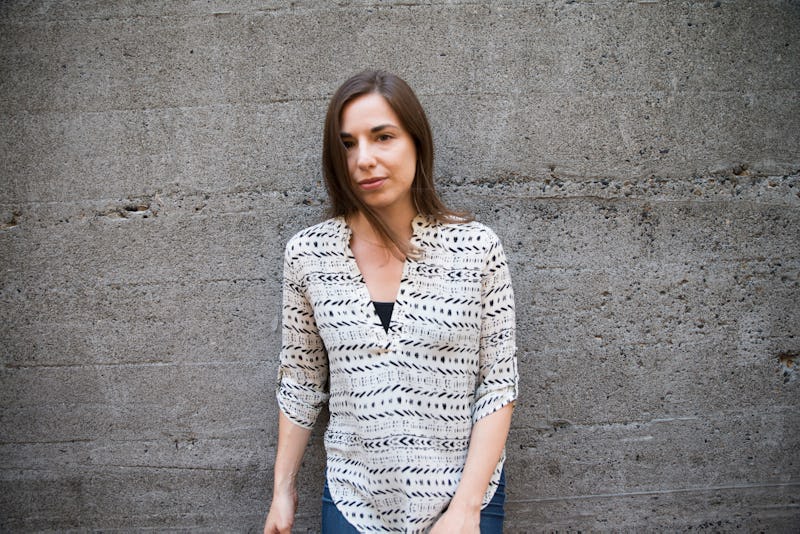 In 2010, a small group of journalists and friends spent two months in Turkey, Iraq, and Syria to collect a laundry list of stories about war, displacement, immigration, deportation, and life before, during, and after major conflicts. Out now from Drawn & Quarterly, Sarah Glidden's Rolling Blackouts tells the behind-the-scenes story of that trip. On Nov. 9, I had the chance to speak with Glidden over the phone, in-between stops on her book tour. We talked about the graphic novel, the meta-journalistic process, and how important good and truthful storytelling is today, of all days.
But first, some background on Rolling Blackouts. Five years before their trip to the Middle East, Glidden's friends — Sarah Stuteville, Alex Stonehill, and Stuteville's best friend, Jessica Partnow — founded a journalism collective, Common Language Project. Today, it's known as The Seattle Globalist: an award-winning online publication dedicated to "highlight[ing] diverse voices and train[ing] the next generation of media makers."
The Globalist team was fresh off of back-to-back trips to East Africa and Pakistan when Glidden asked if she could tag along on their next journey, "so [she] could make a comic book about how journalism works." Partnow was only available for the last few weeks of the two-month period, which were spent entirely in Syria. For most of the reporting trip, Glidden followed Stuteville, Stonehill, and Dan O'Brien, a mutual friend of Stuteville and Partnow.
O'Brien was an ex-Marine who was then studying at Northeastern University. He vlogged about his experiences during the trip for college credit, and Stuteville planned to interview him for a piece on a veteran's return to Iraq. O'Brien's interactions with the people and places of the Middle East became one of the most compelling threads in Rolling Blackouts.
I wanted to know, first and foremost, what inspired Glidden to get into graphic journalism: a relatively new field that uses a graphic novel format to tell true stories. She quickly notes that she "had not grown up with the Raina Telgemeiers like we have today," and was first exposed to graphic novels through more adult offerings: Joe Sacco's Palestine, Art Spiegel's Maus, and Marjane Satrapi's Persepolis. Glidden also names "New Yorker, narrative-style journalists," such as David Foster Wallace, as major influencers on her own brand of storytelling.
Even with the influence from Sacco, Spiegel, and Satrapi, Glidden says that making graphic novels in that vein was "so above and beyond anything [she] had ever thought [she] could do." After she went on a Birthright Israel tour in 2007, her award-winning, self-published diary comic of the trip morphed into her first book, How to Understand Israel in 60 Days or Less, which was published in book format by Drawn & Quarterly in 2011. It was the "first time [Glidden] was exploring a political topic" in her work.
In Rolling Blackouts, Glidden touches upon several stories the Globalist crew investigate. These include:
Amin, an Iranian blogger, and his wife, Mina, who are living in Turkish exile, awaiting immigration to the U.S.
Sam Malkandi, an Iraqi Kurd who was displaced by the Iran-Iraq War and resettled in Seattle during the late 1990s, only to be deported after his name appeared in The 9/11 Commission Report.
Art students Momo and Odessa, who are living in Damascus and want to immigrate to Seattle.
I ask Glidden if she thinks that there are some stories that can only be told through graphic journalism. She tells me that "a story can be told in lots of ways," but admits that her book "would ... be a very different work" if it were told as traditional nonfiction. Instead of a slim volume of prose, Rolling Blackouts is a 300-page graphic novel that draws empathy for its characters through Glidden's paintings, which depict body language and emotion far more explicitly than words could.
In a similar way, even though it's still a book about how journalists find news stories and carry out investigations, Rolling Blackouts relays that information the way any good piece of writing should: by showing, not telling. As Observer notes:
Glidden's book only explains what it can show with real events. There's no pages breaking down the pieces of the crafts as an abstraction, such as: "how an interview works," "how to find good sources" or "fact-checking testimonials." Everything she wants us to see, she shows through actual events that happened on the trip.
"Comics journalism is still a novelty," Glidden tells me, admitting that it can help stories like hers stand out. In a day and age when almost anyone can publish their work online, the critical question for every writer is this: "How do you make [your audience] stop and look at your journalism?" Glidden relates the graphic novel format to "advertising, in a way," because "it's like this little colored flag" on bookshelves.
That being said, it's "harder to get comics journalism published in traditional print outlets," because of the space required to tell stories in comics form. Online outlets like The Nib, where Glidden published a reporting piece from Jill Stein's 2016 presidential campaign, publish political commentary, nonfiction, and humor comics. Online publishing "can be more accessible," she says, noting that there are "more and more places for people to get paid" for their work.
In that same line of questioning, I ask if Glidden thinks graphic journalism is more accessible than traditional storytelling platforms for people from marginalized communities. While there are plenty of artists with disabilities, LGBTQIA artists, and artists of color making great nonfiction comics today, Glidden says that graphic journalism, like its more traditional counterparts, "is still getting over the fact that it's mostly white people making it."
So what's next for Sarah Glidden? The graphic journalist tells me wants to concentrate on "shifting focus toward immigration in the U.S., Central America, and Mexico." It's a topic she says "is something very personal" to her, given that her husband, Fran L ó pez, is originally from Argentina.
Rolling Blackouts is available today from your favorite retailer.
Images: Sarah Shannon; Courtesy of Drawn & Quarterly