9 Characters You'd Like To Invite To Thanksgiving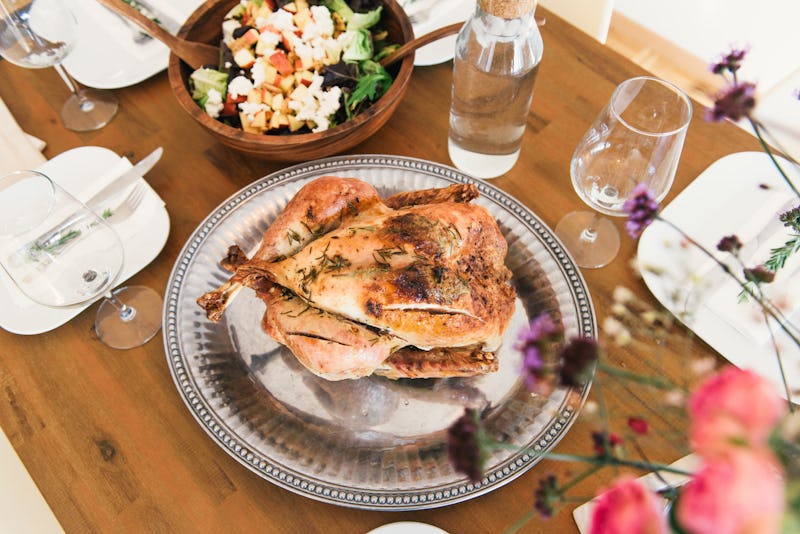 I'm a big fan of the By the Book column in The New York Times, where writers, celebrities, and other prominent folks dish about their reading habits. There's something wonderfully voyeuristic about knowing what Zadie Smith has on her nightstand (#impressed), but, TBH, my favorite question--and answer--is always the one about what people the interviewees would like to bring together for a dinner party.
Given that Thanksgiving has the potential to be the ultimate epic nosh sesh, I offer, now, a version of my favorite BtB question: What characters would you like to invite to Thanksgiving? Any good host(ess) understands that much strategy is involved in orchestrating a winning meal-centric soiree. You've got to balance personalities, politics, and dietary preferences. (You know that diehard vegan doesn't want to sit on top of your BFF the Carnivore.) Tendencies to diatribe, gossip, and, well, overindulge all need to be weighed. Ask yourself: are children welcome at this dinner party? Are these exes civil enough to functionally pass the stuffing?
The best thing about drafting a guest list for your own, personal literary Friendsgiving, though, is imaging the delights to be had by letting (fictional) worlds collide. Who's at your table? Me, I'm making room for these nine characters.
1. Harry Potter
This is a Bustle-sponsored Thanksgiving, right?
2. Lola de León, Oscar Big Sis from The Brief Wondrous Life of Oscar Wao
She's tough as nails and willing to spar, this Dominican feminista, but you know she's motivated by sisterly love.
3. Theodore, "Teddy," McArdle, from Nine Stories
J.D. Salinger's precocious youngster is clever, cute, and preternaturally mature, making him a fine presence for when the convo tends into PG-13 territory.
4. Jadine Childs, from Song of Solomon
The protagonist of this Toni Morrison novel has mink-colored eyes, a glamorous modeling career, and an affinity for French culture. You know she'd keep Thanksgiving classy.
5. Alex, from A Clockwork Orange
Reformed or still a Droog? That's your call. Pass the milk and turn up the Ludwig von.
6. Claudia, from The Babysitter's Club
Claudia Kishi, VP of The Babysitter Club, had such stylish outfits that there's an entire blog devoted to cataloguing her duds. But Clauds was also artistic, and you know those napkins aren't going to tuxedo-fold themselves.
7. Gregor Samsa, of "The Metamorphosis"
Because, no offense, but the Hunger Artist might kill the feasting vibes.
8. Molly Bloom
Every party needs a soliloquizer.
9. Eileen Myles, from Chelsea Girls
Okay, so I realize this choice opens up some big questions (i.e., how do we talk about the author-narrator figure in memoir or other creative nonfiction, like this "autobiographical novel"), but Myles' chatty, sometimes bawdy discourse is mealtime-perfect for the way she veers easily between the personal, the public, and the proposal private, all with a chummy intimacy that draws readers in. Plus, there's her always winning attitude, on display in quotes like this: "If there is something I will always carry in my heart it is this earnest unwillingness to be part of the bunch."
Images: Gabriel Garcia Marengo/Unsplash