See Inside Huda Beauty's Liquid Matte Vault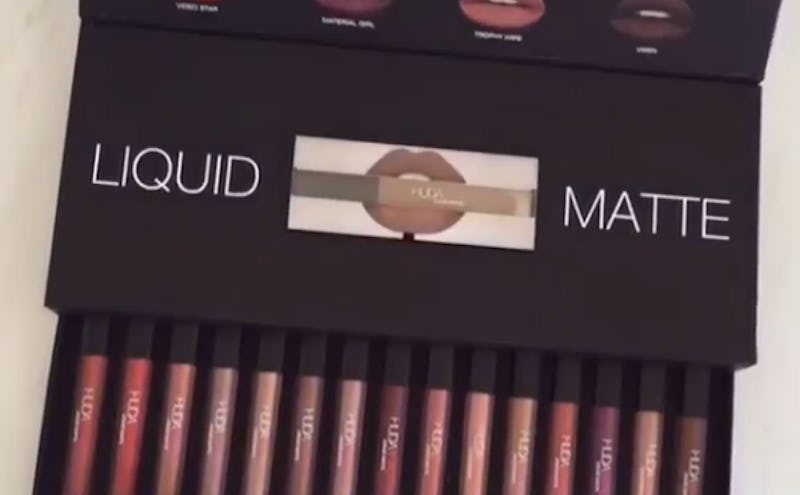 Odds are you've already heard of the Kat Von D Beauty and Urban Decay Naked Vaults already. Well, now another massive set of lippies is in the works too. According to the Founder of Huda Beauty, Huda Kattan's Instagram page, the company created a Liquid Matte Vault just in time for the holidays. Not too many details are out just yet, but one thing is for sure — this set is a lip lovers dream. Trust me when I say that it's got every lip color you could possibly need.
Huda Beauty's Liquid Matte Vault has all 16 of the brand's lip products. As the name suggests, it's filled with only the Liquid Matte Liquid Lipsticks — no Lip Contours included.
Either way, this is still pretty awesome though. From the Instagram sneak peek, it look like they're all full-sized products too. If you were to buy them all individually, it would cost you $320, so fingers crossed that this vault brings the savings. The date and price have yet to be released, but that shouldn't stop you from getting excited. Kattan included the hashtag #comingsoon, and I'm willing to bet that means just in time for the holidays.
When Huda Beauty's Liquid Matte lipsticks came out, people freaked out. They flew off the shelves super fast, and were quickly deemed as some of the best out there. Although all of the shades are currently available on the Sephora website, this is the perfect gift for the ultimate lip lover in your life.
In my opinion, each and every one of these shades is a must-have. The collection sticks to mainly rosy-neutrals, but there are some fun and unconventional shades in there as well. The company has skipped the holiday launches this year, so this could be the start of more products to come as well.
I don't know about you, but I'd love to get this for the holidays. Whether you're looking to start your lippie collection or grow it, you can't go wrong with this vault.
Images: hudabeauty/Instagram (1)