'Search Party' Is Bound To Make A Good Impression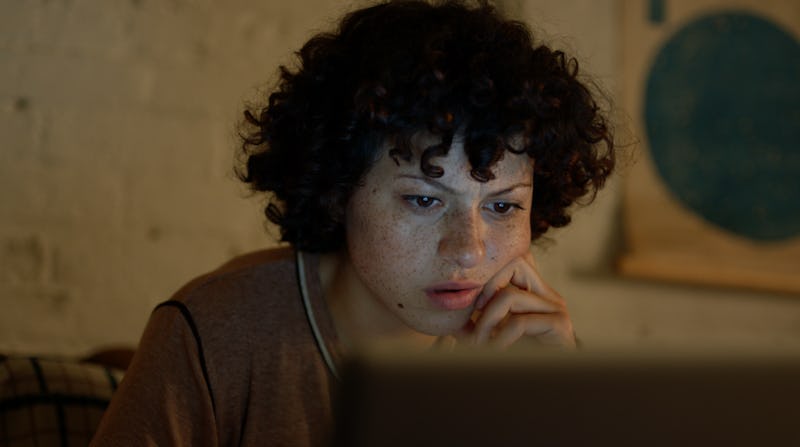 Settling in for a comedy marathon on TV is, perhaps, the best way to get through a Thanksgiving spent with family. One new series is making that very easy to do, as TBS' comedy Search Party will air its entire first season this week, starting with the Nov. 21 premiere. Of course, seeing the whole season in such a short span will only make you curious about a potential Search Party Season 2 even sooner. I know, I know, the series is still brand new, wondering about future seasons seems a little premature. But I can't help it and luckily, even though TBS hasn't said anything about a second season yet, I wouldn't worry about the series' future. It's premiering right around a holiday where people will be home with not much to do but watch TV. Comedy fans will surely discover Search Party and give the first season ratings worthy of a renewal.
Given that TBS decided to greenlight the whole 10-episode season before the pilot even premiered, I'd say that unless ratings or reviews are particularly vicious, chances of a renewal are high for a Season 2 either next year, or, if the show continues its similarities to Angie Tribeca, perhaps sooner. In the meantime, there are a lot of reasons why comedy fans should be excited for this premiere. And of course, the more people who tune in, the more likely Search Party is to return for another season.
The Cast Has So Many Of Your Faves
Alia Shawkat alone makes this cast amazing, especially because this is her biggest TV role since Arrested Development. But in addition, the supporting cast features amazing comedic performers like John Early, who was in The Characters earlier this year, and the other characters are played by comedy performers from the New York city scene that are due for a big break.
It's A Female-Led Comedy With A Wide Lens
There's nothing wrong with series like Girls that have an explicitly feminist lens. Certainly, depicting the lives of young women is a goal worthy of its own series, but Search Party is led by a female character, has a female co-creator in Sarah-Violet Bliss (who also directed Fort Tilden), and features women throughout, but it's also a darkly comedic mystery with a broader generational critique.
The People Behind The Show Are Amazing
In addition to the onscreen talent, the creators of Search Party are Bliss and Charles Rogers, who made Fort Tilden together, and Michael Showalter, who was a member of The State, Stella, and worked on projects like Wet Hot American Summer. That's a lot of potential and a lot of experience, all at once.
Mysteries Are So Addictive
TV fans are so obsessed with mysteries that they're looking for secrets even where there aren't any — look at the Westworld hashtag if you need any evidence of how much viewers can analyze every frame of a series. Search Party is a show that actually has a mystery at its center, focusing on a missing woman and the former college friends who band together to look for her, so it's sure to keep audiences hooked.
And You Won't Have To Wait For The Answers
If you love the first two episodes that premiere on Nov. 21, the good news is, the show will be airing two episodes a night all week — it's like TBS is responsibly dosing out just enough to keep you invested, but not so much that you lose the thread of what's going on.
It's True To Its Setting
The show pinpoints Williamsburg hipsters, and you can feel that setting in every frame of the series, both comedically (brunch scenes!) and logistically (it's easy to imagine someone going missing in a city as big as NYC).
TBS Might Be The Next Best Comedy Destination
If you ask me, this year, Full Frontal with Samantha Bee won the crown of best late night comedy series with its amazing coverage of the horrifying 2016 election. Angie Tribeca is wacky, weird, and has more jokes-per-minute than almost anything I've ever seen. And now, with Search Party adding a little darkness to the network, TBS is building its own comedy empire.
Image: TBS (5); Giphy