TBS Brings Feminism & Wit With New Comedy Lineup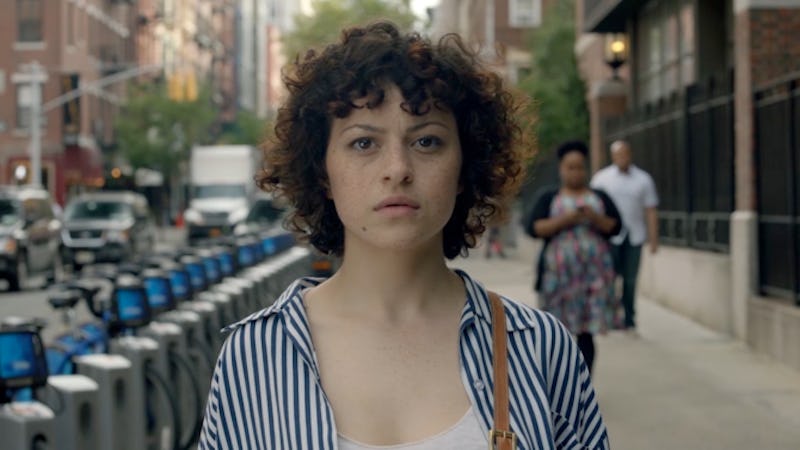 The winter TCA tour (when television networks unveil their new shows to critics) is well under way, and TBS may have just stolen the show. Former Fox head honcho Kevin Reilly has taken over the reins of the network, and from the looks of the new lineup of originals, he could be making TBS a destination for witty, feminist comedies. Case-in-point: Rashida Jones is skewering procedurals in Angie Tribeca , Samantha Bee is taking on late night with Full Frontal with Samantha Bee , Alia Shawkat is getting existential in Search Party, lots of your favorite female comedians are stranded in Wrecked, The Detour comes from the minds of Bee and Jason Jones, and People of Earth is an alien abduction comedy. All six shows are set to debut in 2016, and TV junkies should get excited now.
Not only do these comedies feature an astonishing number of beloved actresses, they are all either female-led or ensemble stories. The comedies ranges from the thoughtful to the wildly eccentric. Also, there are two Bee-led projects. And the best news? There is something for everyone — from the person who misses The Daily Show team to the person who is still not over Lost (why is everyone looking at me?). Here are some excellent reasons to keep these TBS shows on your radar — and trailers!
Watch Full Frontal With Samantha Bee If You Are Into Feminist Humor, The Classic Daily Show Team, And General Hilarity
You know you have been missing Bee in all of her deadpan, tell-it-like-it-is glory. She will give you all the old-school Daily Show feels in this first clip, in which she talks candidly with male graphic artists at Comic-Con about their scantily clad female heroes. "Don't you think it's sad that boys don't have the same kind of superhero to look up to who is just unencumbered and powerful and comfortable in his own skin who is just out there doing high kicks and showing off his side vag?" I cannot remember the last time I saw a takedown so glorious. Full Frontal premieres Feb. 8.
Watch Angie Tribeca If You Wish Procedurals Took Themselves Less Seriously & You Miss Beautiful Tropical Fish Ann Perkins
Rashida Jones finally has her own show, and she is not stuck being the only normal one in an ensemble full of over the top characters this time. She is right at the center of the crazy, and she looks right at home joining her castmates in Monty Python-esque literalness and procedural skewering. If you've ever wished Law & Order could see the humor in its format, then Angie Tribeca is going to be your one true comedy love. Angie Tribeca's first season premieres with an epic 25 hour marathon on Jan. 17, with Season 2 set to premiere on week-to-week basis beginning Jan. 25.
Watch Search Party If You Love Alia Shawkat & Shows About Deeply-Felt Quarter-Life Crises
Arrested Development's Shawkat is a routine scene stealer, so I am ecstatic to see the woman who was Maeby Fünke finally get her own show. Of all the new TBS comedies, Search Party looks the most subdued, and that is a good thing. Shawkat's Dory becomes obsessed with the disappearance of an acquaintance as a way to deal with the dissatisfaction she is feeling over her own life. It looks smart, witty, and like it has something to say about this young woman's quest to find adulthood. Now it just needs a premiere date.
Watch The Detour If You Love Road Trips, The National Lampoon Movies, & Bee's Sense Of Humor
Bee and her husband — another former Daily Show correspondent, Jason Jones — are behind The Detour which is centered on a nightmarish family road trip. Jones stars alongside Justified's Natalia Zea, and the show has a serious National Lampoon's Vacation feel. Everything that can go wrong will go wrong, so if you like road trips for hell, you will love this show. The Detour premieres April 11.
Watch Wrecked If You Still Aren't Over Lost
Listen up, Lost fans, because Wrecked is a love letter to you and all of the elaborate theorizing you did for six years. Hardcore fans will notice many scenes in this clip are ripped straight from Lost's legendary premiere episode — the only difference is this time everything is being played for laughs. As someone who still routinely shouts "we have to go back!" for no good reason, I'm really into this concept. No premiere date yet, but I'm just happy Wrecked exists.
Watch People Of Earth If Your Favorite Episodes Of The X-Files Were The Funny Ones
Headlined by yet another Daily Show alum, this time Wyatt Cenac, People of Earth looks as delightfully offbeat as a show about an alien abduction support group should be. It comes from Conan O'Brien's production company and is executive produced by The Office's Greg Daniels. The show's out there premise reminds me of the best comedic episodes of The X-Files, but I'm also sensing there could be some serious heart in this story of people who want to believe they are important. There is no word yet on when in 2016 People of Earth will premiere.
If these shows turn out to be as much fun as they look, TBS is going to be your new favorite channel.
Image: TBS