The Cast Of 'Dance Moms' Could Change For Season 7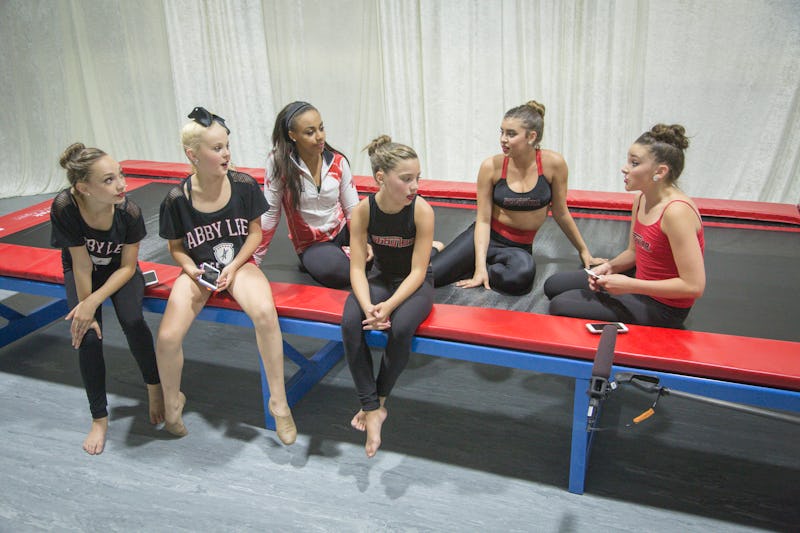 The sixth season of Dance Moms finale will show the dancers and Abby Lee attempting to find some unity among the divided Dance Center after the elite team moms decided to find a new coach. Surprisingly, the seventh season of Dance Moms will premiere very soon — according to Lifetime, the next season premiere is Nov. 29. But when the show returns, which girls will return to Dance Moms in Season 7? The cast of the series has been mostly unchanged over the past half dozen seasons and years, but already there's been some departures over the past year, and according to the Season 7 trailer, there may be more changes to come.
The season is already missing the Ziegler sisters, undoubtedly the biggest dancers that have been a part of the show. Additionally, JoJo Siwa and Peyton Evans are also completing their final seasons on the show. The tearful goodbye as the Zieglers made their last appearance reminds you that these are still kids, even though they may be super-successful professional dancers. But Dance Moms is not just about Mackenzie and Maddie — or Peyton and JoJo. The rest of these kids are just as talented and working just as hard to hone their dance skills. But, that isn't stopping Abby Lee from pitting the elite dancers against one another, threatening to cut some of the established stars in favor of new girls competing for a spot. So in the upcoming Dance Moms Season 7 premiere, here's who you can expect to see and what they've been up to lately.
Nia Frazier
There are rumors that Nia might actually be leaving the show because she has so many other commitments brewing, like her role in off-Broadway's Trip of Love . But she does feature into the season trailer, with her headshot shown during Abby's threat of elimination, and as of a few days before the Season 7 premiere she was posting footage of her dancing at the ALDC in Los Angeles, so she seems to still have a good relationship with Abby Lee.
Kalani Hilliker
Three of the girls, including Kalani, were tagged in an Abby Lee Instagram photo with the hashtag "Season 7," suggesting that they're all going to be in the upcoming season. Meanwhile, Kalani just celebrated her 16th birthday, and even had a reunion/party with Maddie, whose birthday is around the same time.
Brynn Rumfallo
Brynn might have spilled the official elite team lineup on her Instagram. That uber-frightening clown routine was visible in the Season 7 trailer, and Brynn tagged all of the dancers behind the makeup.
Kendall Vertes
Kendall, the final girl featured in ALM's Season 7 Instagram tease, has been touring around the country bringing Dance Moms to cities like San Diego and Phoenix. Kendall is giving her own hints about what's to come on the show, like the above picture of an upcoming routine, as well as lots of pics of her hanging out with her Dance Moms BFFs Kalani and Nia, suggesting that there's a good chance all three members of the trio will be on the Season 7 team.
Maesi Caes
It looks like Maesi will be a new member of the elite team during Season 7 — she's got a team jacket and everything. In October, a video of Maesi's dance accomplishments introducing fans to the young dance star show that she's incredibly talented.
Camryn Bridges
And it looks like Camryn will be joining the cast as well, after auditioning for the show, and if she does become a member of the elites, she will be the third dancer of color to be on Dance Moms — and looks like an incredibly talented dancer too.
Daviana Fletcher
Daviana is definitely taking ALDC classes, though she's been less forthcoming than some of the other dancers about whether or not she's going to be on Season 7 (though the unofficial Dance Moms wiki insists that Daviana is joining the team). But if you check out her Instagram, this girl is snatching dance trophies left and right, so Abby Lee would be crazy to have her at the studio and not put her on the team.
Mackenzie Ziegler
Even though she left alongside her sister during Season 6, there's some speculation that Mackenzie will be returning, though if she is, it looks like it will be a surprise/secret cameo, because there's plenty of evidence of the other girls appearing, but none of Mackenzie dancing with the team.
But, whoever makes up the ALDC, Season 7 is bound to bring the same exciting drama.
Image: Bobby Quillard/Lifetime