The Young Actors Who Make Up TBS's 'Search Party'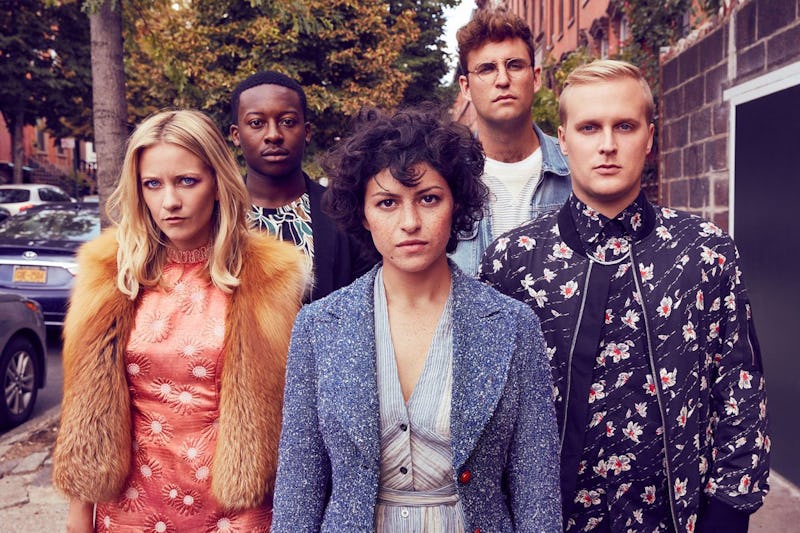 Older generations (and sometimes even their own) love to tell millennials how aimless and self-obsessed they are. Like most gross over-generalizations, that's mostly crap. Still, shows like the TBS comedy Search Party , premiering Nov. 21, can capitalize on those assumptions to great effect. At the center of the series are a group of Brooklyn hipster 20-somethings, who find that an acquaintance has gone missing and rebrand themselves as somewhat inept amateur investigators. Alia Shawkat, John Reynolds, John Early, Meredith Hagner, and Brandan Michael Hall form the core ensemble of Search Party. Some of their faces might be new to you, so I've put together this Search Party cast rundown.
But before I get to where you may have seen these actors before, there are some scheduling details to be aware of. TBS is programming Search Party like an event series. All 10 episodes are set to air during Thanksgiving week, which ought to give this holiday an air of self-referential mystery. If you don't want to get spoiled, you may have to sneak away from family fun times to catch those episodes.
This show comes with a Wet Hot American Summer and Wet Hot American Summer: First Day At Camp pedigree via creators Sarah-Violet Bliss, Charles Rogers, and Michael Showalter, so that gives you an idea what to expect. Read on to learn about the cast that makes up this Search Party:
Alia Shawkat As Dory
Shawkat was only 14 when she made her mark on high-comedy as Maeby Fünke in the layered ensemble series, Arrested Development. She returned to the role of George Michael Bluth's maybe cousin when the show was revived for a Netflix-only season in 2013. Her film credits include the roller derby comedy Whip It and last year's punk pressure cooker, Green Room. She also went meta to honor the resemblance between her and Ilana Glazer by playing Glazer's character's crush and doppelganger in a standout episode of Broad City.
John Reynolds As Drew
Imagine this bespectacled guy in a cop uniform and what recent binge watch phenomenon comes to mind? Reynolds plays Officer Callahan in Netflix's Stranger Things; he's that somewhat bumbling but well-meaning officer under the command of Chief Hopper. You can also spot him in episodes of High Maintenance and The Chris Gethard Show.
John Early As Elliott
This year has been a big one for the writer, actor, and comedian. In 2016 alone, Early appeared in projects like the independent cancer dramedy Other People, Netlix rom-com series Love, and Neighbors 2: Sorority Rising. You can catch his stand-up live in New York City, and he does one hell of a Britney Spears impression, as he proved to Conan O'Brien recently.
Meredith Hagner As Portia
I loved Meredith Hagner on Veep this year as Mike and his wife's potential surrogate, Debralee. The actress got her start in daytime television, playing Liberty Ciccione on As The World Turns. And she was a series regular on another TBS comedy — albeit a more traditional sitcom-y one: Men At Work.
Brandon Michael Hall As Julian
Hall only has a few credits to his name so far, but all of them are recent. Remember the delivery guy who showed up at Ilana's house and got a lot more than he bargained for in the "Rat Pack" episode of Broad City? That was Brandon Michael Hall. He also has a few projects listed as upcoming, including a leading role in a crime thriller called The Airport Run.
If Search Party follows through on its original premise, this ensemble could be in the ranks of, say, the You're The Worst main four.
Images: TBS