18 Delicious Pie Recipes For Thanksgiving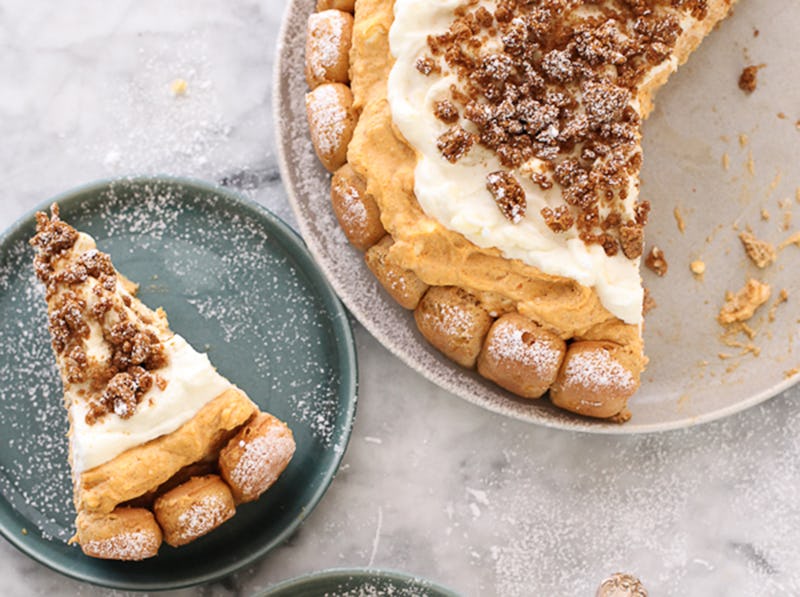 When you think of Thanksgiving dessert, the first thing that comes to mind is most likely pie — specifically, apple pie, or pumpkin pie, or maybe pecan pie. Thanksgiving is the night when we take advantage of lots of fresh fall flavors, like fruits and spices, in a buttery, crispy crust... so, basically, it's the best thing ever. But as delicious as the classic Turkey Day pie options are, sometimes it's nice to do something a little bit more unique. If you're looking for something different, these Thanksgiving pie recipes will get the job done.
Whether you're looking for something totally new or you just want to put a fun spin on a classic, there are plenty of options out there. A long time ago, I used to find pies pretty intimidating, and honestly, I sometimes still do. Those criss-cross crust toppings? I'm too scared to attempt them. Those cute little crust cut-outs in the shapes of leaves or tiny turkeys? I'll probably never try them. But actually, most pie recipes aren't as difficult as you think they might be, which leaves a lot of room for experimentation. So this year, have some fun with dessert. Make a brand new pie and impress everyone around you. These pie recipes are so good that you'll want to skip straight past dinner for dessert.
1. Salted Bourbon Pecan Pumpkin Pie
Why do a regular pumpkin pie when you could try this magical creation from Half-Baked Harvest? It's a mix of two classic Thanksgiving dessert favorites: pecan pie on top of pumpkin pie, with bourbon and a buttery crust. I'm drooling just looking at it!
2. Chocolate Cream Pie With Vanilla Whipped Cream
No offense, but chocolate cream pie is one of the best pies ever invented, and this version from How Sweet It Is makes it somehow even better. Instead of a buttery graham cracker crust, this is a chocolate cookie crust, which is amazing. Delicious chocolate pudding and sweet vanilla whipped cream contribute to this perfection.
3. Chocolate Chip Cookie Pie
Want to do a crowd-pleasing pie everyone will obsess over? Try a chocolate chip cookie pie, specifically this recipe from Averie Cooks. Cookie flavor, pie crust, and hot fudge are a truly excellent combination. This might not be a traditional Thanksgiving dish, but honestly, who cares?
4. Traditional Pecan Pie
Or, hey, maybe you want to do something more traditional. Why not? There's a reason they're classics. This pecan pie recipe from Bake Love Give is a pretty basic recipe to follow, and sometimes, no frills makes for the best dessert.
5. Apple Cranberry Crumb Pie
Apple pie on its own is, obviously, delicious and perfect. But sometimes it's fun to play around with a basic recipe. This apple cranberry crumb pie from Baked By Rachel looks awesome. Cranberries and apples are a great mix, and the crumb topping makes it like apple crumb and pie mixed together.
6. Momofuko Milk Bar Crack Pie
If you've never had anything from Momofuko, a bakery in New York City, I am so sorry — and also, you should make this Momofuko-inspired crack pie. As this recipe from Brown Eyed Baker goes, it's basically like pecan pie without the pecans. It's named Crack Pie because it's so good that it's addicting.
7. Pear Pie With Creme Fraîche Caramel
Pears are in season during the fall, it's just that they often get pushed aside for apple or pumpkin. This rich pie recipe from Hummingbird High is not one to pass up, though — between the dreamy creme fraîche caramel to the sweet pear filling, it will definitely be a hit.
8. Pumpkin Cream Pie
Put a Thanksgiving twist on the traditional chocolate cream pie with this recipe from Something Swanky. Fluffy pumpkin pudding is perfectly different than regular pumpkin pie, and the whipped topping pulls everything together.
9. Nutter Butter Pie
Make something un-traditional this year, like this nutter butter pie from Cookies and Cups. Fluffy peanut butter flavored filling is mixed with a peanut butter topping and crunchy Nutter Butter cookies. How could you go wrong?
10. Cider Bourbon Apple Pie With Oatmeal Cookie Crumble
The best kind of apple pie is apple pie made with an oatmeal crumble on top — and this recipe from How Sweet It Is brings it to the next level with the addition of cider, bourbon, and a cookie crumble. There are so many good things in this pie that you might never want to eat another pie again.
11. Classic Sweet Potato Pie
I made a sweet potato pie last year for the first time ever, and I wasn't sure what to expect. As it turns out, it was the best pie I've ever made — and I'm known for my pumpkin pie! This recipe from A Cozy Kitchen is the most basic version, and honestly, that's all you need. This pie is gold!
12. Butternut Squash Pie
I've never heard of butternut squash pie, but honestly, why not? Butternut squash is so sweet that when you mix it with sugar and other baking ingredients, it could definitely be disgusted as dessert. This recipe from House Of Yumm seems great and easy to follow.
13. Pumpkin Tiramisu Pie
Has anything ever sounded more interesting than pumpkin tiramisu pie from Foodie Crush? The answer is no. This pie looks incredible, and it basically has to be, considering it combines two amazing things: tiramisu and pumpkin. It's pretty impressive too!
14. Butterscotch Pecan Pie
Pecan pie is sweet enough on its own, but that doesn't mean you shouldn't add some extra sweetness with butterscotch, like this recipe from Something Swanky calls for. It makes this Thanksgiving classic even better.
15. Cranberry Ginger Pear Pie
Combine a bunch of fall's best flavors into one delicious pie. The warming ginger spice mixes perfectly with sweet in-season pears and cranberries in this recipe from Brown Eyed Baker. And that color inside? Instagram-worthy.
16. Pumpkin Coconut Cream Pie With Chocolate Ganache and Chocolate Graham Cracker Crust
Not to be weird or anything, but I kind of want to marry this pie (even though I've never eaten it). It has three of the best ingredients ever — pumpkin, coconut, and chocolate — and everything about it sounds delicious. This recipe from Cooking For Keeps might be extravagant, but if you're going to go for it, it might as well be done on Thanksgiving.
17. Classic Apple Pie
It wouldn't be Thanksgiving without a classic apple pie, right? This recipe from A Pastry Affair will help you make this perfect Turkey Day basic with a delicious crust and an even better filling. Sometimes simple really is the best way to go.
18. Maple Cream Pie
Want a pie that tastes like breakfast? Make this maple cream pie from Taste and Tell! I mean, I don't know if it tastes like breakfast, but it seems like it might. And honestly, that is more than okay with me.
Images: Foodie Crush; Half-Baked Harvest; How Sweet It Is; Averie Cooks; Bake Love Give; Baked By Rachel; Brown-Eyed Baker; Hummingbird High; Something Swanky, Cookies and Cups; How Sweet It Is; A Cozy Kitchen; House of Yumm; Something Swanky; Brown-Eyed Baker; Cooking For Keeps; A Pastry Affair; Taste and Tell