15 Vegan Pumpkin Pie Recipes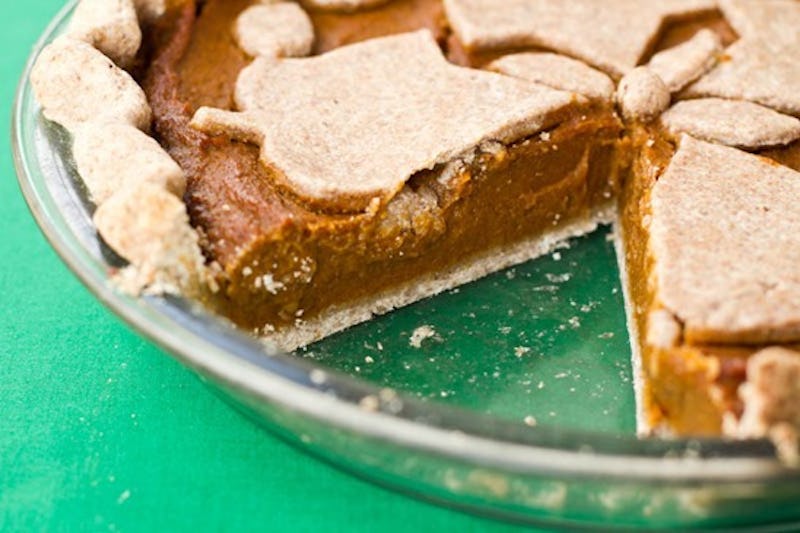 I'm sorry, but Thanksgiving is really just a fancy pretense to eat pumpkin pie, as far as I'm concerned. And if you're vegan — or simply looking to lessen your after-dinner stomachache — making sure your Thanksgiving pumpkin pie recipe is vegan is a must. Plant-based = more room for pie.
Personally, I'm always most grateful to be vegan on Thanksgiving. Even though we vegans incur lots of insensitive and sometimes crazy questions from family on Thanksgiving, the day is a great reminder that you don't need to cause suffering in order to have a meal that's abundant and delicious. Even better, a vegan thanksgiving is the only time I haven't felt disgustingly stuffed after the meal — just pleasantly full. Plant-based foods are simply easier for our bodies to digest, even when there's nothing healthy tasting about them.
Below are 15 vegan pumpkin pie recipes to try this Thanksgiving — and better yet, most are healthy enough that your can eat them for breakfast year-round. (Seriously, just look at the ingredients on most of these. There's protein, fiber, and vitamin A — just cut down on the sugar for some of them if you don't like too sweet a start to the day). Because a pumpkin pie breakfast shouldn't only be a morning-after-Thanksgiving treat.
Pumpkin Pie Tarts With Sunflower Cookie Crust
This pie uses coconut cream in the filling, and sunflower seeds and sunflower butter for the crust. Make this Oh She Glows recipe to impress anyone who thinks all vegan pies are the same.
Creamy No-Bake Pumpkin Pie
This is the pumpkin pie I've made multiple times now, and it goes fast. I adapt The Minimalist Baker's raw pumpkin pie pie recipe based on a happy accident: I make and half-bake a regular flour crust from Chocolate Covered Katie, then pour in the chilled pumpkin filling, and finish baking the crust for just 10 minutes, letting the pie sit in the fridge overnight. The result is a sort of half-cooked, half-raw pie, and it's f-ing delicious. Raw on its own is great too, of course.
Sweet & Salty Spiced Pie With Gluten-Free Pecan Crust
Sweet and salty desserts are the best, and this Oh She Glows recipe uses pecans to make a tasty gluten-free crust.
Vegan Pumpkin Pie Squares
These are great for when you just want your pumpkin pie in a square, handheld form. This Oh She Glows recipe uses a graham cracker crust and looks delicious.
Pumpkin Pie Oats
Sometimes you just need to eat pumpkin pie for breakfast — and by sometimes, I mean as long as you have leftover pie. Try this Minimalist Baker recipe once you've run out of pie, but still have some pumpkin puree in the cabinet. Craving solved.
Pumpkin Pie Smoothie
Another way to have pumpkin pie for breakfast anytime, this Oh She Glows smoothie uses stuff you should have in your pantry, and tastes like a milkshake — only without the stomachache after.
Vegan Pumpkin Swirl Cheesecake
You might think using tofu in a pie sounds gross — unless you're vegan, in which case you probably know what's up. This is another winner from the Minimalist Baker, and it features a gingersnap cookie crust with a beautiful swirl finish.
Pumpkin Pie Brownie Cupcakes
Well, these look weird, but also delicious. These pumpkin pie brownie cupcakes from Oh She Glows combine two of the best desserts out there into one delicious union.
Vegan Pumpkin Pie With Rustic Spelt Crust
A classic pie that will impress guests, a spelt crust is also sneakily healthier. This Oh She Glows pie looks like a winner.
Pumpkin Pie Chia Pudding
This Oh She Glows pudding is healthy enough to eat every day for breakfast (it even calls for vanilla protein powder)— and will definitely impress your guests the morning after.
Vegan Pumpkin Pie Ice Cream
Using cashews and the non-dairy milk of your choice, this Minimalist Baker pumpkin pie ice cream looks damn delicious.
Pumpkin Pie Banana Chunk Oatmeal Cookies
These Oh She Glows beauties are the perfect breakfast (or anytime) cookie to make with the leftover pumpkin puree and soon-to-be-overripe bananas in your fridge.
Vegan Pumpkin Pie Parfaits
With options for a cashew or coconut base, these Love & Lemons parfaits look great for breakfast or dessert.
Vegan Pumpkin Gingerbread Pie
Another more classic pie by Making Thyme For Health, this recipe calls for molasses and a gingersnap crust, giving it a beautiful, deeper color.
Pumpkin Pie Shooters
How cute are these? These pumpkin pie shooters from Minimalist Baker can be made with any non-dairy milk (and, just a suggestion, maybe you could experiment with adding some amaretto or some other after-dinner liquor?) Happy Thanksgiving, indeed.