How To Make A Gingersnap Pumpkin Milkshake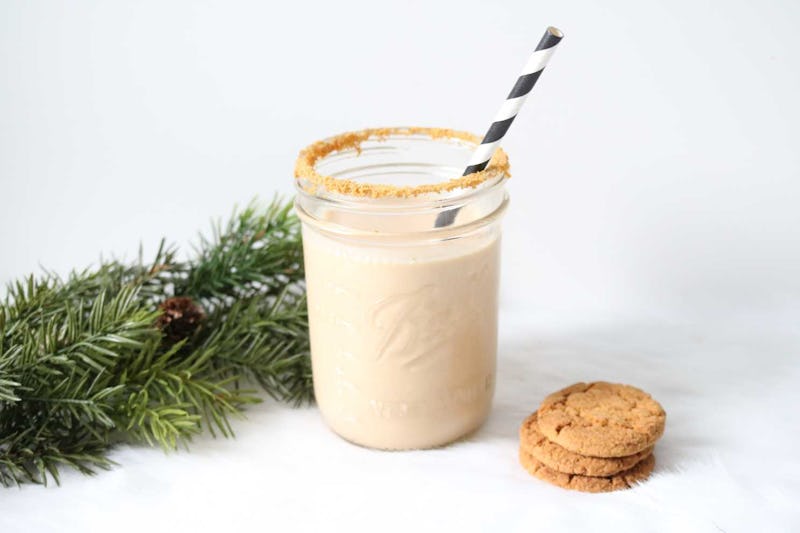 During the holidays, warm drinks like pumpkin spice lattes and peppermint mochas steal the spotlight. However, that didn't stop me from dreaming up this gingersnap pumpkin milkshake recipe. After making homemade gingersnap cookie butter, I became obsessed with using gingersnaps in all types of desserts. And since my love for pumpkin has yet to fade, I decided to combine the two into this insanely tasty treat.
The combination of pumpkin and gingersnap is perfect for late November. It is in between the prime of pumpkin (early fall) and gingersnap (December). And while this festive drink recipe uses vanilla ice cream, you can easily make it breakfast-worthy by using a frozen banana or vanilla yogurt. It just goes to show that making a super healthy dessert is totally possible.
Feel free to garnish your milkshake for extra holiday flair; you do not have to stick to whipped cream. Cinnamon sticks, chocolate chips, and caramel sauce are all excellent options. Take it up a notch by freezing this milkshake recipe and adding scoops to warm homemade brownies, pie, or cake. You can also make it party-friendly by whipping up a large batch and divvying it up into smaller cups. Simply store in the freezer and de-frost 15 to 30 minutes before serving. Yum.
Ingredients:
3/4 cup milk of your choice
4-5 gingersnap cookies
1/4-1/2 cup canned pumpkin puree
1 cup vanilla ice cream/frozen yogurt/vanilla yogurt or 1 frozen banana
1. Crush The Cookies Into Crumbs
In a food processor or blender, pulse the gingersnap cookies into fine crumbs. Set aside about a teaspoon of crumbs for the rim.
2. Blend All The Ingredients Into A Glorious Milkshake
In a blender, combine the gingersnap crumbs, pumpkin puree, ice cream, and milk. For a healthier option, use frozen yogurt. A banana is ideal for a delicious vegan treat. As for the milk? Coconut, soy, and almond are all great non-dairy alternatives.
3. Coat The Rim In Gingersnap Goodness
Moisten the rim of a glass or mason jar with water or milk. Dip into the gingersnap cookie crumbs to garnish.
4. Enjoy!
How easy was that? Remember, don't be afraid to adjust the ingredients to your liking. If you're a die-hard pumpkin fan, add as much as your heart desires. For extra flavor, bring in a splash of vanilla extract or a dash of cinnamon. The (milkshake) world is yours.
Images: Kirsten Nunez/Bustle (5)