This Is Where To Buy Rihanna's Velvet Creepers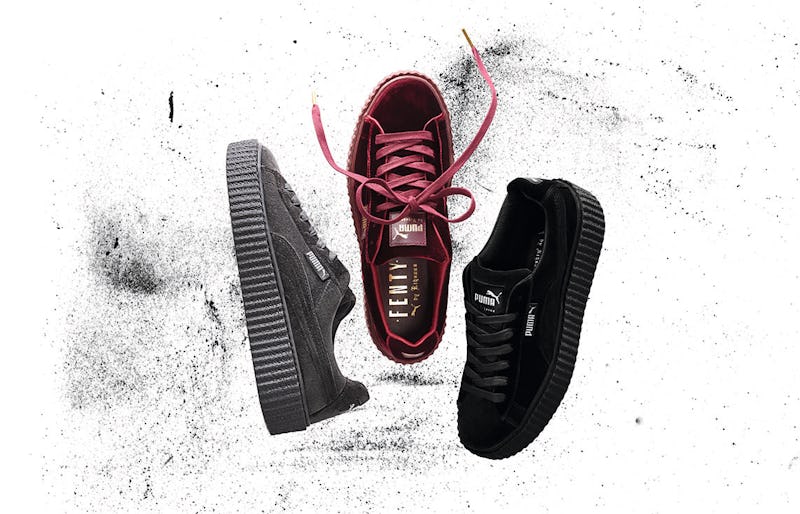 It's time for a velvet revolution. Rihanna's Puma Creepers will now come in velvet and in three new shades — Black, Burgundy, and Cement. Or black, red, and grey, if you want to boil them down to the most base description. Since the popular sneaker has three brand new colorways and a brand new texture, I expect them to sell out super quickly when they drop on Thursday, Dec. 8. Every Rihanna Puma Creeper drop lands amid crazy excitement and anticipation, and leaves plenty of frustrated customers who werent able to scoop up a pair in its wake. Where can you buy the velvet Rihanna Creepers when they arrive next month?
Shop the Rihanna Puma Creeper Collection at Puma.Com
They will be available at the usual hot spots — via the Puma site and official Puma retailers, according to the press release that Bustle received from the Puma publicity team. The velvet Creepers have a $150 price tag, as well.
I would recommend creating a customer account at the Puma site now, storing all of your shipping and shopping details so that you can cruise through the site without having to waste time entering your information multiple times or during the mania and madness. You could lose precious seconds and your place in line, and therefore your kicks.
If you've not take the time to properly gawk at the new velvet Creepers, well, let's amend that situation.
Good things come in threes. All the shoes have tone-on-tone soles, meaning the sole is the same color as the shoe itself.
This wine-colored pair would pop against an all-black ensemble.
So would the gray pair.
You cannot go wrong with the all-black pair in this luxe fabric. It's a total step up.
The Rihanna x Puma Creeper keeps getting better and better, from the colors to the textures. The velvet Creepers elevate the shoe beyond that platform sole, yo! They add glam to any street chic attire.
Images: Rihanna/Instagram (3); Puma Sport Style/Instagram (1); Courtesy of Puma (1)