These Are Kylie's Holiday Glitter Glosses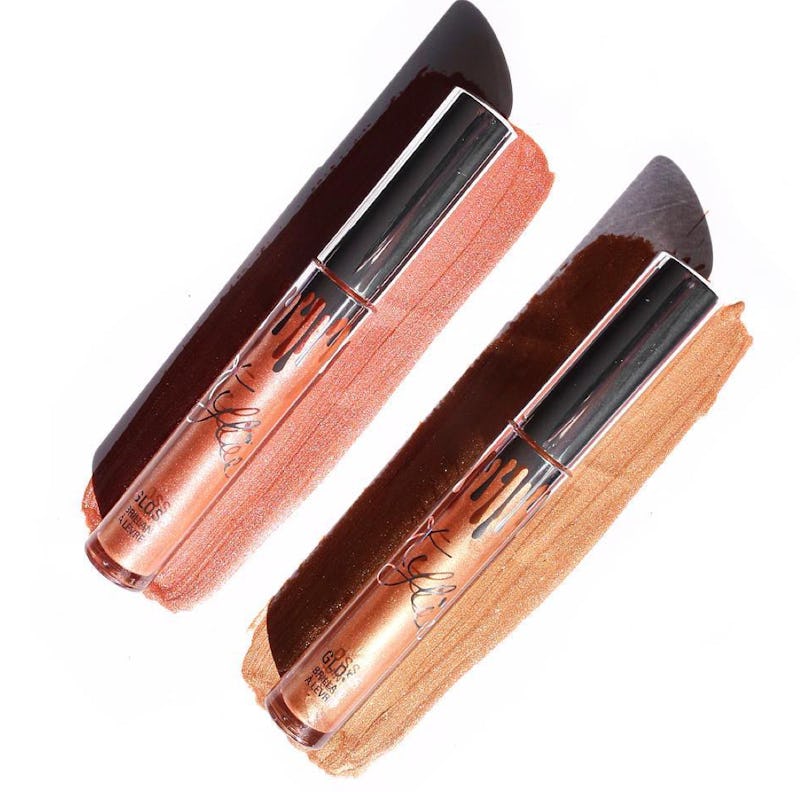 There are lots of lip color options in the massive Kylie Cosmetics 2016 Holiday Edition Collection. There are new Lip Kit hues, new Kylie Gloss shades with a new formula, a new Mini Matte set, lippie ornaments, and more. It's a lot of stuff for your pout and beyond, since there are creme shadows, a new Kyshadow palette, and a Kyliner. The Kylie Cosmetics 2016 Holiday set drops Monday, Nov. 21 at 4pm ET/1 p.m. PT, with free shipping offered for the first day of shopping. There is a pair of glittery glosses in the holiday collection that have grabbed my attention. Which glosses are glittery and how are they available, given the fact that some of the lip products are packaged together or in bundles?
I am glad you asked. Cupid and Noel are the glitter glosses in the holiday range. Cupid is a peachy pink, while Noel is a golden gloss that would look bomb AF when slicked over a red lipstick. It looks like the perfect lipstick topper!
Cupid and Noel are part of the four-piece, full-sized set that also includes Blitzen and Angel, which are mattes liquid lippies. It's a mix of glitters x mattes — ooh!
Still with me? It's a lot to process but there is also a lot of pout perfection in the collection.
Check out Cupid and Noel, as they are beauties.
Shimmer and shine!
Here is the rest of the four-piece, full-size set.
Angel is such a pretty pink. But she is a matte. She is also available in the Mini matte set.
Blitzen is another matte packaged in the four-piece set.
There are tons of other lip options in the silver-packaged Kylie Cosmetic 2016 Holiday Edition. There plenty of festive and winter-ready reds and berries because of course there are.
Dancer is a rusty red metallic.
The ornaments... because why not?!
They may be Minis, but they will impart maximum matte-ness.
The 2016 Kylie Holiday Edition is #LipGoals.
Images: Kylie Cosmetics/Instagram (8)