Here's Your Daily Horoscope For November 21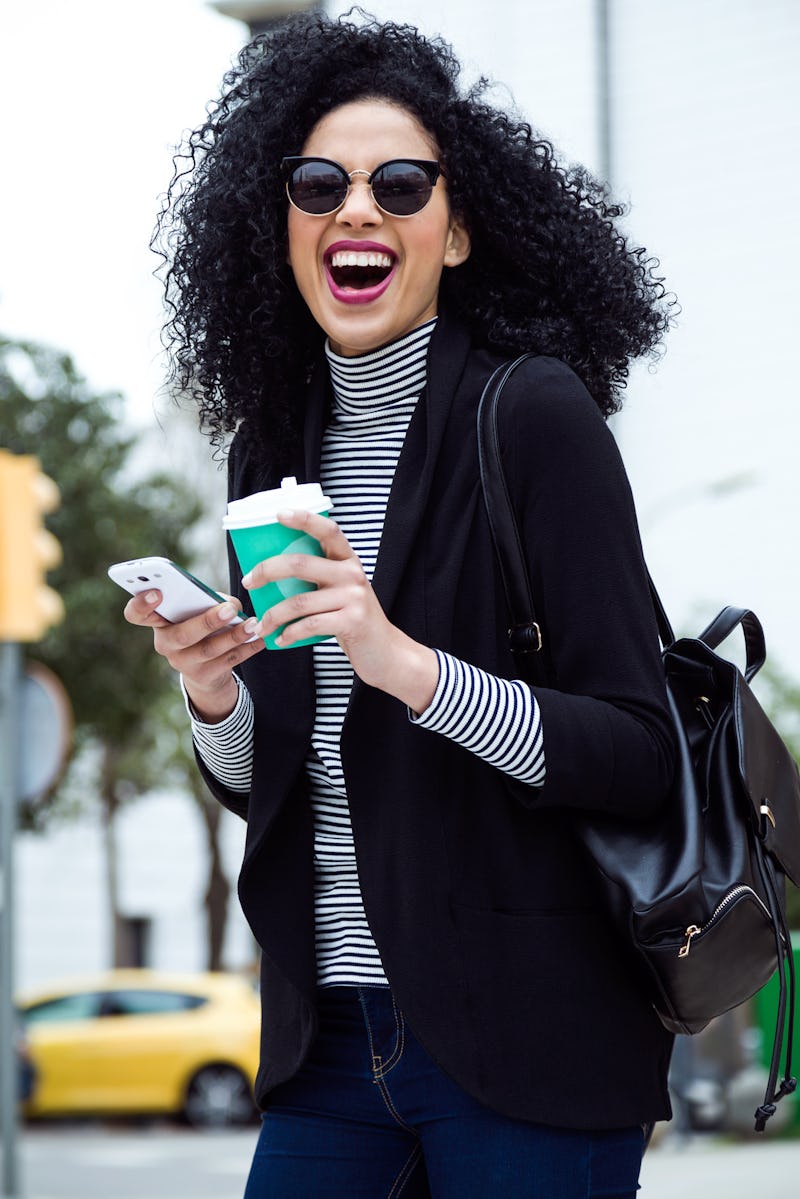 We're constantly fascinated by what our zodiac sign says about our lives, whether it's which signs are most compatible, the best sex positions for each sign, or how each sign handles conflict in relationships. That's why Bustle has enlisted Mecca Woods, a New York City-based Astrologer of MyLifeCreated.com to tell us all about how astrology is affecting our lives each day. Today's topic: your daily horoscope for November 21, 2016.
The Moon (feelings) enters practical and hard-working Virgo this morning, which means we shouldn't have too much of an issue buckling down and getting sh*t done (yes, even for a Monday.) We can expect the focus for much of the day to be busying ourselves on improving or organizing one specific area of our lives as Virgo loves an attention to detail as well as being useful. Later this afternoon, the Sun (power, confidence) leaves the deep (and at times murky) waters of Scorpio for the more buoyant and optimistic shores of Sagittarius — kicking off a month long celebration in honor of the zodiac sign that favors travel, learning, big laughs, and everything else even bigger. Between the Moon in Virgo and the Sun in Sagittarius, the focus of the day is on expanding our minds and using our brains to get what we want.
Read below to see what today's stars mean for your sign.
And remember to tune into Bustle's weekly horoscopes video live on Facebook every other Monday at 4 p.m. ET for a rundown of your weekly horoscope.
Aries (March 21 - April 19)
The focus is on your productivity, attention to detail, and your physical health today as you're encouraged to develop better methods for taking care of business and your body. Look to ways you can simplify your everyday routine to give yourself more freedom.
Taurus (April 20 - May 20)
Just about everyone knows that you can't have a healthy intimate relationship without communication, so make today your day to tell your bae what's on your heart. Even if you're single you can still get your message across by telling the Universe exactly what or who you want.
Gemini (May 21 - June 20)
Your time could be best spent at home today or giving some attention to your living space. Tidying up the house, working from home, visiting with family, or having a quiet night in with your partner could help you to recharge your batteries. Today's a good day to turn down.
Cancer (June 21 - July 22)
How can you best deliver your message when it comes to school, work, or a relationship with a sibling? Today's one of your best days for working on that message, whether it's writing or researching a paper, updating your website, fixing your resume, or having an important conversation.
Leo (July 23 - Aug. 22)
Your mind is on your money today, as you may be thinking of better ways you can earn it. Hint: the answer is not about giving more than what you get back when it comes to your creative brilliance. Think about what you can do right now to honor your financial needs and your spirit.
Virgo (Aug. 23 - Sept. 22)
You're focused on your needs today as you could find yourself wanting to break free of something, especially where it concerns your past, your family history, or an old way of responding to new challenges. This is where honoring how you feel helps. You know what to do.
Libra (Sept. 23 - Oct. 22)
If you find yourself feeling a bit run down today, it's probably because you need to take a time out. Catch up on sleep, visit with your therapist or healer, or make it your priority to carve out some solitude. Give yourself space to unplug now so you'll be charged up later.
Scorpio (Oct. 23 - Nov. 21)
Mixing business with pleasure could prove to be a good decision today as connecting with friends and people in your circle could help you to uncover new financial opportunities. Hit up happy hour or an afterwork event and use your power of persuasion to align yourself with the right folks.
Sagittarius (Nov. 22 - Dec. 21)
Happy Birthday, Sagittarius! Your swag levels could go through the roof today as the stars lend you some cosmic assistance in helping you to push yourself and your reputation to new heights. Get ready to be the center of attention and call the shots now. (As if you ever needed any help with that).
Capricorn (Dec. 22 - Jan. 19)
You might find yourself craving a change of pace today, which means the essay you've been wanting to write, the plane tickets you've been wanting to book, or the class you've been wanting to take could be just the thing you need to escape. Find your freedom.
Aquarius (Jan. 20 - Feb. 18)
When it comes to your closest relationships, are you getting what you emotionally need? While you're not the most touchy-feely of the zodiac signs, the fact remains that you still have a heart. Today you could have a heart to heart with a friend or pay more attention to how you feel.
Pisces (February 19 - March 20)
Keep your eyes on the prize when it comes partneships today as you could connect with someone who could help you find your place in the limelight or level up in a way that you never thought you could. On another level, you could receive some clarity on what you want from love.
Images: Fotolia; Caroline Wurtzel/Bustle