11 Makeup Vaults That Are Absolutely Incredible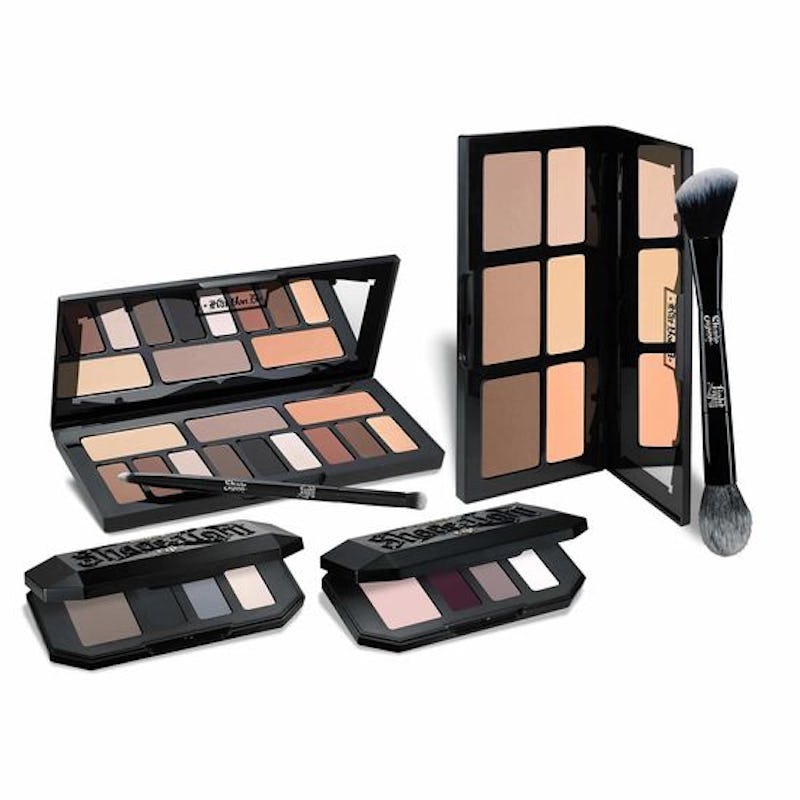 Of all the recent beauty set reveals, the Kylie Cosmetics 2016 Holiday Edition Collection Box will definitely be one of the most sought-after goodies. Given the brand's reputation for selling out within minutes, however, you may want to aim your wallet at the dozens of other amazing makeup vaults and sets included in this year's lineup of holiday beauty specials.
Tis' the season for exclusive beauty boxes and sets, loaded with all of the lippies, shadows, and liners a makeup lover desires at an incredible price point. For cosmetics industry veterans like Urban Decay and Bite Beauty, this isn't their first rodeo with releasing killer vaults that send product hoarders into a frenzy.
Newbies like Kylie Jenner are certainly keeping up with the big dogs, leaving fans gagging over everything inside Kylie Cosmetics' Holiday Collection box. For $290, you could get your hands on the limited edition set, which includes six liquid lipsticks, two glosses, the Kyshadow Holiday Palette, a Kyliner Kit, and three créme shadows. But chances are the box will be really hard to snag once thousands bombard the Kylie Cosmetics site during the official launch today at 4 p.m. ET.
If you miss your chance to make the Holiday Collection Box a new member of your beauty stash, check out these 11 makeup vaults that are equally as splurge-worthy.
1. NYX Soft Matte Lip Cream Vault Set
Soft Matte Lip Cream Vault Set, $64.99, Ulta
The NYX soft mattes vault may not include liners and shadows like Kylie Jenner's box, but it will surely supply all of your lipstick needs. With 36 new lippies to add to your collection, ranging from pale nude to fluorescent purple, your pout will never see a dull day.
2. Urban Decay XX Vintage Vault Collection
Vintage Vault Collection, $295, Ulta
Urban Decay's Vintage Vault will entice you like no other set. It includes an arsenal of UD shades from 20 years ago that will give you major '90s vibes. Seriously, this collection of eyeshadows, lipsticks, and nails polishes is a legendary beauty must-have.
3. Kat Von D Shade + Light Obsession
Shade + Light Obsession, $200, Kat Von D
This isn't your average eyeshadow or lipstick vault. Kat Von D's Shade + Light collection has everything you need to carve out a full face. Inside the coffin case included with this set is a contouring palette, two eye contour quads, a full eyeshadow palette, and brushes too.
4. Bite Beauty Amuse Bouche Lipstick Vault Collection
Amuse Bouche Lipstick Vault Collection, $195, Sephora
You won't have to stress over finding the perfect red lipstick if you invest in Bite Beauty's limited edition lipstick vault. With 38 deluxe minis in a range of bright pink, true red, and burgundy hues, your new favorite lippie is probably stashed somewhere in this gorgeous collection.
5. Urban Decay XX 20 Years Of Beauty With An Edge
20 Years of Beauty with an Edge Vault, $375, Ulta
All hail the motherload of eye makeup vaults. This beauty box includes 20 single eyeshadows and 20 24/7 Glide-On Eye Pencils for the ultimate makeup set, whether you're envisioning a sultry smokey eye or a look filled with bright colors. A lineup of signature UD shades like this is definitely priceless.
6. Too Faced The Chocolate Shop
The Chocolate Shop Set, $58, Sephora
If there was any set to get you ready for the holiday season, it's the Too Faced Chocolate Shop collection. Get ready to fall in love with shadows infused with cocoa powder for makeup that smells just as good as it looks. Too Faced's best-selling Better Than Sex Mascara, the Shadow Insurance eye shadow primer, a Luminizer highlighter, and a dazzling blush are also included to transport you to a beauty lover's paradise.
7. Estée Lauder Pure Color Envy Color Collection
Pure Color Envy Color Collection, $285, Estee Lauder
You may break the bank a bit, but Estée Lauder's Pure Color Envy Color Collection is so worth the price tag. From blush palettes to mascara primer, there isn't a product this set leaves out.
8. Kat Von D Everlasting Obsession Liquid Lipstick Collector's Edition
Everlasting Obsession Liquid Lipstick Collector's Edition, $240, Sephora
If you're an avid liquid to matte lipstick hoarder, this is the vault for you. These 13 top-selling Kat Von D shades could all be yours, if you put your savings towards the Everlasting Obsession Liquid Lipstick Collector's Edition. Your lips will surely thank you!
9. BareMinerals Countdown To Gorgeous
Countdown to Gorgeous, $70, Amazon
Yes and more yes to shadows and lippies galore! This BareMinerals advent calendar reveals a different product you're sure to love with each new day.
10. Smashbox Light It Up Set
Light It Up: 3 Mini Palettes, $36, Jet
At such an affordable steal, Smashbox's Light It Up mini palettes are the perfect on-the-go makeup products. The Be Legendary lipstick palette, Photo Op Eye Shadow, and contour palette can easily fit in your purse for a full face when you're in a hurry. Score!
11. Bite Beauty Matte Crème Lip Crayon Collection
Matte Crème Lip Crayon Collection, $275, Sephora
You can honestly never have too many lipsticks. Bite Beauty does it again with the Matte Crème Lip Crayon Collection. Snag this baby and you won't have to make another lip purchase for awhile.
Getting the Kylie Cosmetics' Holiday Collection Box would be an amazing way to kick of the holidays. But don't fret if you're not able to purchase it on the first go-round. With so many other incredible beauty vaults available right now, you'll still be living a makeup lover's dream this holiday season.
Images: Kyliecosmetics/Instagram; Courtesy of Brands