These "Evil Kermit" Memes Are So Relatable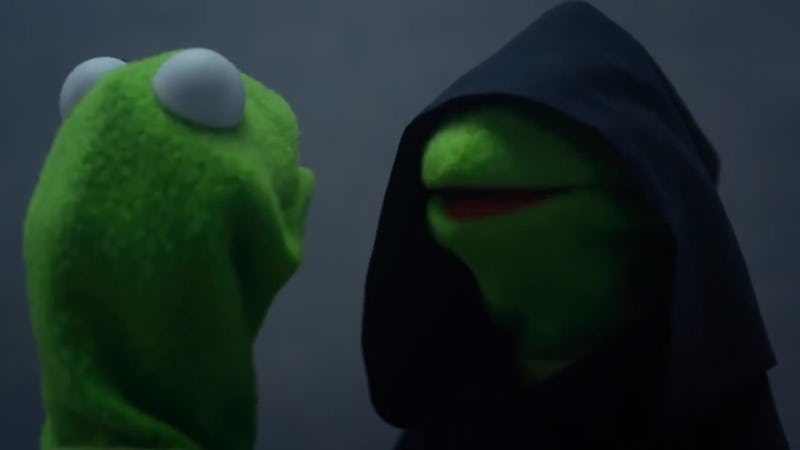 Arguably the best, brightest spot in the very bleak past two weeks has been the rise of the "Evil Kermit" meme. Highlighting our inner pettiness and the true root of our poor decision making, best "Evil Kermit" memes will get you through anything difficult you might have coming up — like, for example, the holidays. Because I'm for sure going to need an explanation for, like, 90 percent of my actions when under the influence of alcohol and turkey and extended family time, and it can't just be "me." There has to be another reason.
That reason is Evil Kermit.
Started by Twitter user @aaannnnyyyyaaaa (19 year old student Anya Sudarkina) with this Nov. 6 tweet, the meme has since exploded across the internet. Sudarkina's OG image has garnered 33,000 likes and 23,000 retweets; entire accounts dedicated to the concept have already arisen, and everyone, it seems, has been trying to one up one another with the best "Me to Me" moments.
The meme's image, of Kermit seemingly facing himself in a black hood, is actually from the 2014 movie Muppets Most Wanted, in which Kermit comes face-to-face with his evil doppleganger, Constantine. And like, yeah, everyone can relate between the constant inner argument between You, your socially acceptable self, and Also You, your shadowy, impulsive inner self who probably does wear an evil-looking hood and urges you into many a bad decision.
So what is it about Kermit's mug that makes him so easily meme-able? First the tea, and now this?
Yeah, I don't know, but... I'm kind of willing to roll with it.
Because everyone has had those moments...
(And yes, this is the OG Evil Kermit tweet. It's diabolical.)
When you just can't help yourself.
No matter how well you know...
No matter how much you've learned...
No matter how much you've grown...
From pulling the stupidest...
Inexplicably...
Petty...
Nonsense...
You still wake up later...
All bright eyed and optimistic...
And immediately...
Make the EXACT...
SAME...
BAD...
DECISIONS.
WHY...
DO WE...
DO THIS...
TO OURSELVES?!
We may never know. But at least we can laugh at ourselves while we do it, right?
Image: Walt Disney Pictures