15 Harry Potter Makeup Looks That Are Pure Magic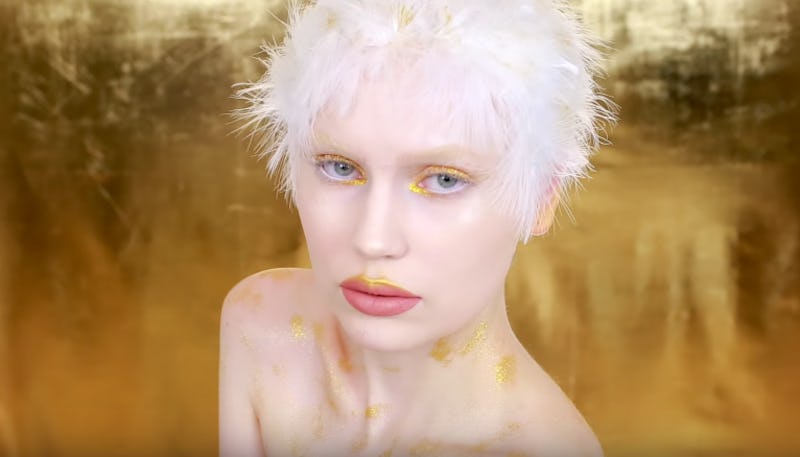 With almost all Harry Potter fans collectively losing their minds over Fantastic Beasts And Where To Find Them, it's only natural to want to find a way to celebrate all things Rowling. For beauty lovers, there's no better way to do that than by rocking some Harry Potter inspired makeup. No matter which Hogwarts house you're in (or the true nature of your Patronus) these Harry Potter makeup tutorials cater to everyone. Even if you're just choosing based on House color, there are plenty of tutorials to choose from.
From specific Hogwarts house inspired looks, to character based makeup designs, to just general Harry Potter themes that translate into killer eyeshadow and lipstick combos, these tutorials cover it all. And even if you're not a Harry Potter fan, these makeup looks are beautiful — allow the sparkle and shine of the magical world of wizarding to influence your next full face.
Most of these tutorials are totally approachable, and can be worn whenever and wherever — not just at a Harry Potter movie marathon or for drinks after seeing the new Fantastic Beasts film. Practice those wand tricks and eyeliner flicks with these magical step-by-step looks.
1. Red And Gold Cut Crease
The color combination of gold and red has always been a good one, even before Gryffindor house led the way in making it iconic.
2. Winged Liner
A Hufflepuff-inspired tutorial that puts a magic twist on your standard winged eye liner.
3. Blue Eye Shadow
From old Hollywood to now, a bold blue lid will always be a certified look.
4. NikkieTutorials
A Slytherin effect makeup look from an old school NikkieTutorials video — coming all the way from 2010 to prove that this girl has always been especially talented.
5. Avant Garde
Where else but YouTube would you find a high fashion makeup look based on the golden snitch from Harry Potter?
6. Green Eye Liner
Slytherins are all about subtlety, which means their makeup would be, too. This eye liner effect is a whole load smarter than just green eye shadow to represent this Hogwarts house.
7. Neon Yellow
A bold bright look, however, is much more suited to Hufflepuff house. This glittery tutorial proves brave looks aren't just for Gryffindors.
8. Silver Scales
Why has nobody put the scales eye shadow effect with a Slytherin makeup look before? It works perfectly.
9. Dark Toned Cut Crease
This bronze and blue cut crease proves that a bold makeup technique works just as well with muted colors as it does with glitter and shimmer shadows.
10. Burgundy Tones
Everyone knows burgundy tones always make for a great makeup look, which only adds to the bonuses of being a Gryffindor fan.
11. The Grim
If you're feeling especially outrageous — or you just really love dogs — this smoky tutorial is the one for you.
12. White Eyeliner
Make that black eyeliner pop with an accompanying line of white.
13. Keeping It Casual
Sometimes all you need to represent your house is a dark red lip and a matching eye shade.
14. Ombre Eye Liner
Look past that Rita Skeeter shade of acidic green and clock how gorgeous that black and silver ombre eyeliner is. A technique that you're sure to use time and time again.
15. Gold Upper Lip
Well, more like all gold everything for this Fantastic Beasts And Where To Find Them inspired look.
Between tips that you'll use for the rest of your life and not just Harry Potter themed makeup to looks that will be just as stunning at a party as on a cosplay character, the wonder and magic of makeup is represented fully in these Harry Potter inspired looks.
Image: Nanna Simonson/YouTube