15 Eye Makeup Tricks To Steal From Bloggers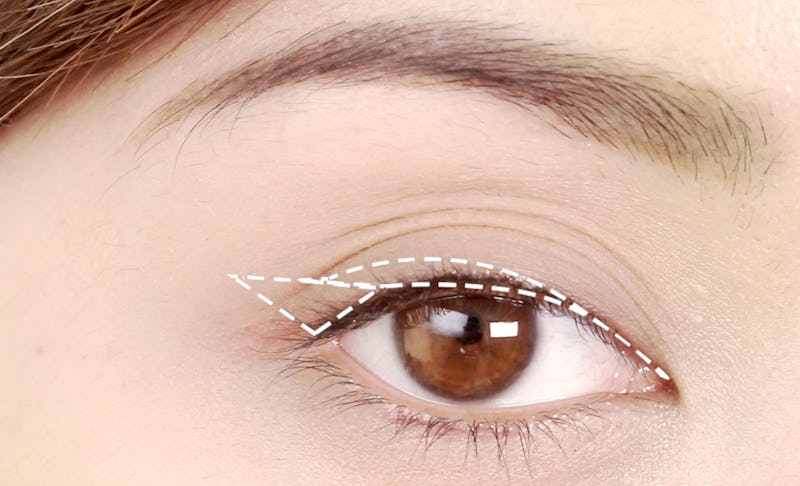 I love playing with makeup, but sometimes the challenge of mastering a single technique can drive me to the "no makeup" trend real quick. If you're having trouble in the eyeshadow department like me, however, you should know that the internet is full of many wonderful tutorials and hacks that will help guide you in the right direction. Here are 15 eye makeup tricks to steal from popular bloggers. I promise, this is going to be fun.
YouTube has become the go-to library of information on all things makeup. While you can see swatches of new products or tutorials on seasonal looks, you can also get super specific advice on a range of beauty techniques
, like how to apply shadow on a hooded lid or what to do with extra long lashes. You can find tips and tricks tailored to your unique eye shape, eye color, lash length, style, or skin tone, and more! I guarantee there's a YouTube channel out there just for you and your preferences — it's a big, wide world out there on the 'net, and advice from these beauty vloggers are way more accessible (and affordable!) than heading to beauty school.
Whether you want to learn how to properly apply liquid eyeliner or take off your makeup without crying, YouTube is the place to go. There's a lot to learn when it comes to eye makeup, so I rounded up some of my favorite how-to videos on everything you need to know, from basic techniques to the more complicated tricks.
1. How To Do A Winged Liner
Watch how Chrisspy nails the winged eyeliner look every time.
2. How To Do A Cut Crease
Use a flat angled brush to really carve out a crease on a monolid.
3. How To Work With Duochrome Shadows
Pick up product with your brush and then wet it — ta da! You get a shiny, metallic finish.
4. How To Work With Pigment
Using glitter glue or primer and then patting it out with a flat brush will really help eliminate fall out.
5. How To Do A Smoky Eye
Soft and smoldering, the smoky eye is perfect for fall!
6. How To Wear Fake Eyelashes
Not sure how to trim lashes to fit your eyes? Always cut from the outer corner!
7. How To Wear Glitter Eyeliner
You can mix products to create a liner, but always use a tiny (and firm) brush to apply.
8. How To Apply Mess-Free Mascara
Tired of raccoon eyes? Jackie tells you how to apply mess-free mascara with the right angles.
9. How To Make Small Eyes Look Big
Makeup on small eyes can sometimes make them appear even smaller. Stop the squinty look with this trick from Kandee.
10. How To Get Rid Of Dark Circles
We all get 'em, right? Here's how to properly conceal your under-eye area.
11. How To Pair Eyeshadow Shades
Not sure what goes together? Here's how to create your own looks.
12. How To Tight Line
Finally learn the trick without poking your eye out.
13. How To Curl Your Eyelashes
Yep, this old school beauty routine is totally doable.
14. How To Use Liquid Eyeliner
Liquid liner is one of the hardest tools to master, but you can totally do it.
15. How To Remove Your Eye Makeup
I love this affordable DIY recipe for makeup remover.
School is great and important, but who says you can't learn important life lessons on the Internet?
Images: Michelle Phan/YouTube