The One Thanksgiving Movie You Need To Watch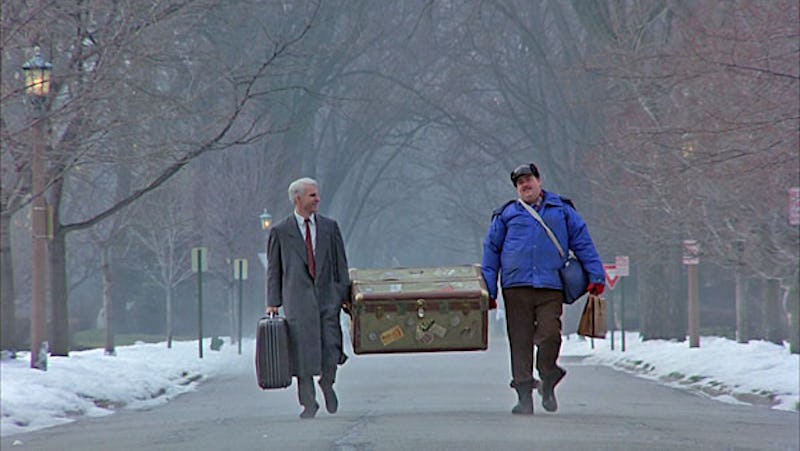 Thanksgiving gets no respect. Sandwiched between the two most glorified American holidays, Halloween and Christmas, Turkey Day is an afterthought for many — a blip on the calendar between its two more celebrated neighbors. Unlike Halloween and Christmas, there is no real Thanksgiving season. Rarely does anyone put up Thanksgiving decorations; there are few, if any, Thanksgiving songs; and there aren't a lot of films that take place on the holiday. But there is one perfect Thanksgiving movie: Planes, Trains, and Automobiles .
The 1987 comedy was written and directed by the late John Hughes. While largely remembered for his defining work in the '80s teen movie genre (Ferris Bueller's Day Off, Sixteen Candles, The Breakfast Club, etc.), Hughes was also behind some of the decade's best adult comedies. He wrote the first three installments of the National Lampoon's Vacation series (including the holiday classic Christmas Vacation), the riotously funny Uncle Buck, and cult favorite The Great Outdoors. But in my opinion, his career reached its peak with Planes, Trains, and Automobiles; a film that not only ranks among the greatest comedies of all-time, but also one that perfectly captures the themes of the holiday during which it takes place.
The movie stars Steve Martin and John Candy, each arguably in their greatest role, as two mismatched travelers trying to make it home to Chicago in time for Thanksgiving. The bulk of the film's comedy is drawn from the tension between them given how dissimilar they are. Martin is Neal Page, a white collar advertising executive who is proper, snobby, and unfriendly. Candy is Del Griffith, a shower curtain ring salesman who is boorish, chatty, and proudly lower class. Their odyssey begins in New York City, two days before Thanksgiving. After getting out of a business meeting late, Neal nearly misses his flight home to Chicago after Del unknowingly steals his cab. The two then end up seated next to each other on the plane, where their personalities immediately clash and it quickly becomes apparent that they're not going to get along.
After their flight is diverted to Kansas City due to bad weather, Neal reluctantly teams up with Del after the salesman offers him a way home in time for the holiday. All of the urgency comes from Neal, who has a wife and family waiting for him back home. Del, meanwhile, just seems content to help Neal — and desperate for someone to keep him company. After failed attempts at reaching the Windy City via train, bus, and rental car — and following numerous fights and several partings of ways — the two finally reach their destination at the end; where a heartwarming twist puts the movie on a whole other level emotionally.
In addition to the holiday-themed laughs — of which there are many — the film really embodies the spirit of Thanksgiving. The central themes of being thankful for what you have and family togetherness are never far from the hijinks, and they really come into play in the movie's stellar and surprising climax. So if you're looking for the definitive Thanksgiving movie to watch this year, there really is only one choice, and that's Planes, Trains, and Automobiles.
Images: Paramount Pictures; Giphy