All 14 Songs From 'Moana', Ranked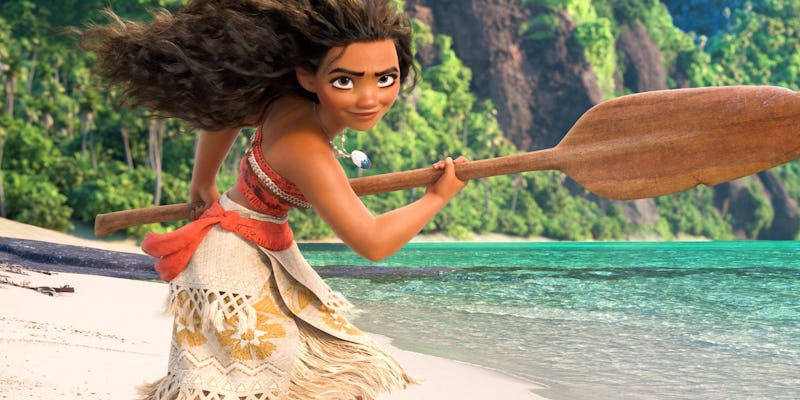 Has there been a more highly anticipated movie soundtrack this year than Moana's? A Disney animated musical comes with very high expectations to begin with. Add to those expectations the fact that Disney tapped Hamilton genius Lin Manuel Miranda to collaborate with South Pacific Fusion songwriter Opetaia Foa'i and composer Mark Mancina on the score, and the buzz gets even louder. Moana will be in theaters Nov. 23 (just in time for post-Thanksgiving dinner screenings!), but its soundtrack is already out in the world. The Moana album features 14 vocal tracks plus a second volume with the film's score, outtakes, and demos. To prepare for the movie, I've ranked all 14 songs on the Moana soundtrack. Because though they're all good, one has to be the best.
Moana didn't skimp on its voice casting, that's for sure. The lead is played by newcomer Auli'i Cravalho; the demigod Maui is voiced by your 2016 People Sexiest Man Alive, Dwayne "The Rock" Johnson; and Flight Of The Conchords star Jemaine Clement lends his pipes to a villainous crab. You'll also hear the voices of Hamilton actor Chris Jackson, former Pussycat Doll Nicole Scherzinger, and Hunt For The Wilderpeople's Rachel House, plus a triumphant chorus. A few of these songs will probably be Oscar contenders; read on to see what we're
14. "Tulou Tagaloa"
Short and mood-setting, this :52 second intro track will whisk you off to the South Pacific where Moana waits for her adventure to begin.
13. "We Know The Way (Finale)"
This track is a short reprise of an earlier song and not significantly different enough from its earlier version to rank much higher.
12. "How Far I'll Go (Reprise)"
Disney does have a way with reprises — Aladdin's melancholy reiteration of "One Jump Ahead" is a favorite. But the full version of Moana's "I Want" song outshines this one by a lot.
11. "An Innocent Warrior"
Foa'i told Variety that he used a combination of Pacific languages to create the movie's majestic choral pieces, like this one.
10. "How Far I'll Go" By Alessia Cara
"Here" singer Alessia Cara has the coveted honor of recording the "pop" version of Moana's big number. But when the movie version is so stunning, these modernized recordings can get lost. Anyone remember Demi Lovato's version of "Let It Go?" Exactly.
9. "Know Who You Are"
Cravalho's voice mingles with the the film's haunting chorus on this musical plea. It sounds as if it's sung at a pivotal moment during the film.
8. "You're Welcome" By Jordan Fisher Featuring Lin Manuel Miranda
I ranked this pop interpretation higher than Alessia Cara's, because Grease Live! actor Jordan Fisher and Miranda bring something funky and different to Johnson's introductory song. That rap breakdown though.
7. "Where You Are"
It's obligatory for a Disney heroine to get the "stay close to home" speech from someone. Moana gets hers from her chief and father, plus the rest of the villagers.
6. "Logo Te Pate"
I don't understand the lyrics of this song, but I don't need to. I love that, as a film, Moana trusts that tracks in languages other than English will be able to convey universal feeling and emotional.
5. "We Know The Way"
Moana hails from a tradition of explorers and navigators. This song, led by Miranda, is about paying attention to the world around you and using that wisdom to "know where we are" and "know who we are."
4. "I Am Moana (Song Of The Ancestors)"
I dare you not to get a little misty while Moana's grandmother sings to her about identity. The heroine's response is confident and strong, proving that this Disney princess follows in the feminist tradition of Queen Elsa, Mulan, and Tiana.
3. "Shiny"
I'm always here for an over-dramatic Disney villain, and Jermaine Clement is a brilliant casting choice. "Shiny" will become a favorite of kids especially, with lyrics like, "I just love free food, and you look like seafood."
2. "You're Welcome"
Johnson is probably one of the world's most likable celebrities, so it's about time he lent his charm to a Disney musical. "You're Welcome" is an ode to harmless arrogance, as Maui takes credit for all the gifts he's so selflessly given to humanity. And maybe I'm the kind of person who hears Hamilton everywhere, but this song reminds me of King George's oblivious musical boasts.
1. "How Far I'll Go"
"How Far I'll Go" will be talked about as Moana's answer to the Frozen showstopper, "Let It Go." Cravalho's vocals are warm and impressive. And the lyrics, about a girl who wants more and doesn't know how to silence that voice, will strike a chord with all the dreamers in the audience.
I'm delighted to report that Moana's soundtrack is everything I hoped for from this incredible cast and crew. It's going to be a challenge not to sing along when I finally see the real thing.
Image: Walt Disney Studios