How Patty Could Return To 'The Flash'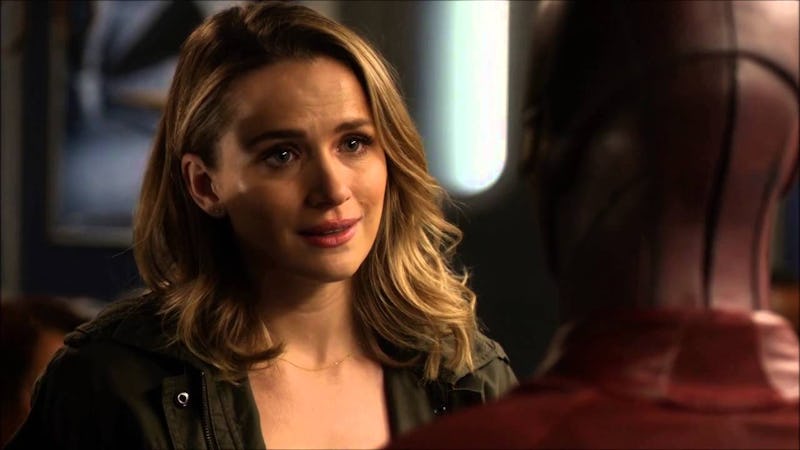 In The Flash Season 2, Barry found a new love interest in Patty Spivot, the former badass detective for the Central City Police Department. Their adorable relationship (obviously, they are no Barry and Iris, but still) came to an end not only because Patty chose to leave Central City to pursue her dream as a forensic scientist, but also because she discovered Barry was keeping the major secret that he is also The Flash. Even though they didn't have a happy ending, there is always a chance Patty will come back. Who knows when or if that will happen, but Shantel VanSanten hopes that if Patty returns to The Flash, it has nothing to do with Barry. That's right, the actor who brought Patty to life tells Bustle that her character doesn't need the superhero to give her a reason to come back.
"I hope I get to go back and if I get to go back, I wouldn't want to go back because of Barry," VanSanten says. "I would want to go back because I didn't need a man. That's every girl's dream that we don't need a man to run back to. Maybe there's some kind of unfinished business or somebody who needs my help and I can go and be the one who solves something. You know, prove to him why he should've been honest with me and why he should miss me — and not the other way around."
That seems like an appropriate way for Patty to make her triumphant return. From her first appearance to her last, Patty showed she could stand on her own two feet without a man by her side. Yes, Barry was a huge part of her story, but it was Patty who chose herself, her career, and her dreams over a man keeping secrets from her.
Who knows if that's how Patty will come back to the series, but it seems like there is a good chance she'll return. "When they had to have my character leave because I had booked Shooter, they put [Patty] on a train purposely, is what [executive producer Andrew Kreisberg] had said to everybody and that's what he had expressed to me — there would be a time and place where I'm only a train ride away," VanSanten says.
It would be interesting to see Patty pop up now, especially since Barry went back in time and created the Flashpoint timeline. Would Patty be the same Patty fans remember? Whatever the case, VanSanten is ready, willing, and able to embody Patty all over again. "I follow the show still, because all my friends are on it now and I'm very close to, like, three or four of the cast members. I would love nothing more than to come back."
I think it's safe to say fans of Patty — and those ready to see her as someone separate from Barry — are ready for VanSanten's return to become a reality.
Images: The CW; billiejoearmstrongs/Tumblr