Kirk Is Still A Filmmaker On 'Gilmore Girls'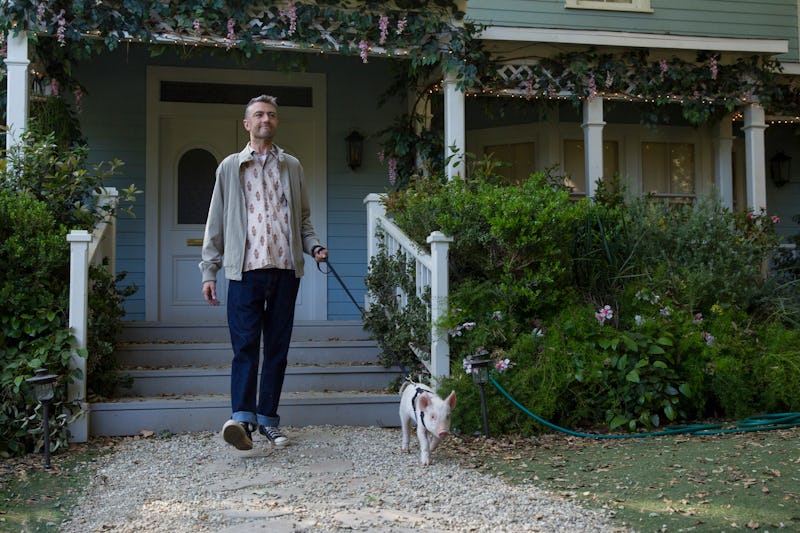 It wouldn't be Gilmore Girls without some townie goodness, but the quirky residents of Stars Hollow aren't just about the festivals. For example, the Gilmore Girls revival features a Second Film By Kirk. Of course, it stars Kirk and Lulu's new pet pig, Petal. There are some spoilers for both Gilmore Girls and Kirk's film ahead, so cinefiles, beware.
The film was introduced in "Spring." Kirk's second film was just as artistic as "I Love Your Daughter," his first short from 12 years ago. The film begins in color with Kirk walking Petal, and is shot at Lorelai's house without her knowledge. Is that a reference to her house being used by so many other shows and films at the Warner Brothers lot? It's a stretch, but possible. Suddenly, everything is black and white. There's a woman in a red coat. She's an omen. Petal runs away, and dies in a car crash. Kirk is screaming. It's all very symbolic. You know who would probably like it? Luke's daughter April "I only watch German silent film" Nardini. Then again, if I remember correctly, she was pretty fond of Kirk.
Kirk's second film makes a return in "Fall" when the Life and Death Brigade comes to town and basically trashed Stars Hollow. Rory treats her raucous friends to a screening, and Finn calls the film an instant classic. It's hard to tell whether or not he's being sincere. Still, it's nice that the revival included so many callbacks, and if nothing else, Kirk's new film was exceedingly fun to watch.
Image: Saeed Adyani/Netflix