'Smurfs: The Lost Village' Is All About Girl Power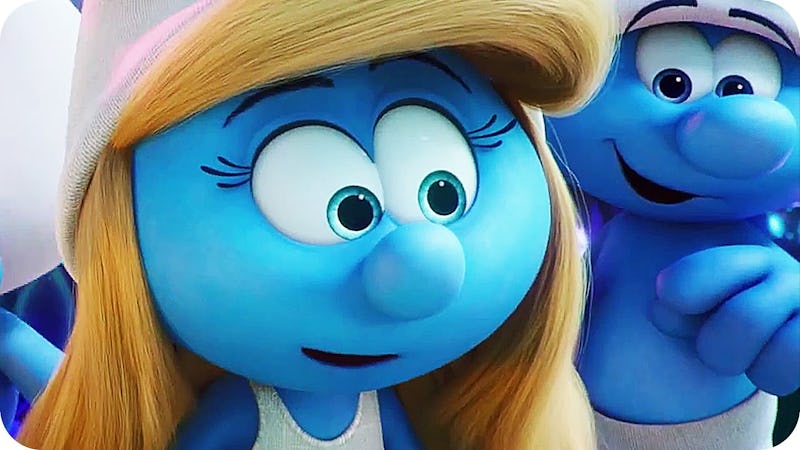 I've always felt really bad for Smurfette. Can you imagine being the only girl among all those guy smurfs? I can't imagine never having a sister or female friend to share growing up with. In the new Smurfs: The Lost Village trailer Smurfette leads the story and a quest to find the fabled Lost Village — where she may be able to finally find another Smurf gal. From the trailer alone it seems like Smurfette, voiced by Demi Lovato, truly shines as a real leader for her fellow Smurfs on their dangerous quest. It's inspiring to see such a popular and well-known series feature a strong female lead.
Smurfs: The Lost Village, which premieres on April 7, 2017 tells the story of the only female smurf, Smurfette, who struggles to find her raison d'etre in a village full of dudes. While on a stroll in the Enchanted Forest she meets an incredibly shy creature who she is convinced is some sort of Smurf — maybe even a fellow Smurfette (Smurfina)? Based on her discovery and a mysterious map the creature drops while on the run from Smurfette, the bold smurf decides to do go on an adventure.
Smurfette and her fellow smurfs — Clumsy (Jack McBrayer), Brainy (Danny Pudi), and Hefty (Joe Manganiello) — go against Papa Smurf's fears of the unknown and sneak out in the middle of the night to find the legendary village they now believe to be real. Meanwhile, the classic Smurfing villian, Gargamel (Rainn Wilson), is on their tails.
Through all of the topsy turvy events in the trailer Smurfette stays strong and never loses her sense of adventure. This reboot sequel is going to be such a great thing for girls (and boys) of all ages to see!
Images: Sony Animation/YouTube (3)