Guess Who's In The New Smurfs Movie?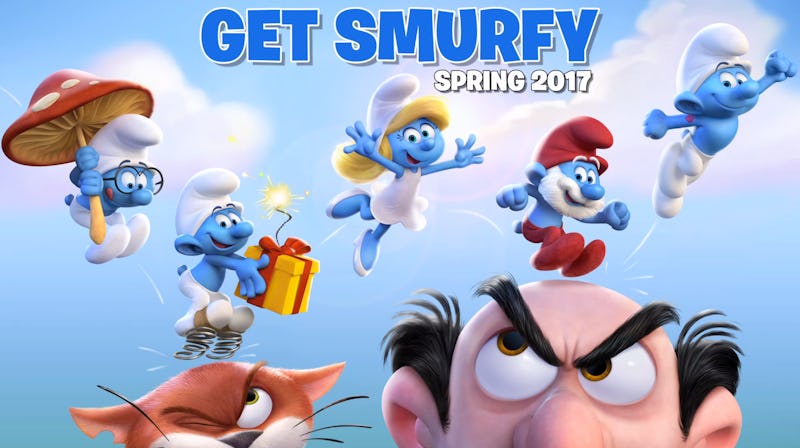 Oh, the Smurfs! There's just something about those beloved blue creatures that instantly makes us nostalgic for our childhood. The most recent Smurfs movies came out in 2011 and 2013, and while they didn't get the best reviews, it was still great that the cartoon lived on. (Plus, we got a Britney Spears song out of Smurfs 2 — which automatically made it worth it!) On Sunday, Sony Animation announced the cast of its latest reboot, and it's pretty great: Get Smurfy will star Demi Lovato as Smurfette and The Office's Rainn Wilson as the evil Gargamel. Papa Smurf will be played by Mandy Patinkin (aka Saul from Homeland ). This is amazing news!
In the fully computer animated movie, the characters return to their roots. According to Deadline, "The latest adventure finds Smurfette and her brothers navigating the Enchanted Forest in search of a fabled Smurfs village before the evil Gargamel finds it." They'll also discover why Smurfette is the only female Smurf. (I'd really like to know the answer to that, too!)
Unfortunately, you'll have to wait a little while before you can see this movie. Get Smurfy doesn't actually come out until 2017 — March 31, 2017, to be exact. But hey, it just gives you something to look forward to! To hold you over until then, here's a video introducing the cast:
Since only a few of the Smurf roles have been announced so far, I've decided to round up my dream cast. Here's who I'd like to see star as little blue cartoons in Get Smurfy.
John Krasinski
Krasisnki and Wilson's chemistry on The Office is undeniable. I'd love to see that same Jim and Dwight humor carried over into a cartoon Smurf world.
Nick Jonas
He's used to having a bunch of brothers and that's the very plot of the Smurfs. Another reason this works great? He and Demi are already good friends!
Steve Carell
We already know he's great in animated movies (did you see Despicable Me?), so Carell should add Get Smurfy to his résumé. And yes, I'm still caught up on the idea of making it a mini Office reunion.
Aziz Ansari
Personally, I think he's hilarious. Plus, he was in Ice Age: Continental Drift and Bob's Burgers. Clearly he's very familiar with voice acting.
Justin Timberlake
Not really a solid reason here, other than the fact that I love a good Justin Timberlake cameo. Maybe his Smurf could have that curly hair from his *NSYNC days? That would be the BEST.
Images: Sony Animation/YouTube; Getty Images