Calvin Johnson Had A Surprise On 'DWTS'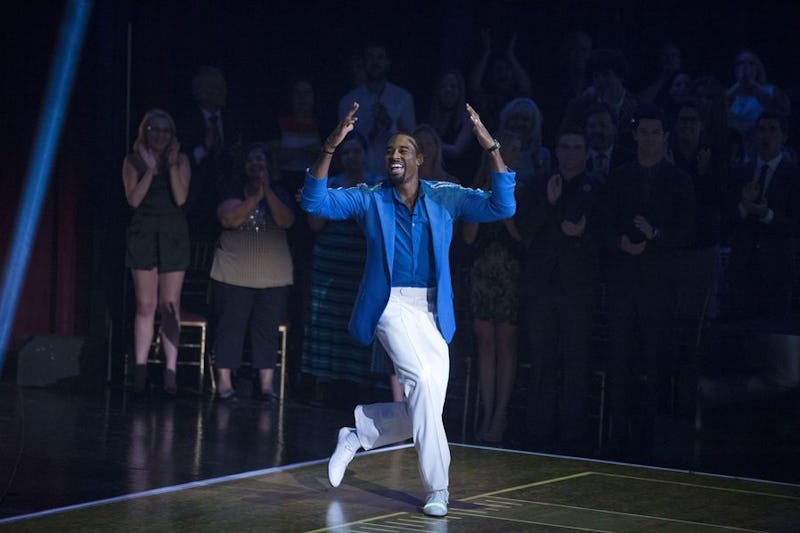 The end of Dancing With The Stars is (nearly here), and these contestants have waltzed, tangoed, and contemporary danced their way to the finish line. I think that Dancing With The Stars makes dancing like this look easy — there always a few injuries per season, but the dance pros make learning a dance or two a week and costume changes and constant travel super simple. One thing I think people forget is how hard it is to be away from one's family for such a long time — there's no time for rehearsal when you're rehearsing for 10 hours a day. Luckily, Calvin Johnson got a sweet surprise on Dancing With The Stars — his two-year-old son, Caleb.
Not only did Lindsay and Calvin crush their dance to get into the finals (I hope, at least), but Calvin was talking to co-host Erin Andrews about how it's hard to miss his son that much. Lo and behold, there he was — Caleb walked up on stage, and the smiles on both father and son's faces were from ear-to-ear. Calvin actually walked away from the camera for a second so he could compose himself because he was so shocked! Then, father and son walked off, hand in hand. So cute.
It's nice that Calvin's family is there to cheer him on the big finale. He really has a shot at the Mirrorball trophy here — Lindsay has choreographed and taught him to the finals, and they are so close to winning this whole thing. If he does receive that big disco ball on the finals night, Caleb should be the one to receive it.
Images: Eric McCandless/ABC