14 Funny Christmas Movies To Watch This Holiday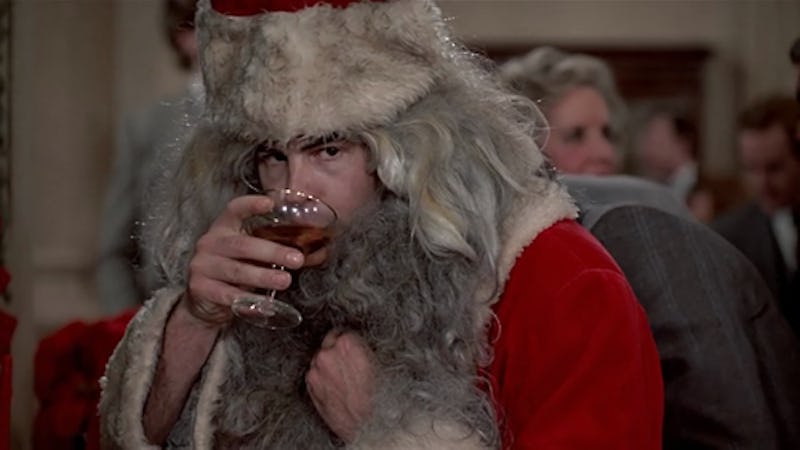 It's Christmas movie time again, everyone. If your family bonds best by laughing out loud as you chow down on some holiday cookies, you're not alone. One of my strongest memories of Christmas is my family eating Pillsbury cinnamon rolls and watching the TBS 24-hour marathon of A Christmas Story. Every. Year. (I know pretty much all the words to the movie at this point.) And chances are, the holiday season is defined in your mind by a holiday film or two, as well. Many Christmas movies are heartwarming, a few are kinda scary or intense (Die Hard or Gremlins, anyone?), and there's definitely a respectable category for unofficial-but-still-totally-Christmas-movies (Bridget Jones' Diary and the Harry Potter series both come to mind for me.) But arguably, the best holiday movies of them all are the funny Christmas movies.
The ones you'll find on this list vary widely in tone, type of comedy, and intended audience, so that hopefully you'll have options no matter what type of Christmas plans you come up with. Fortunately, most Christmas movies are designed to appeal to whole families, so even the kid-friendly ones are still fun for adults (though the adult-friendly ones are maybe... not recommended for kids.) Now, go forth, make merry, and laugh.
This is arguably the most quotable Christmas movie of all time. The series of vignettes tell a hilarious story of a family surviving the holidays in the 1940's. Put out your leg lamp, get your little orphan Annie decoder pin ready, and don't shoot your eye out.
Dan Aykroyd plus Eddie Murphy is a powerful and hilarious combination. This one is a classic.
Hijinks galore in this one. Dad seething with poorly disguised rage until he finally blows up at the whole family isn't my favorite way to have a good laugh, but people love this kooky, crazy holiday entry into the Vacation series.
Sinbad is amazing in this, remember? But the funniest part in the whole movie might be the film's commitment to the idea that Austrian bodybuilder beefcake Arnold Schwarzenegger is being emasculated by his scrawny neighbor, played by beloved and gone-to-soon Phil Hartman, who is better at Christmas than him.
Romantic comedies are some of the best comedies. This one is sweet and funny, with four lovable leads — Cameron Diaz, Jude Law, Kate Winslet, and Jack Black — who all have space to shine in their own ways. And with its Old Hollywood side plot, it might be a good companion for La La Land this holiday season.
This is a perfect year to revisit Home Alone because now you get to imagine Joe Biden setting all of Kevin McCallister's booby traps in the White House for the next administration.
The Santa Clause sequels are serviceable, but the original is basically flawless and I wish Tim Allen was actually Santa. A warning, though: few things will break your heart like the scene when Allen's character takes his young son to Denny's on Christmas Eve and sees all the other divorced dads having awkward Christmas Eve's with their kids at Denny's, too.
Bill Murray is at perhaps his Murray-est in this 1988 interpretation of A Christmas Carol. The plot is basically: what would happen if Santa sent a bunch of ghosts to try to keep Gordon Gecko off the naughty list? A whole lot of mayhem.
This movie has lots of haters, but it is one of the most addicting romantic comedies out there. If you can't stand it but have to watch it, just let your friends and family enjoy themselves and occupy your mind by keeping a tally of all the weird chunky early-2000s sweaters.
A lot of self-aware muppet snark in this beloved classic. If you haven't seen it since you were a kid, trust me, it totally holds up and is surprisingly emotionally affecting.
This R-rated Christmas comedy starring Joseph Gordon Levitt, Anthony Mackie, and Seth Rogen didn't get much hype after it was released last Christmas season, but it's warm, weird, and highly underrated. Also Michael Shannon steals the show as a total oddball of a side character.
Fred Claus features Vince Vaughn in his mid-'00s comedy prime. What's not to love?
This film is everything you love about the general plot of Planes, Trains, and Automobiles (which is, unfortunately, a Thanksgiving movie and thus cannot be included on this list) but majorly teened-up and starring your favorite '90s heartthrob Jonathan Taylor Thomas.
I would never forget Elf . Elf is gem. Elf is sweet without being treacly, funny without being buffoonish, heartwarming without being cheesy, and adult-friendly without being jaded. Will Ferrell has never been better and I wouldn't mind if he chose to live the rest of his life as Buddy the Elf.
Now, get your snacks and blankets ready, because you're in for a long movie marathon.
Images: GIPHY