Did Madeline & Louise Return To 'Gilmore Girls'?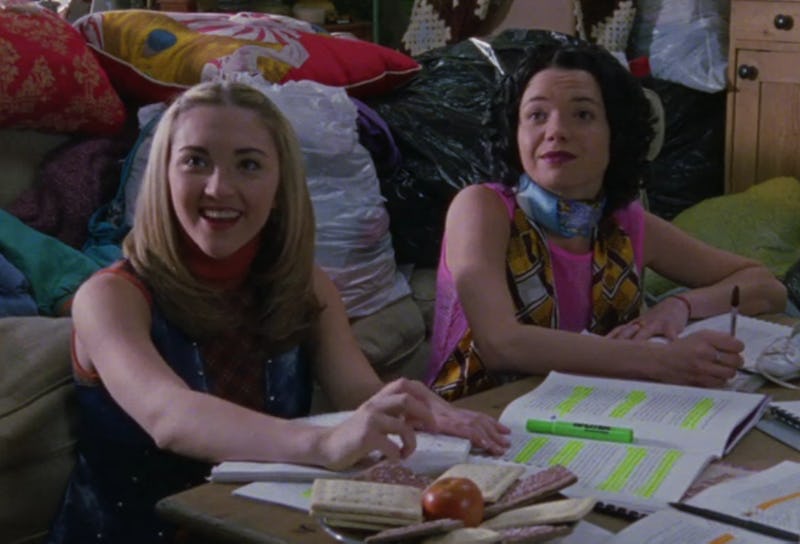 After almost a decade since its finale aired, Gilmore Girls will finally reunite fans with its quirky-but-lovable cast when the revival premieres on Netflix this Friday, Nov. 25. Given its limited, four-episode format, the number of returning characters is impressive: at least 37 original actors have signed on to revisit Stars Hollow, plus a handful of fresh faces, too. Still, there are a number of names noticeably absent from the docket, including a couple of Rory's former Chilton pals. We know Paris stuck with Rory throughout college, but what about the other two members of their one-time girl group? Will Madeline and Louise return to Gilmore Girls?
Their relationship with Rory was certainly complicated. When she first arrived at Chilton, they were portrayed as ditzy sidekicks more interested in boys than books. Paris, their de facto leader, was threatened by Rory, and instructed Madeline and Louise to rebuff her. Over time, however, their attitudes softened, and an impromptu Bangles concert pushed all four of them a little closer together. After a turbulent few years, they graduated on good terms. Paris, of course, continued onto Yale with Rory, but Madeline and Louise ventured elsewhere. They're last seen in Season 4, when Rory and Paris run into them during a spring break trip to Florida.
Where they end up afterwards is vague, and it doesn't seem like we'll get any more clarity when Gilmore Girls: A Year In the Life picks back up a decade later. Neither Shelly Cole or Teal Redmann — who played Madeline and Louise, respectively — have spoken publicly about the revival, and creator Amy Sherman-Palladino hasn't confirmed them as part of the returning cast. That doesn't completely shut down hope for a surprise cameo, but frankly, it wouldn't make much sense. Rory has since blossomed into a bona fide adult, and revisiting forgotten high school friends seems trivial against the larger stories that need telling. Madeline and Louise haven't been a part of her life in years, and, realistically, they weren't that close in the first place. A small mention about where the pair ended up would likely suffice — and we all know the Gilmores do enough fast-talking to fit that in.
Images: Netflix, Giphy