What You Should Get The Kylie Fans In Your Life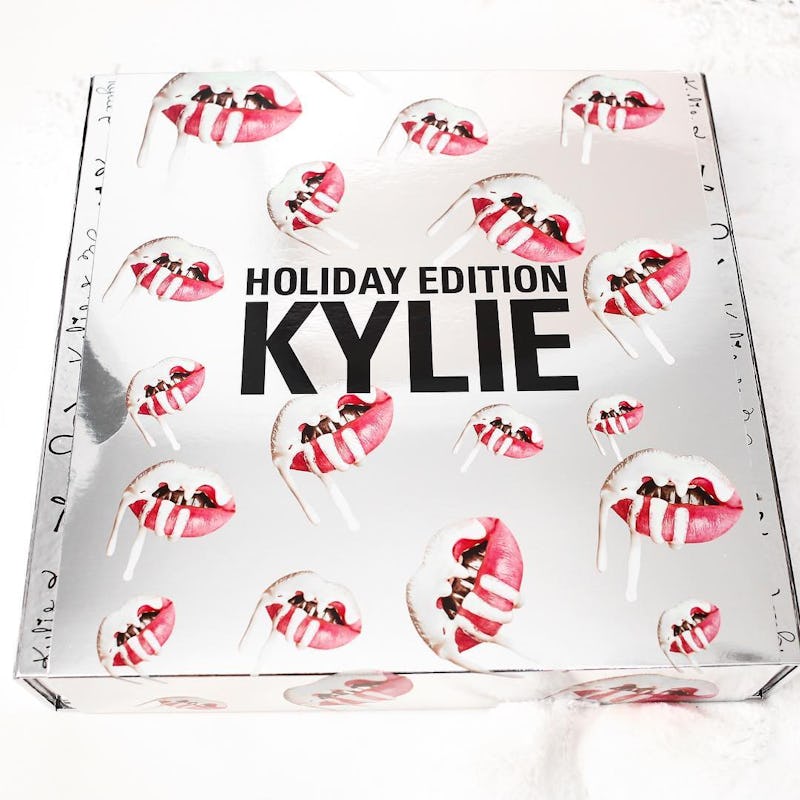 If there's one thing you need on your holiday gift list this year, it's some products from Kylie Jenner's Kylie Cosmetics Holiday Edition collection. You might be wondering if you can buy a Kylie Cosmetics gift card to gift to someone for the holidays, but unfortunately gift cards aren't possible yet. Even though Jenner's Kylie Pop Up Shop will be opening soon, shopping online for her products is the easiest way to gift the beauty mogul's products so far.
The Kylie Cosmetics Holiday Edition dropped on Nov. 21, but the good news is, most of the collection is still available! The collection is full of new and limited edition items, so don't delay because it might sell out soon! With so many new jewel-toned lip colors, creme eye shadows, and even a new KyShadow palette to choose from, shopping the new collection might seem overwhelming, but it will be so worth it to have a limited edition piece.
If you can't decide what to get for the holidays, Jenner is also offering gift bundles that contain about 15 products starting at $180, which is an incredible deal if you really love the Kylie Cosmetics products. The Holiday Bundles each include the Dancer metal matte lipstick, one limited edition holiday lip kit (Merry or Vixen), one limited edition holiday gloss (Naughty or Jolly), the mini mattes, the holiday KyShadow palette, one creme shadow (either Yellow Gold or Camo) and the holiday makeup bag.
Even though the bundles are sold out now, keep checking back on kyliecosmetics.com for restock information! While you wait, see which one you love best!
1. The Merry Bundle
The Merry Bundle, $180, kyliecosmetics.com
Surprise a Kylie fan with this incredible set.
2. The Vixen Bundle
The Vixen Bundle, $180, kyliecosmetics.com
Who wouldn't want this under their tree?
3. The Holiday Collection Bundle
The Holiday Collection Bundle, $180, kyliecosmetics.com
The whole shebang!
Images: KylieCosmetics/Instagram; Courtesy of Kylie Cosmetics