This Is How To Use Kat Von D's Alchemist Palette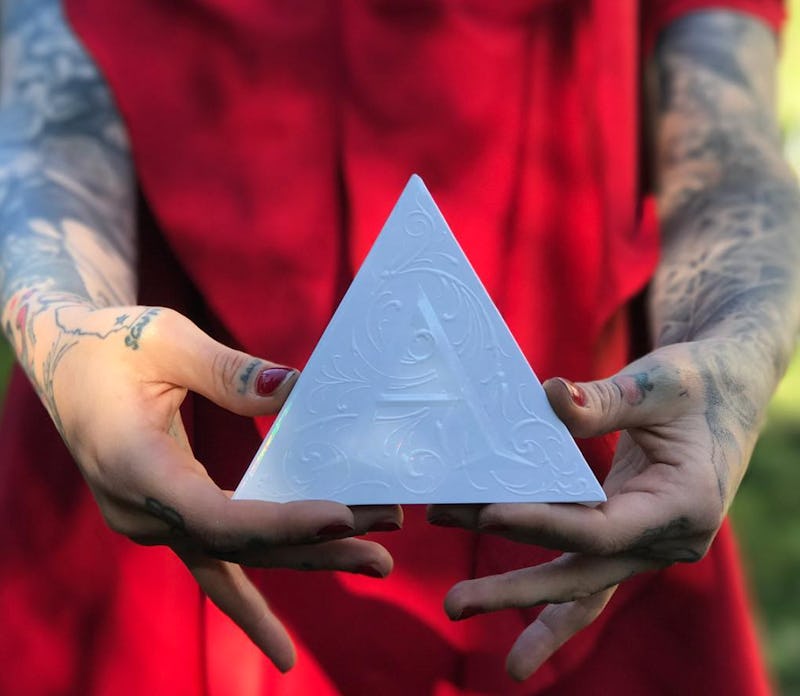 Mystery solved! I always felt that Kat Von D's Alchemist palette carried a certain level of mystique whenever she teased it. She has been working on the Alchemist palette for seven years, as noted in her social media posts. The iridescent, triangular case captured my attention, even though we were never sure of what was living inside of it. Now all has been revealed. How do you use the Kat Von D Alchemist Holographic Palette?
Well, the makeup artist and tattoo goddess finally shared what's under the hood of this work of art and how it can be used. But seriously, I almost dig the case more than what's inside, due to its beauty.
The Alchemist Palette drops at via Sephora in December, but more on those details in a sec. Let's appreciate its inner beauty.
There are four circular pans of powder, which Kat herself describes as "the most versatile formula I have ever created," and a mirror. This highly pigmented yet iridescent formula was originally envisioned as an eyeshadow, but it can also be used a highlighter or as a top coat for other shadows or lipsticks.
Kat Von D Alchemist Holographic Palette, $32, Sephora
Lemme pause for a second to note that KVD's Lock-It foundation formula doesn't have fans so much as it has disciples. She had to remind her customers repeatedly after she repackaged the product and added shades that she did not tinker with the beloved formula. So the brand's configurations are precious to shoppers.
Kat Von D Lock-It Foundation, $35, Sephora
The Alchemist shadow can act as a transformer that change the look of other makeup and can therefore end up being a hero product, like the brand's Trooper Tattoo Eyeliner, which I am wearing right now, mind you.
Kat Von D Tattoo Eyeliner In Trooper, $20, Sephora
As for those shopping details... here they are. The Alchemist Palette is available for Sephora VIB members as of Dec. 18. It will be available online at the Sephora site and the KVD Beauty site on Dec. 24. It will be in Sephora stores on Dec. 26.
That's good news, so you can blow through any gift cards you may receive for Christmas the very next day.
Remember, the Better Together Collection drops Dec. 26, too. That's the Kat Von D x Too Faced mashup. My eyes are laser-focused on that heart palette.
Better Together Ultimate Eye Collection, $65, Sephora
Images: Kat Von D/Instagram (4)