Here's Your Daily Horoscope For November 24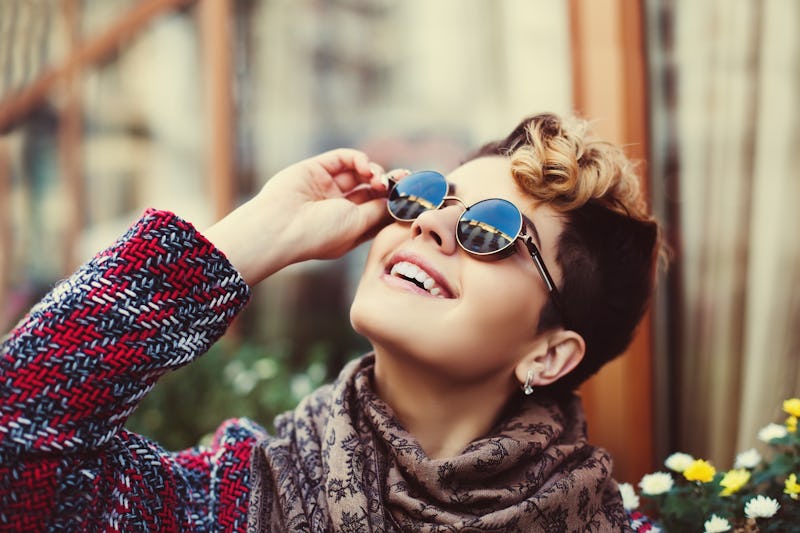 We're constantly fascinated by what our zodiac sign says about our lives, whether it's which signs are most compatible, the best sex positions for each sign, or how each sign handles conflict in relationships. That's why Bustle has enlisted Mecca Woods, a New York City-based Astrologer of MyLifeCreated.com to tell us all about how astrology is affecting our lives each day. Today's topic: your daily horoscope for November 24, 2016.
The Moon (feelings) continues her transit through sociable Libra, connecting with free-spirited Mars (passion) in Aquarius during the early afternoon which should put just about everyone in a festive mood, albeit an opinionated one. Things may get a bit intense towards the evening as the friendly Libra Moon squares off first with Venus (relationships, values) in reserved Capricorn followed by another square off — this time with Pluto (power) in Cap. Since expansive Jupiter (ideals, optimism) in Libra will also be involved with this conflict, we could find that our need to keep the peace, get along, and play fair at any cost could be overshadowed by the effect of having things blown wildly out of proportion and taking something personally or the feeling that someone we love (or we want to love us) isn't exactly returning the sentiment. Though with cool-headed Saturn (reality, facts) in Sagittarius providing some reprieve from the tension, we're reminded to keep things in perspective and remain objective, while Jupiter's square off with Pluto can help us to get rid of what's no longer working in our relationships. By the late night, the mood improves when the Libra Moon gets cozy with happy-go-lucky Jupiter which should help us to smooth over any rough patches and forget our troubles.
Read below to see what today's stars mean for your sign.
And remember to tune into Bustle's weekly horoscopes video live on Facebook every other Monday at 4 p.m. ET for a rundown of your weekly horoscope.
Aries (March 21 - April 19)
When it comes to your relationship goals and career aspirations, you may be feeling like you've miscalculated the steps to get where you want to be. This is only because you were never meant to fall in line with what everyone is doing. Go in a different direction.
Taurus (April 20 - May 20)
You could feel a bit discontented today as something you believe or thought to be true, no longer seems to fit your everyday needs or lifestyle, especially where it pertains to your professional life. But that's OK, you're in need of a breakthrough now.
Gemini (May 21 - June 20)
You're not always the one for trusting your emotions, but what if the key to getting what you want was to better honor how you feel? Instead of spinning your wheels and getting nowhere, feel into what you want and follow your first instinct. You're going to like what happens afterward.
Cancer (June 21 - July 22)
Something from the past could come bubbling up today that could send you for bit of a tailspin. However, instead of letting this old wound get the best of you, use this as your opportunity to finally let go of what you no longer need. Heal thyself.
Leo (July 23 - Aug. 22)
While others may be in the mood to party, you'll be in the mood to decompress. Think along the lines of detoxing your mind, body, and your environment. If you need to ask others to step up and pitch in where you need it most, do it. Leave the heroics for another day.
Virgo (Aug. 23 - Sept. 22)
Looking for a new job or better pay? Don't wait until things become unbearable for you to decide to move on, as desperation is never sexy. Update your resume and don't be afraid to be a little choosy about the applications you submit. The goal is to get paid for what you love.
Libra (Sept. 23 - Oct. 22)
You're asked to put yourself first, today. Whether it's blow off some steam with a good sweat, getting in a good laugh or even a good cry, treat yourself to something with therapeutic benefits. If you're having trouble figuring out how to make this happen, ask your body. It knows.
Scorpio (Oct. 23 - Nov. 21)
You're usually the silent type but you may find yourself with the urge to get something off your chest today, which isn't necessarily a bad thing. Instead of taking something to heart and dwelling on it silently for days on end, deal with the elephant in the room.
Sagittarius (Nov. 22 - Dec. 21)
Sagittarius: You can't always go it alone, Sag. While you value your freedom and hate following in the footsteps of others, you're going to need to call on others if you're serious about your cash now as it will be about who you know. And no, this is not about being disingenuous.
Capricorn (Dec. 22 - Jan. 19)
You might find yourself conflicted today with your opinion of yourself and others opinions of you, which may put you in the tight spot between wanting to be amicable and wanting to do your own thing. This is one of those times when you need to trust yourself and honor your own feelings.
Aquarius (Jan. 20 - Feb. 18)
Continue to think on a global level as you could get the opportunity to travel for work, land a gig that allows you to teach or learn overseas (virtual world included), or see your name in print. Just don't allow self-doubts to get in the way of a good thing.
Pisces (February 19 - March 20)
Is someone else's demands putting some wear and tear on your feelings? While you hate to be mean to others, namely those you've known forever, you may have to start flexing your muscles in laying down some better boundaries or recognize when you can't save everyone.
Images: Fotolia; Caroline Wurtzel/Bustle