Here's Your Daily Horoscope For November 25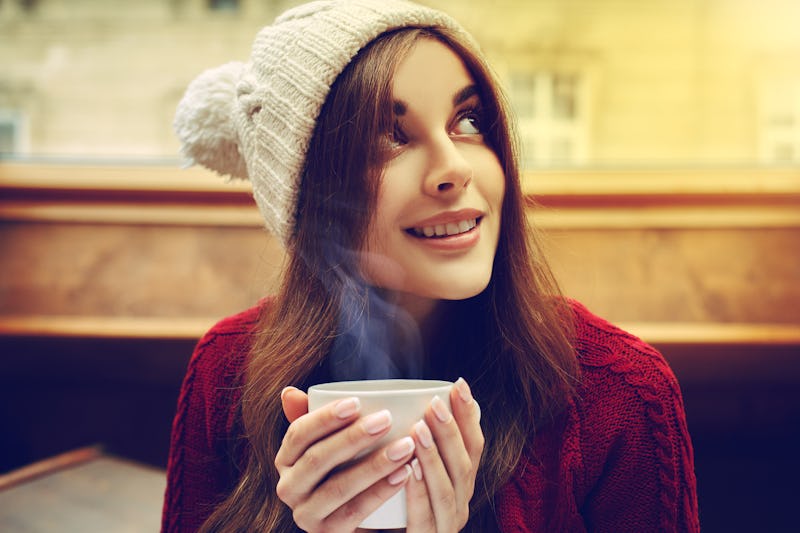 We're constantly fascinated by what our zodiac sign says about our lives, whether it's which signs are most compatible, the best sex positions for each sign, or how each sign handles conflict in relationships. That's why Bustle has enlisted Mecca Woods, a New York City-based Astrologer of MyLifeCreated.com to tell us all about how astrology is affecting our lives each day. Today's topic: your daily horoscope for November 25, 2016.
The Moon (feelings) rounds out her transit in partnership oriented Libra today before going void-of-course mid-morning, aka when the Moon temporarily stops "talking" to another planet as she moves into the next sign. Though before this happens, she stops in briefly to chat with Mercury (words, thoughts) in expansive Sagittarius, followed by a tense meeting with Uranus (freedom) in hot-headed Aries. While these aspects can give us the urge to express exactly what we're feeling and how we're feeling it no matter what that feeling may be, Venus (relationships, money) and Pluto (power) in business-minded Capricorn asks that we channel all that passion and energy into something productive. With Jupiter in Libra stirring the pot, we'll have to make sure we don't go to far when attempting to get what we want. However, what we get and when will depend on how ready we are to try a new approach. Since the Libra Moon will be void until tomorrow, keep in mind that today is largely for tying up any loose ends and working with what's already on your plate.
Read below to see what today's stars mean for your sign.
And remember to tune into Bustle's weekly horoscopes video live on Facebook every other Monday at 4 p.m. ET for a rundown of your weekly horoscope.
Aries (March 21 - April 19)
So you know what you want when it comes to your goals, achievements, and reputation but does it suddenly feel like you're spinning your wheels? It may be that you're trying to go it alone, instead of utlizing the support that others want to give you. Accepting help doesn't make you weak.
Taurus (April 20 - May 20)
Opportunities are coming your way, but are you open enough to receive them? Know that in order to move forward, you have to first see and believe what's possible, starting with the possibility of stepping out of your comfort zone when it comes to pursuing a new job. There's a big world out there.
Gemini (May 21 - June 20)
While you may be craving a deeper connection when it comes to love, be mindful of relationships where the only way to feel like you're getting that depth is through the absolute highs and absolute lows between you. In other words — unstable, emotionally draining love affairs are SO 2008.
Cancer (June 21 - July 22)
The same tired relationship dynamics between you and someone close to you just aren't going to fly anymore. Instead of hoping that they'll show up for you in the way you want them to, recognize the only one you can control is yourself. Anything else is not of your concern.
Leo (July 23 - Aug. 22)
Are you taking your ideas as seriously as you could be? It's time to look into ways you can monetize something you're passionate about or have always wanted to do but never tried. Launching an online store, freelancing, or consulting are just some options. Don't squander your gifts.
Virgo (Aug. 23 - Sept. 22)
So, you're pretty clear about what you don't want when it comes to life and love, but what about what you do want? Today is a good day to sit down and come up with the answers to that question. Know that if you aren't feeling as fulfilled as you might like, you have the power to change that.
Libra (Sept. 23 - Oct. 22)
Today might be the day where you need to accept that you are still an individual person, with individual thoughts and beliefs separate from that of your parents or your family legacy. While you don't need to cut your family out of your life, you do need to know where to draw the line.
Scorpio (Oct. 23 - Nov. 21)
You could come up with some golden ideas now, if you're willing to sit and listen to your intuition. Though how you get those ideas off the ground will require some strategic thinking. On another note, if your mind has been unsually heavy as of late — it's time to decompress and heal. It's not as bad as you think.
Sagittarius (Nov. 22 - Dec. 21)
Let's talk about what happens when you spend or count on money you don't have yet. While being expectant of abundance is not a bad thing, you don't want to stay in the habit of overextending yourself and your wallet because you can't say no. A little self-restraint will go along way today.
Capricorn (Dec. 22 - Jan. 19)
It may feel like there's a quiet war raging inside of you when comes to what you want for yourself and what you think you should do based on someone else's expectations. Know that for the time being the only person you need to worry about letting down is yourself.
Aquarius (Jan. 20 - Feb. 18)
You may need to call for a time out today as you'll need to clear some space to get quiet and figure out if the current trajectory you're on is where you want to be headed. You may be feeling a burning urge to head for the hills in the name of your freedom. But you'll have to properly plan your escape.
Pisces (February 19 - March 20)
You could attract some pretty powerful people now, the kind with enough know-how and clout to help you achieve some of your bigger goals. However, as these people come into your life, you'll need to take stock of who's already there. Do the people in your life match the person you're growing into?
Images: Fotolia; Caroline Wurtzel/Bustle