How To Do Thanksgiving On The Cheap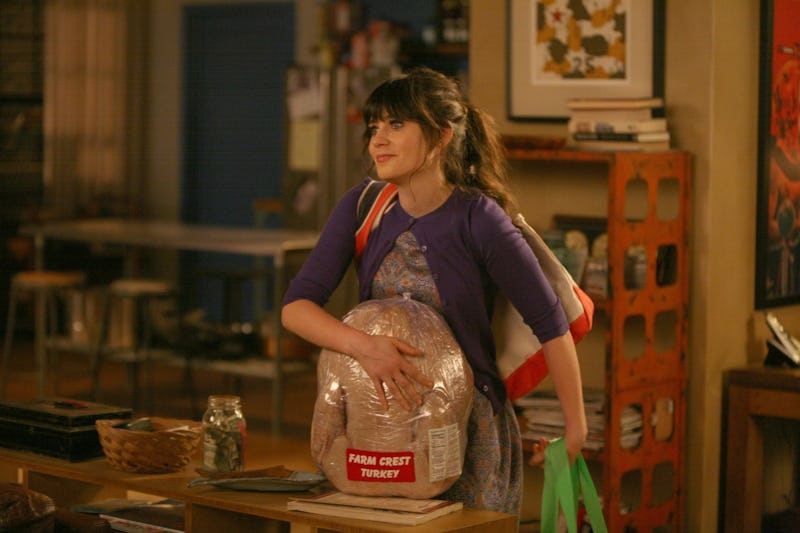 Thanksgiving is an expensive holiday if you're the one hosting. The turkey alone could set you back over $20, and once you add all the fixings and trimmings, you're looking at close to $100 — especially if you go organic, and name-brand. And while it might feel like this financial burden of having your own Thanksgiving is worth it, it doesn't change the fact that you've got bills due the following week. And when those bills come, you probably won't greet them with the same game face you greeted your long gone 18 pound up-market turkey with. You'll wish you downsized.
So instead of going all out and dazzling your friends and family with the freshest and the finest, consider that there are a few ways to make the feast just as delicious but a little bit less expensive. You don't actually need those artisanal parmesan crackers that they sell at the front of the grocery store with all of the craft mustards and jams, your guests will be happy with any house brand cracker. Seriously, as long as you actually put out something, your guests will be impressed with your cracker tray. It's the effort that counts.
Here are a few ways to make your Thanksgiving affordable while staying every bit adult, tasty and classy:
Pick A Discount Market
Though you might be tempted to head to your local gourmet market that has super cute decorations and that celebrities shop at, remember that you're trying to save money! Do a little bit of Yelping and find a discount grocery store that's got some Thanksgiving deals going on. This is the place for you. Follow the sale item's lead, too.
Go Frozen When Possible
Certain dishes like brussels sprouts, bean casseroles, and cranberry sauces are actually just as good when made from frozen ingredients. Picking frozen fruits and veggies for these recipes will not only save you money, but will probably leave you with some long-term left overs.
Assign A Potluck
If you want to do the majority of the work, that's fine, but outsource a few dishes to a few guests to lighten the load and financial strain a bit. Desserts, appetizers and side dishes are easy to assign, feel free to do so — especially if one of your guests ask if they can bring anything. Don't be shy, the answer is "yes."
Know When To Choose Store Brands
For certain things like cheese and spices, you're going to want to go with a brand you know and trust. But for other things like butter and milk and crackers, go with the store brand. You'll save a few dollars and your guests will have no idea.
Spare A Turkey
There's no rule that says you have to have a turkey. You might want to opt for some cornish hens as a cheaper alternative, or if you have some vegetarians in your group, you might consider skipping the meat all together. The sides are everyone's favorites anyway.
Go Au Naturale On The Decor
Don't spend money on kitschy decor, go outside and gather your decor. Bright leaves, pinecones, acorns, and left-over mini pumpkins from Halloween will look amazing and rustic on the table. And most importantly, they're free. Just remember to shake them out before you bring them inside, bugs on the table might be a bit too rustic.
Arrange Your Own Appetizers
Instead of spending a lot of money on a hefty veggie or cheese tray, make your own. Buy a bag of baby carrots, a stalk of celery and some cherry tomatoes, whip up a spinach dip and arrange it on a tray. Your guests will get more of the veggies they actually like — seriously, does anyone ever touch the radishes? — and you'll save money.
Limit The Booze
If a guest asks if they can bring anything, suggest booze. Getting a ton of cheap wine or liquor is always a bad idea. Your guests will have headaches before they even sit down for dinner. You're better off getting a small amount of quality booze than overcompensating with the discount stuff.
Mismatch Settings On Purpose
Most people don't have table settings for a holiday dinner just lying around waiting to be used. So don't stress out and buy some just for this dinner. Instead, go with mis-matched route. Get out all of your mugs and different sized cups and different colored plates and mix and match them as much as possible, so that it looks intentional.
Get Baking
Don't spend $40 on a pie that you can make with $12 worth of ingredients and an hour of your time. Find some time tonight to make that pie, you'll have fun doing it, your guests will be happy to have something homemade and you'll save a significant amount of cash.
Images: Fox, Giphy (10)