The Best Last-Minute Recipes For Thanksgiving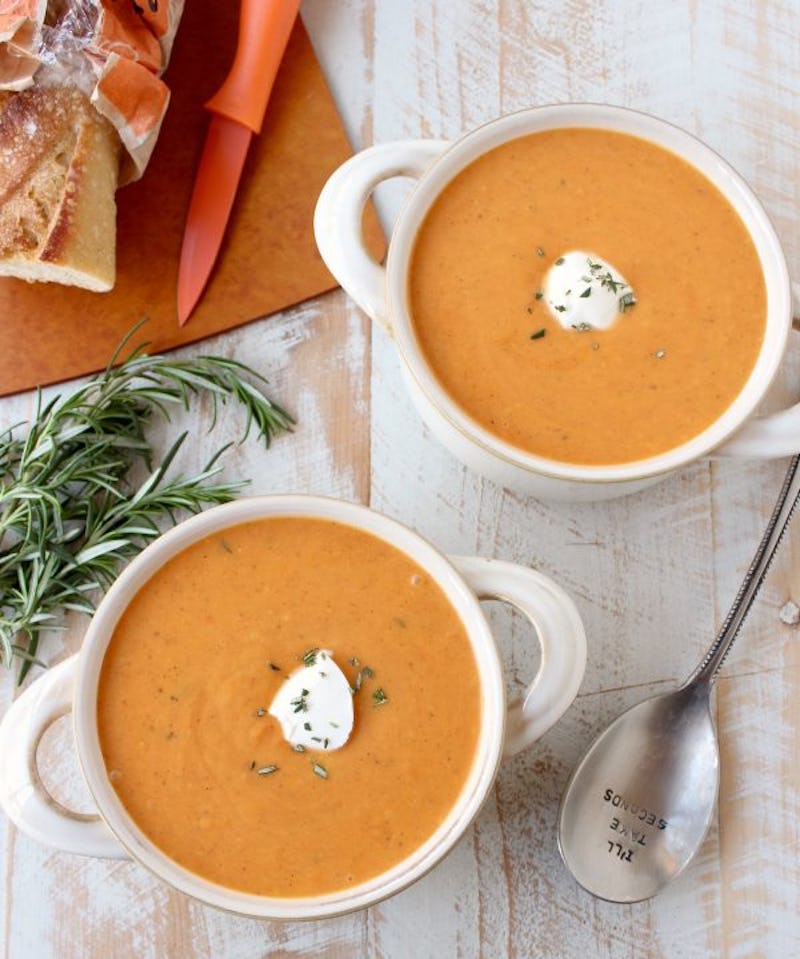 The holidays are always a busy time: There are turkeys to brine, potatoes to mash, and pie crusts to roll out. However, if you find your to-do list growing longer and your amount of free time growing smaller, don't stress yet, because I have some last-minute Thanksgiving recipes that will help take the stress out of your hectic holiday.
Cooking for Thanksgiving can be everything from a fun family tradition to a beautiful expression of love and care to a grounding connection to the Earth. But, even with all of its wonderful aspects, cooking for friends and family for the holidays can also be a stressful endeavor that takes careful planning, plenty of prep, and a huge time commitment in the kitchen. You can do everything you can to get ready for the challenge, including pre-cooking dishes and relying on traditional, no-hassle recipes — but no matter how much you prepare, there's always a chance something will go wrong. More often times than not, that thing is you running out of time before you've been able to complete your Thanksgiving menu.
If you've found yourself in the kitchen on Thanksgiving morning without a clue as to what to do, try one of these 16 last-minute recipes that can save your holiday feast. They're a simpler, easier way to get all of your favorite dishes out of the oven and onto the dining room table just in time for the toast.
1. 30-Minute Sweet Potato Soup
Pressed for time and don't think you'll be able to get appetizers out this Thanksgiving? Think again, because Whitney Bond's 30-minute sweet potato soup is a life saver for cooks short on prep time, but who still want to serve up warm, delicious, and seasonal dishes before the main event.
2. Easy Apple Pecan Sticky Buns
Looking for a sweet pastry to add to your spread without adding a whole bunch of time and prep? The Comfort of Cooking has the perfect solution with these easy apple pecan sticky buns, a gooey, crunchy, and oh-so-delicious pastry that might just become a permanent part of your Thanksgiving menu.
3. One-Hour Dinner Roll
Thanksgiving is all about coming together to break bread, so you better make sure you have some at your holiday table. With this 1-hour recipe from The Kitchn, you can make homemade dinner rolls at the last minute, so all of your guests have something warm and flaky to sop up their extra gravy with.
4. Maple Butter Sweet Potato Wedges
Skip the boiling, mashing, and mixing this year and go with Foodie Crush's maple butter sweet potatoes for the perfect last-minute, fall-themed Thanksgiving side dish. They're easy to make, bright and beautiful when served, and fun to eat in their wedge form.
5. Garlic Lemon Green Beans
If you're pinched on time this Thanksgiving, Whitney Bond has the perfect solution: a 10-minute recipe for delicious garlic lemon green beans. An quick and easy dish everyone around the table will love, you can't go wrong with this last-minute vegetable option.
6. Five-Ingredient Stovetop Creamed Spinach
Some of the best dishes are the easiest to make — or, at least, that is the case with Foodie Crush's stovetop creamed spinach recipe. With just five ingredients and some time spent reducing the cream, this is side you can make last-minute, no matter how chaotic your kitchen is.
7. No-Frills Cranberry Sauce
If you have three basic ingredients and just a little bit of time, you can still pull off a homemade cranberry sauce for Thanksgiving, thanks to this no-frills approach from The Kitchn. It's just another recipe that proves last-minute doesn't have to mean store bought.
8. Twice-Baked Acorn Squash
Twice-baked potatoes are old news... but twice-baked acorn squash? That's a recipe I can get behind. A Cozy Kitchen has an easy and basic recipe that looks beautiful and festive, and tastes even better.
9. Accordion Potatoes
Sick of mashed potatoes, but can't think of any last-minute substitutes? A Pretty Life has the answer with these crispy and salty (not to mention beautiful!) accordion potatoes that are easy to make, and even easier to eat.
10. Wild Rice Delicata Squash Gratin
Don't let the fancy name of this dish fool you — it doesn't get much easier than this side dish from A Cozy Kitchen, perfect for last-minute chefs that don't have time to peel and prep squash. Creamy and delicious, this decadent dish deserves a place at your Thanksgiving table.
11. Sour Cream Balsamic Sweet Potatoes
The key to last-minute cooking is simplicity. The Kitchn's sour cream balsamic sweet potato dish understands just that, and provides you with a five ingredient recipe that takes little time and effort to pull off.
12. Orange Bourbon Crock-Pot Turkey
No time to brine and baste this Thanksgiving? That's not a problem with Whitney Bond's set-it-and-forget-it crock-pot turkey recipe, a moist and flavorful alternative to the traditional roasted bird.
13. Turkey Breast
Don't have time to cook an entire turkey this year? Not a problem, because The Kitchn has a mouthwatering turkey breast recipe perfect for smaller feasts or last-minute meal planning that works as a faster, easier alternative to roasting a whole bird.
14. Spiced Apple-Caramel Crumble
If you've ever made a homemade apple pie, you know what kind of time and effort it takes. For a simpler alternative that honors the flavors of the traditional dish, try The Comfort of Cooking's spiced apple-caramel crumble. Gooey, sweet, and tart, it's a simple dessert that will have everyone clamoring for more.
15. Carrot Pumpkin Bundt Cake
For a dessert that looks fancy AF but is super simple to make, trust in A Pretty Life's carrot pumpkin bundt cake. As beautiful as it is tasty, this sweet seasonal treat is a great last-minute addition to any Thanksgiving dessert table.
16. Five-Ingredient Caramel Pecan S'Mores Dip
If you've got all the traditional pies and desserts Thanksgiving calls for, but you still want to add one more last-minute dessert, you can't go wrong with The Comfort of Cooking's caramel pecan s'mores dip. Full of fall flavors Thanksgiving is famous for, it's a quick dish that only requires five simple ingredients to make — in other words, a perfect last-minute dessert.
Images: Whitney Bond (4); A Pretty Life (2); The Kitchn (4); The Comfort of Cooking (3); Foodie Crush (2); A Cozy Kitchen (2)