Could 'Glee' Break This Couple Up?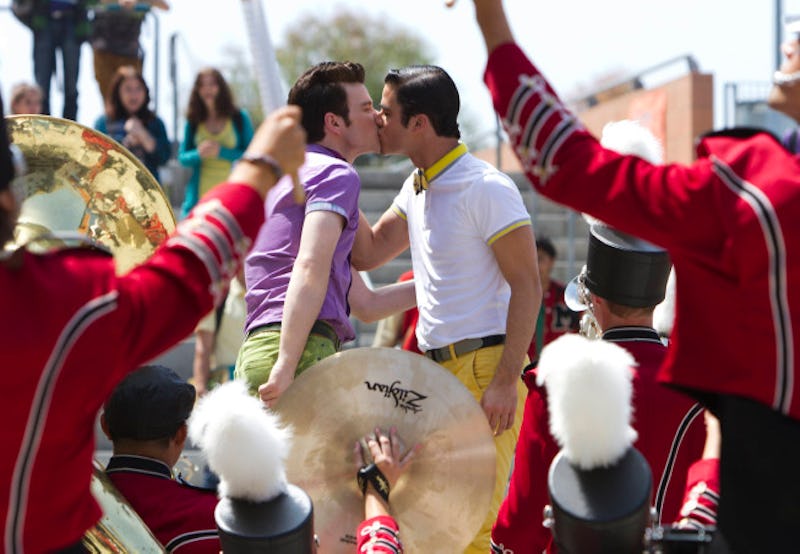 All good things must come to and end — even on Glee, which seems never-ending. Now that we're officially done with Lima and McKinley High School, Blaine, Sam, and Artie have relocated to NYC — for better or for worse. According to spoilers about the upcoming "New New York," Kurt and Blaine are going to have a hard time transitioning from their long-distance engagement to just a regular 'ole engagement. Which is kind of to be expected — but would Glee really break Kurt and Blaine up after all of this time?
Kurt and Blaine have been one of Glee's core relationships since he followed Kurt back to McKinley after his brief foray as a Dalton Academy student in Season 2. And it was terribly romantic that Blaine transferred schools to be with him — obviously that means it's forever, right? Well, that's kind of right, considering the pair broke up last season because Blaine got insecure about their long-distance and cheated on Kurt. But we were all really happy for them when they started dating again at the beginning of Season 5 and got engaged. What is this, Tree Hill, North Carolina? What's with all these teenagers getting engaged? So there's the very brief history of their relationship (not including the time they got drunk and Blaine flirted with Rachel, we'll get to that later).
Here's the deal with this spoiler — last month, at a promotional event for the series' 100th episodes, executive producer Brad Falchuk weighed in on the future of Klaine's relationship. Falchuk addressed the fact that Blaine's move to the Big Apple and into Kurt's apartment is a major shake-up for their engagement because, for the first time, they're in the same place at the same time. And the effects of being long distance have both made the heart grow fonder but also made them unprepared to be together every single day. We get that. Moving in together is really hard and Blaine's essentially also moving into Kurt's already established life — which includes Adam Lambert's Elliot "Starchild".
We learned earlier that Blaine and Elliot are going to clash on Tuesday night's "New New York" over how much time Kurt and Elliot spend together. (Feeling paranoid, Blaine?) And during the same "100" promotional event, Chris Colfer revealed a shocking semi-spoiler that might mean we're in for the break-up of the century: Colfer's "Kurt Bucket List" includes a new love interest for Season 6. Now that doesn't mean anything for sure, but if Colfer's open to breaking up Klaine, we might be in serious trouble here. And here's why:
They're Young
Now don't argue just yet; I know there's no age requirement to be in love. But somehow, I feel like Kurt and Blaine might have rushed into things. Well, at least the engagement part. In Lima, even though there was apparently a decently sized gay community, Kurt and Blaine kind of only had each other. Which was fine because they had a connection right off the bat, but now they're in NYC — with a considerably larger gay community — and they no longer need their relationship in the same way. Making their age a strike against a happily ever after because the reality is that they both still have a lot of time to figure out what they want in life and it might not be each other anymore.
They've Been Long-Distance Forever
It really hasn't been that long, but really, it kind of has. Kurt left for NYC because he couldn't work at the coffee shop anymore; they held it together for as long as they could; they got back together; and then got engaged. All while being long-distance and maintaining separate lives — and now they're jumping far into the deep end of closeness without any type of gradual transition. Yes, they're engaged and it should be a piece of cake, but they hardly know each other anymore and making that type of jump is a huge crapshoot. Long-distance has its benefits of making reunions all the more sweet, but they also keep a barrier between the two people in the relationship that prevents them from getting sick of one another. And it sounds a lot like Kurt and Blaine are going to have trouble with the latter being pulled away and being in each other's faces 24/7 with all of their quirky habits in tow.
Blaine Cheated
I know Kurt forgave and forgot, but we haven't and Blaine definitely hasn't. How do we know? Because he's coming into New York like a whirlwind and accusing Elliot of trying to steal his fiancé. Sure, any reasonable person would be a little freaked out by their significant other spending a lot of time with someone else. But Blaine's got the added bonus of their relationship having a history of infidelity — even though he should know that that's not Kurt's style AT ALL.
Hopefully, we're wrong and Brad Falchuk is wrong and Chris Colfer is wrong and we've got nothing to worry about with their relationship. But if we do, they've got at least three HUGE strikes against them going into moving in together and that just seems like a lot. And we'd be really disappointed if Glee broke up the only other great relationship it has going for it — no, we still haven't forgotten about Kitty and Artie, by the way.
Images: FOX